It Was The Best Fashion Month Ever For Models of Color, According to the Numbers
Models of colors had a milestone fashion month that kicked off with a historic first at New York Fashion Week.
---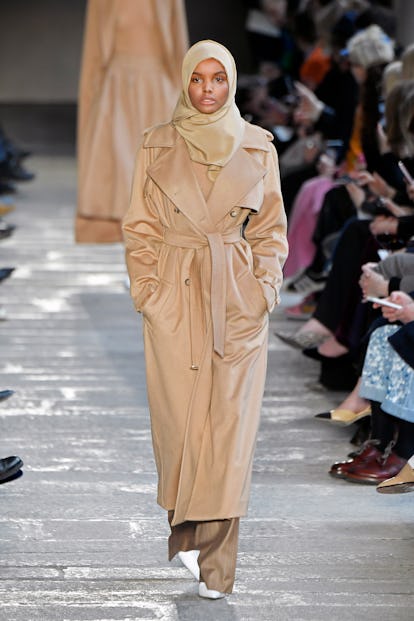 Victor Boyko/Getty Images
There was a time not too long ago when presenting a collection on a diverse cast including models of colors was a statement in and of itself. In 2017, inclusive runways are increasingly common place, and sending all white models down the runway is now a statement (one that is increasingly looked down on).
In fact, the most recent fashion month, made up of fashion weeks in New York, London, Milan and Paris, was the most inclusive for models of color ever. For the first time, every major NYFW presentation included at least one model of color.
The data comes from The Fashion Spot, a site that has kept a check on the demographic data on the runway for several seasons now. They combed through the 241 major shows (which included 7,035 female model castings), and found that the Fall 2017 runway shows were made up of 27.9 percent models of color. That's a noticeable increase form the previous two seasons which saw 24.7 and 22.4 percent models of color respectively.
New York, as it traditionally does, led the way in ethnic diversity, with 31.5 percent of models being non-white. London had a rate of 28.4 percent, followed by Paris's 25.9 percent and Milan's 23.8. (For what it's worth, the rankings matchup with the respective rankings of each country's overall demographics with America being the most diverse and Italy the least. So it should fall on New York to lead the way).
New York also was home to the five single shows with the most diversity (that includes Gypsy Sport, Chromat, Kimora Lee Simmons, Kanye West's Yeezy, and Marc Jacobs).
All cities had greater ethnic diversity on the runway than the previous season.
Ultimately, just three major shows — Undercover, Trussardi and Junya Watanabe — lacked any models of color. Interestingly, two of those houses are led by Japanese designer, while the other, Trussardi, does its biggest business outside of its home country of Italy in Japan. Yet, none even featured Asian models.
The numbers come after a fashion week that saw many milestones. Hijab-wearing model Halima Aden walked a handful of runways, including, West's Yeezy. There were a record number of women over 50 popping up on the runway. Meanwhile, Marc Jacobs shows gave us hope that transgender models may be increasingly welcomed into the fashion fold with out novelty attached.
It was also a season that did see one major casting controversy. Casting Director James Scully, who had previously promised to act as a high profile whistleblower whenever he heard of model mistreatment, put Balenciaga's casting directors on blast when he heard they had made models wait for hours in a staircase, at points without lighting. Balenciaga ultimately parted ways with the casting directors and sent apologies to all models involved. Scully also claimed to hear mumblings that Lanvin didn't even want to consider models of color, though, ultimately, six models of color did take the runway at Lanvin's show.
The Women of the Fall 2017 Runways Were More Diverse Than Ever
Jan de Villeneuve at Simone Rocha Fall 2017 show during London Fashion Week.

Photo by Steph Wilson
Benedetta Barzini at the Antonio Marras Fall 2017 show during Milan Fashion Week.

Photo by Getty Images
Vivienne Westwood walks in her own show during Paris Fashion Week.

Photo by Ambra Vernuccio
A model backstage at the Antonio Marras Fal 2017 show during Milan Fashion Week.

Photo by Getty Images
Collier Schorr backstage at the Eckhaus Latta Fall 2017 show during New York Fashion Week.

Photo by Alex Hodor-Lee
Marie Sophie Wilson at the Simone Rocha Fall 2017 show during London Fashion Week.

Photo by Getty Images
Cristina Morozzi at the Antonio Marras Fall 2017 show during Milan Fashion Week.

Photo by Getty Images
Cecilia Chancellor at the Simone Rocha Fall 2017 show during London Fashion Week.

Photo by Getty Images
Martina Ferrera backstage at the Dries Van Noten Fall 2017 show during Paris Fashion Week.

Martina Ferrera
Amber Valletta backstage at the Dries Van Noten Fall 2017 show during Paris Fashion Week.

Martina Ferrara
Halima Aden backstage at the Alberta Ferretti show during Milan Fashion Week.

Tristan Fewings/Getty Images
Ashley Graham at the Michael Kors Fall 2017 show during New York Fashion Week.

Estrop/Getty Images
Sandra Bernhard and models at the J.Crew Fall 2017 presentation during New York Fashion Week.

Krista Kennell/Getty Images
Juliette Branker at the Creatures of the Wind Fall 2017 show during New York Fashion Week.

Estrop/Getty Images
Halima Aden at the Max Mara Fall 2017 show during Milan Fashion Week.

Victor Boyko/Getty Images
A model walks the runway at the Dolce & Gabbana Fall 2017 show during Milan Fashion Week.

Victor VIRGILE
Kitty Spencer at the Dolce & Gabbana Fall 2017 show during Milan Fashion Week.

Jacopo Raule/Getty Images
Avie Acosta at the Marc Jacobs Fall 2017 show during New York Fashion Week.

Slaven Vlasic
Dara at the Marc Jacobs Fall 2017 show during New York Fashion Week.

Dimitrios Kambouris/Getty Images
Stav Strashko at the Marc Jacobs Fall 2017 show during New York Fashion Week.

Slaven Vlasic/Getty Images
Denise Bidot at the Chromat Fall 2017 show during New York Fashion Week.

Neilson Barnard/Getty Images
Sabina Karlsson at the Chromat Fall 2017 show during New York Fashion Week.

Neilson Barnard/Getty Images
Debra Shaw at the Dries Van Noten Fall 2017 show during Paris Fashion Week.

Peter White/Getty Images
Yasmin Warsame at the Dries Van Noten Fall 2017 show during Paris Fashion Week.

Peter White/Getty Images
Stella Duval at the H&M Studio Fall 2017 show during Paris Fashion Week.

Peter White/Getty Images
Kate Syme at the H&M Studio Fall 2017 show during Paris Fashion Week.

Marc Piasecki/WireImage
Georgia Pratt at the Tome Fall 2017 show during New York Fashion Week.

Neilson Barnard/Getty Images
Jacky O'Shaughnessy at the Tome Fall 2017 show during New York Fashion Week.

Estrop/Getty Images
Precious Lee at the Christian Siriano Fall 2017 show during New York Fashion Week.

Edward James/WireImage
Marquita Pring at the Prabal Gurung Fall 2017 show during New York Fashion Week.

Randy Brooke/WireImage
I Am An Immigrant: Fashion Insiders Deliver a United Message: