Fanny Moizant's Mantra Is "Less Is More"
The Vestiaire Collective co-founder shares a page from her style notes.
---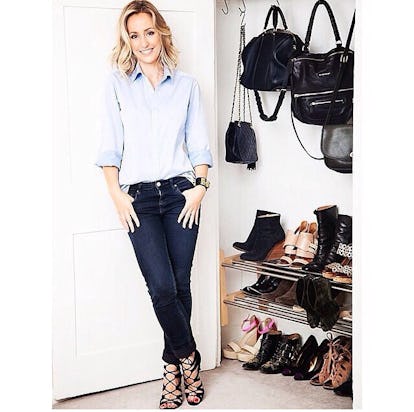 Since launching Vestiaire Collective, an e-commerce destination for gently used, highly curated designer pieces, in France in 2009, Fanny Moizant has taken the site global. (Vestiaire Collective has launched in the United Kingdom, Germany, and most recently the United States.) Naturally, Moizant has brought her personal relaxed-yet-chic aesthetic with her from Paris to London, and now to New York. Here, she shares her favorite footwear, shopping destinations, and style pet peeves.
Define your style in three words: Functional, easy, plain.
Daily uniform: Skinny jeans, a shirt or blouse or sweater, beautiful pair of heels, and a chic bag.
Greatest hits: My vintage Chanel bag, my two Louis Vuitton by Sofia Coppola bags, my mom's Alaïa suits, and my Apollo 13 Coach sweater.
Preferred footwear: I am insane about Gianvito Rossi.
Finishing touches: Hermes cufflink or a Chaumet Dandy watch, and, of course, Gianvito Rossi heels
Nighttime look: Same as in daytime, I just open one more button on my shirt.
Best recent discovery: Two amazing cook books: Hemsley + Hemsley: The Art of Eating Well and Friends Food and Family: Recipes and Secrets from LibertyLondonGirl! I am a real foodie, I can spend all weekend cooking and trying new recipes!
Favorite stores: Galerie Perrotin in Paris, Catbird in Williamsburg, Forest for Vintage furniture in London.
Style pet peeve: The "too much" attitude: too sexy, too edgy, too bling. My mantra is "less is more." I love when fashion fades behind style.
Style icons: Elin Kling and Caroline de Maigret. Fresh, simple, and elegant. What else could you want?
Last purchase: A Lychee martini yesterday evening in the Charlotte Street Hotel, I just love them.
Lusting after: Time. I wish days would last for more than 24 hours.
Favorite haunts: L'esplanade in Paris. There is a nice bar with a great view and terrace. Also, Cipriani in NYC—I love the old time New York feel. And Rokka in London.
What's always in your bag: My cute phone charger. It is my new best friend.
Favorite designer to buy online: Christopher Kane
Photos: Fanny Moizant's Mantra Is "Less Is More"
Some of Fanny's favorite things.
The best thing to buy online? "Pre-loved designer items handpicked by the most stylish French curators on Vestiaire Collective, of course!"