Rio Revisited
The opening of Ipanema's Philippe Starck-designed Hotel Fasano has revived Brazil's glamorous heyday.
---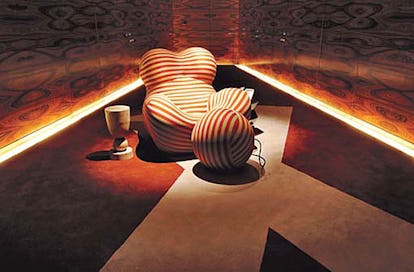 The allure of Ipanema, once immortalized by Stan Getz and Astrud Gilberto in their famous bossa nova song, has long been the stuff of tourist fantasy. The white beach stretches out for a mile under the twin peaks of the Dois Irmãos, making a picturesque setting for the wandering masseurs, impromptu soccer matches and comely bikini-clad locals. One of Rio de Janeiro's most exclusive neighborhoods, Ipanema is also home to chic boutiques, restaurants and nightclubs. "Ipanema is where it all happens," says Calvin Klein designer and native Brazilian Francisco Costa, who visits yearly, drawn by the natural splendor and the "beautiful people–watching."
New York socialite Marisa Noel Brown, whose mother is Brazilian, grew up spending every holiday there with her sisters. "It's where we all had our first boyfriends," she says, fondly remembering dancing at the Hippopotamus discotheque as a teenager.
Despite its many charms, the city's Achilles' heel has long been its unremarkable hotels. Monolithic Seventies-era structures line the beach, offering hundreds of rooms but none with the level of luxury or service that globe-trotters might expect. At best, there's the comfortable if somewhat generic Caesar Park or the once legendary Copacabana Palace, which is located farther north on the less fashionable Copacabana beach.
Ipanema is finally getting the hotel it deserves, however, with the arrival of its first luxury boutique property, the Hotel Fasano Rio de Janeiro, which opened its doors in August. Built by Brazilian restaurateur-hotelier Rogerio Fasano and designed by Philippe Starck, the sleek wood, metal and glass hotel boasts 91 rooms studded with collectible midcentury pieces and a rooftop pool that photographer Mario Testino has already used as a setting for a fashion shoot.
"The hotel is going to be a hot spot," predicts Brazil-born Carlos Souza, the public relations director of Valentino, who makes yearly pilgrimages to his native country.
Fasano, who owns a mini empire of seven Italian-influenced restaurants, scored a major success in 2003 with the opening of his first hotel, the Hotel Fasano, in São Paulo, where guests have included Narciso Rodriguez, Roman Polanski and Naomi Campbell.
An aficionado of midcentury design, Fasano felt strongly that his new hotel should hark back to the golden age of Rio—the Fifties and Sixties. At that time, "Rio was one of the best cities in the world to live in," he reminisces. "Bossa nova was coming, the new Brazilian architecture was coming, and it was very modern and upscale."
Along with the Sixties-era furniture that Fasano requested, however, are Starckian touches, such as a 15-foot block of wood that is the focal point of the reception area, as well as sly design jokes like six of the same mirror in different sizes adorning each bedroom.
Starck, for his part, says this hotel represents a new direction for his work. "It's a little more serene, a little more calm, more intelligent, more comfortable," he says. And he points out that he wanted to avoid a stereotypical, kitschy vision of the region. "I tried to have a feeling of timeless Brazil, but not the Brazil of tourist brochures. I tried for something a little more elegant," he says.
Then again, there's no point in flying to Rio if you can't show off that new bikini, and the rooftop infinity pool, says Fasano, is not to be missed, particularly because of the view. "You cannot see the sand, and you can only look at the ocean," boasts the hotelier, who lives in São Paulo but spends one week a month in Rio. "It's like being on a boat."