Inside the Theater of Fashion: 20 Years of the Most Memorable Runway Shows In One Book
In Runway, Alix Browne celebrates the spectacle that is fashion.
---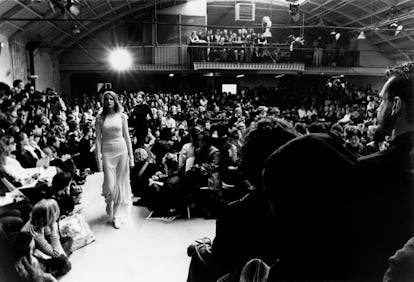 DALiM
In 1995, Alix Browne sat at the edge of the catwalk at Alexander McQueen's "Highland Rape" show in London. "The models staggered straight for us, the bodices of their tartan and lace dresses ravaged, their eyes wild, as if propelled by some ferocious, inner demons," she writes in the introduction to Runway: The Spectacle of Fashion (Rizzoli), her stunning new book, out next month. "It's an experience from which I don't think I ever fully recovered."
Throughout her career working for magazines like Harper's Bazaar, V, and T: The New York Times Style Magazine, Browne, who is now the Features Director of W, has been enthralled by the emotion, contextual acuity, and the artistry of the runway show. Rather than compiling a top-100 list, Browne spotlights memorable productions from the past 20 years, deftly charting a progression in fashion and revealing the incredible range of vision designers have brought to bear. Take, for example, the stripped-down intensity of Helmut Lang's 1993 show at the Espace Commines, in Paris. The former gallery was completely raw, and Lang cast men and women — professional models and friends alike — who walked at ground level, snaking their way through the packed audience. And then there is the grandeur of Chanel's spring 2012 collection, which was set in an under-the-sea fantasia filled with coral reefs and sea horses, with the singer Florence Welch posing in a giant oyster shell. Runway juxtaposes famous museum-bound shows (like McQueen's) with those that should be known for their theatricality and innovation, like the one Carol Christian Poell staged in 2004 in Milan's Naviglio Grande, the city's main canal. The models floated past the audience at a glacial pace; the whole thing lasted 40 minutes.
In today's fast-fashion, Web-obsessed world, Poell's presentation — as well as many of the others that Browne lovingly documents — should be remembered as an aesthetically inspiring event. Runway is a vivid reminder of how thrilling, intense, and emotionally immersive a fashion show (and fashion itself!) can be.
Fashion Geeks, Rejoice! The Book You'll Be Obsessed with This Fall Has Arrived
Louis Vuitton, Fall 2012. Models arrived onto the set of a turn of the century railway station in an old fashioned train car, built from scratch, and pulled by a period steam engine.
Maison Martin Margiela, Fall 2000. Freight cars were outfitted with spindly ballroom chairs and festooned with disco balls, transforming them into ready-made salons.

DALiM
Chanel Fall 2010. While all the fur in the collection was fake, the 250 ton iceberg, flown in from Scandinavia, was definitely real.
Maison Martin Margiela Fall 1997. In this traveling show, a busload of models accompanied by an old fashioned brass band disembarked at three different points around Paris. Appropriately, the invitation that season came in the form of a tourist map.
Alexander McQueen Spring 2004. In the breathtaking second act of McQueen's runway show, which was inspired by the film "They Shoot Horses Don't They," models circled the floor of Paris's Salle Wagram at mock breakneck speed.

Anthea Simms
Bruce Fall 1998. The designers nailed several pairs of shoes to the floor of the all white space and directed models to walk from one to the next, and to be as still as department store mannequins.

DALiM
Watch W's most popular videos here: