Fashion Scandals!
Horacio Silva takes a look back at some of the most delicious fashion feuds, foibles, and face-offs in *W*'s history.
---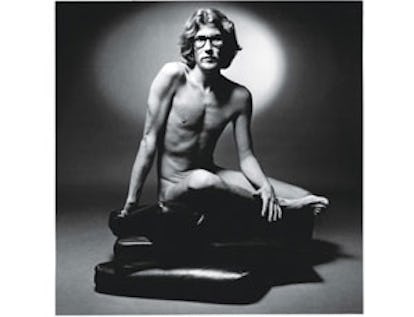 When W launched in 1972, Yves Saint Laurent had recently posed nude for Jeanloup Sieff in an ad for YSL's first men's perfume (left); New York socialite Nan Kempner had outraged society when she wore an Yves Saint Laurent tuxedo to Manhattan's La Côte Basque (the maître d' told her she could not enter wearing trousers, so Kempner doffed her pants and dined only in her jacket); and after nearly four decades in publishing, Diana Vreeland was out of Vogue and replaced as editor in chief by her former assistant, Grace Mirabella. Fast-forward to 2012, and New York Times fashion critic Cathy Horyn is being called "a stale three-day-old hamburger" by Oscar de la Renta. Plus ça change… Horacio Silva takes a look back at some of the most delicious fashion feuds, foibles, and face-offs in W's history.
THE WAR OF THE POSES In 1973, five American designers—Halston, Bill Blass, Anne Klein, Stephen Burrows, and Oscar de la Renta—stormed Versailles, stealing the thunder from their more esteemed rivals—Yves Saint Laurent, Hubert de Givenchy, Marc Bohan, Pierre Cardin, and Emanuel Ungaro—in a joint ­American-French fashion show. The days when Paris sneezed and the rest of the fashion world caught a cold were officially over. Yankee fashion was finally on the map.
JACKIE UH-OH Jacqueline Kennedy Onassis's (above) adoring public was shocked—clutch pearls!—to discover that the first lady of fashion and recent second-time widow had sold her Valentinos, YSLs, and ­Halstons for cold hard cash at the New York consignment store Encore in 1975.
GONE TOO SOON Biba, the London store often called the "most beautiful in the world," went the way of the miniskirt in 1975 after a nasty protracted dispute between its founder, Barbara Hulanicki, and new majority shareholders. "With it," lamented The Face magazine years later, "died the last vestiges of the sixties dream that the revolution would be stylized."
YVES OF DESTRUCTION Amid rumors of his failing health, a 1977 report mistakenly announced Yves Saint Laurent's death. The designer, whom partner Pierre Bergé once described as having been "born with a nervous breakdown," was promptly whisked off to Paris's American Hospital for treatment of alcohol and cocaine addiction. Later that year, he introduced a new perfume, Opium, with an advertising campaign shot by Helmut Newton and featuring model Jerry Hall reclining in purple harem pants on gold lamé with the line OPIUM, POUR CELLES QUI S'ADONNENT à YVES SAINT LAURENT (Opium, for those who are addicted to Yves Saint Laurent).
SELLS LIKE TEEN SPIRIT Controversy came between 15-year-old Brooke Shields and her Calvin Kleins (next page) when she appeared in an infamously provocative 1980 television commercial for the nascent jeans line. Gloria Steinem was among the campaign's many detractors, claiming it was likely to incite violence against women.
SELLOUT! Halston was the locus of the riotous beau monde that divided its time between Manhattan, Fire Island, and the social pages in the seventies. Audiences mainlined his multiple drug- and sex-related romps—with his legendary partying and storied at-home orgies, complete with an Arab houseboy serving lines of cocaine, only adding to his allure. But the public just said no to the designer in 1982 when he scandalized his supporters by signing an ill-fated deal with J.C. Penney to produce more-cheaply-priced collections.
SCARFACE Fashion jumped to the front page in 1986 when model Marla Hanson (above) was brutally slashed with a razor blade after a financial dispute with her New York landlord.
WHAT A HEEL Exiled Filipino president Ferdinand Marcos and his profligate wife, Imelda, fled to Hawaii when his government was toppled in 1986. The cost of leaving: 15 mink coats, 508 gowns, 888 handbags, and a rumored 2,700 pairs of size-8½ shoes—all left at the despotic duo's abandoned residence. Time later reported that the shoe tally was closer to 1,100 pairs.
A DRESSING DOWN In 1988, the IRS was not amused to discover that Nancy Reagan (above, at right, with Oscar de la Renta and Brooke Astor) had not only broken the public promise she had made to stop "borrowing" dresses from designers including James Galanos, Bill Blass, and Oscar de la Renta but had also failed to disclose the "loans." The following year, she accepted the Council of Fashion of Designers of America's Geoffrey Beene Lifetime Achievement Award in a de la Renta design.
YOU'RE FIRED! Grace Mirabella was aghast to find out in 1988 that she had lost her job when gossip columnist Liz Smith dished on Live at Five that the Vogue editor in chief was being replaced by Anna Wintour.
PAYDAY In 1990, at the height of supermodel mania, Linda Evangelista (above) was quoted in Vogue as saying that she and her colleagues "do not wake up for less than $10,000 a day." These days, Evangelista gets out of bed to care for her 6-year-old son, Augustin, whose baby daddy, French billionaire François-Henri Pinault, doles out one of the biggest child-support payments around town.
HEADS UP! At a 1991 Michael Kors show in a Manhattan loft, the raucous music caused a piece of the ceiling to fall on the head of International Herald Tribune fashion critic Suzy Menkes (above), who dismissed New York fashion week as second rate. The incident prompted American designers to band together and show under one roof, in the tents at New York's Bryant Park. (The Henny Penny moment would happen again in 2005, when a lighting rig fell on unsuspecting editors at a Diane von Furstenberg show.)
TAXING THE TAXIS Princess Gloria von Thurn und Taxis, the jetsetting German aristocrat who hijacked the social pages in the eighties, defamed the family of her late husband, Prince Johannes von Thurn und Taxis, in 1992 when she sold heirloom jewelry and silver to help pay off more than $350 million in debts and taxes.
MEAN GIRL Patrizia Gucci (above) was sentenced to 29 years in jail in 1998 for conspiring to murder her ex-husband, Maurizio Gucci. She took umbrage at her estranged spouse when he sold the family leather-goods house—which has since seen a $3 billion influx of cash from François-Henri Pinault—for $120 million. The "black widow," as she is known in the Italian press, who once said, "I'd rather cry in a Rolls than be happy on a bicycle," refused a parole offer in 2011. She seems content to stay behind bars with her plants and pet ferret.
PLEASE HOLD A day after dressing the award-winning Hilary Swank at the 2000 Oscars, designer Randolph Duke (above, with models)was hit with a sexual-harassment suit filed by his former personal assistant, Maureen Walsh. Among Walsh's allegations was being forced to hold Duke's hand during a botched penile enhancement surgery.
SPLIT DECISION After Prada Group took a 75 percent stake in the house that Jil Sander built, the queen of nineties minimalism resigned in 2000, allegedly over creative disputes with Prada chief executive Patrizio Bertelli. Bertelli, who is married to Miuccia Prada, told WWD that a "brand that's as strong as Jil Sander doesn't need to rely on the name of a designer." Still, the label's eponymous designer would have a second coming in 2003—as well as a third in 2012, when she replaced Raf Simons, who ended up at Dior.
J'ACCUSE! Blonde bombshell Karen Mulder(above), who modeled for every major designer in the nineties, appeared on the French television show Tout Le Monde en Parle in 2001, claiming that she had been raped by a host of men ranging from executives at her modeling agency to Prince Albert of Monaco and even her own father. After subsequent hospitalizations, including one after an attempted suicide, Mulder kept a relatively low profile until 2009, when she was arrested for threatening to assault her plastic surgeon.
AGENT PROVOCATEUR The undercover reporter Donal MacIntyre rocked the fashion world with his 2002 BBC documentary exposé on drug use and alleged sexual abuse inside the storied Elite model agency.
BASKET CASE Shortly after selling his company to Phillips­–Van Heusen, Calvin Klein made headlines in 2003 when he walked onto the court and interrupted a basketball game at Madison Square Garden (next page). A stumbling Klein grabbed the Knicks' Latrell Sprewell's arm and struck up a conversation before being escorted back to his seat. New York City later passed a "Calvin Klein bill" that increased the fines for fans who disrupt games.
EIGHT IS ENOUGH Arnold Scaasi, the Canadian-born couturier whose inauguration gown for Barbara Bush is on display in the Smithsonian, put his foot in his mouth when he revealed in his 2004 book Women I Have Dressed (and Undressed!) that the former first lady is the proud owner of only eight toes.
STEALS THE SPOTLIGHT In 2004, actress Winona Ryder was caught leaving the Beverly Hills Saks Fifth Avenue with $5,560 worth of unpaid-for merchandise, including a Marc Jacobs sweater, Donna Karan cashmere socks, and a Frédéric Fekkai sequined hair clip. She later appeared on the cover of W wearing a FREE WINONA T-shirt (above).
A NOSE FOR TROUBLE London's Sunday Mirror reported in 2005 that, during a visit to Barcelona in 2001 to appear in a charity fashion show, supermodel Kate Moss had taken "vast quantities" of cocaine before collapsing into a coma. The paper apologized to Moss, but a few months later the Daily Mirror published photos of the supermodel appearing to do lines of cocaine at a London music studio. The ensuing scandal caused Moss to lose advertising work after being dumped by clients including H&M, Chanel, and Burberry.
ANGER MANAGEMENT Diva's diva Naomi Campbell (above) threw a Swarovski-crystal-encrusted BlackBerry at her housekeeper Ana Scolavino in 2006. The shameful display, with its key elements of entitlement, excess, and luxury goods, instantly became the ne plus ultra of models behaving badly. (Until four years later, when Campbell would be embroiled in a trial about accepting blood diamonds from the African dictator Charles Taylor.)
CLOSED FOR BUSINESS Oprah Winfrey was denied entry into the Hermès Paris flagship store on Rue du Faubourg Saint-Honoré in 2006. Some accounts blamed the snub on the star's after-hours arrival, others pointed the finger at her velour leisure suit.
THE FINE PRINT The Beautiful Fall—Fashion, Genius, and Glorious Excess in 1970s Paris, Alicia Drake's addictive exposé of fashion's most enduring rivalry, became the must-have accessory of 2006. The merde hit the fan over the revelation, known to industry insiders for decades, that Lagerfeld and Saint Laurent's animosity stemmed largely from a romantic tug-of-war in the seventies over trouser arouser Jacques de Bascher, a nobleman who died from AIDS in 1989.
THE LATE LATE SHOW Marc Jacobs started his show in September 2007 so late—two hours late—that fashion critic Suzy Menkes retaliated, telling WWD, "I would like to murder him with my bare hands and never see another Marc Jacobs show as long as I live." Jacobs later denied having stuck his tongue out at her. "I did not stick my tongue out at Suzy Menkes," he commented on The New York Times fashion blog. "I pulled a stupid face with my tongue." (He's now militant about starting his shows on time.)
OUT OF THIS WORLD Proving that he's still spacey after all these years, designer Thierry Mugler (above), whose intergalactic dominatrices invaded planet fashion in the mid-eighties, fell back to earth in 2007 with a radically transformed appearance, thanks to extreme body modification, and a new name: the disappointingly terrestrial-sounding Manfred.
FASHION VIOLATIONS In 2008, the hard-partying bicoastal designer Anand Jon (above, with models), who outfitted Lydia Hearst-Shaw and Paris and Nicky Hilton in maxi skirts and muscle tees, was found guilty by a Los Angeles court on one count of rape and 15 counts of sexual assault against seven women as young as 14. Jon is currently serving a 59-year-to-life sentence in Rikers Island jail and awaiting trial for a second campaign of sexual molestation involving a dozen women in the New York area.
THE UGLY SIDE OF BEAUTY If every unhappy family is unhappy in its own way, then Françoise Bettencourt-Meyers's tiff with her mother, Liliane Bettencourt, the now 90-year-old heiress to the L'Oréal cosmetics fortune, earned that clan a badge of distinction. The feud, over more than $1.32 billion squandered on gifts—including Picassos, Matisses, and a Seychelles island—ended when Bettencourt-Meyers declared her mother mentally unfit and had her removed from the company board in 2012.
COVER UP Abercrombie & Fitch has managed to offend everyone from Christian groups to Asian Americans and the governor of West Virginia with its homoerotic imagery, thongs for tweens, and discriminatory hiring practices. One such gripe ended in a £9,000 settlement in 2009 for a London law student who was banished to the stockroom for wearing, in an effort to hide her artificial arm, a cardigan that was against the store's "look policy."
NO BUTTS ABOUT IT Celebrity sot Kiefer Sutherland added a little drama to the Met's Costume Institute Ball in 2009 when he head-butted Jack McCollough, half of the design duo Proenza Schouler, in the face at an afterparty. Sutherland, who was coming off a well-documented public altercation with a Christmas tree, had been schmoozing with Brooke Shields and took objection to McCollough's allegedly bumping into the actress. (Shields later said the designer had not provoked the attack.) It's not known if the lads ultimately settled their differences out of court, but McCollough now owns some very nice property.
VESTMENT INTERESTS In 2011, after leaving his wife and three children, hedge fund manager Pierre Lagrange (above, right), one of the richest men in England—who sold his Kensington Palace Gardens home to Roman Abramovich for £90 million—became romantically involved with Roubi L'Roubi (above, left), a little-known Mayfair-based couturier who was previously renowned for creating clerical vestments for London's St. Paul's Cathedral.
TRASH TALKING After 14 years at the creative helm of Christian Dior, John Galliano was dismissed for making anti-Semitic statements at a bar in Paris in 2011. In one report, an inebriated Galliano was upset at a couple who had called him ugly. According to a witness, Galliano replied to the woman: "You're ugly, and your bag is ugly, too." Galliano was fined $8,500 for his actions. No word on whether the woman was fined for criminal accessorizing.
LOOK MA'AM, NO PANTS! Vivienne Westwood picked up her O.B.E. from Queen Elizabeth at Buckingham Palace in 1992 wearing no knickers.
CUTTING EDGE Dewi Sukarno, the fiery social butterfly and former first lady of Indonesia, stunned guests in 1991, including Elle Macpherson and Ivana Trump, at a party in Aspen when she cut the face of her rival Minnie Osmeña (above), a granddaughter of a former Philippine president, with a wine glass. Reports differ as to who called whom a whore first, but Osmeña's injuries required 37 stitches and landed Sukarno in jail for 34 days. No parts contrite, Sukarno famously later told The New York Times, in a Nixon-worthy locution, "In any party a glass can break."
THROW THE BAG AT HER Domestic goddess Martha Stewart (above) arrived at court to begin her 2004 trial on insider-trading charges carrying an Hermès Birkin bag. Stewart was found guilty in the court of public opinion and later in the hallowed halls of justice.
JACK OF ALL TRADES Dov Charney, the recidivist American Apparel founder, anti-sweatshop activist, and purveyor of Brooklyn fashion clichés, masturbated in front of a magazine reporter in 2004.
FAILURE TO LAUNCH For all her misadventures, Lindsay Lohan (above, right) was never attacked more virulently by the media than when she was appointed creative adviser to the once venerable house of Ungaro in 2009. Working with Estrella Arch, the designer charged with enabling her carnal vision, Lohan took credit for an eyesore of a collection, complete with heart-shaped pasties, which received the sort of reviews not seen since Herbie Fully Loaded.
CHEAP VEEP Sarah Palin's "hockey mom" image was sullied in 2008 when the Republican National Committee spent $75,062 at Neiman Marcus and $49,425 at Saks Fifth Avenue primping her for the Republican National Convention (above). And she still managed to look like she worked in human resources!
Photos: Saint Laurent, Opium Ad, Calvin Klein Ad: The Advertising Archives; Kempner: Scavullo; Kempner Body: Everett Collection; Versailles: Newton/Condé Nast Archive; Hanson, Reagan: Ap Photo; Kennedy: Getty Images; Stewart: AP Photo; Book Cover: Courtesy Of Back Bay Books; Ryder: Michael Thompson; Charney: Paul Mowatt/Camera Press/Redux; American Apparel Ad: The Advertising Archives; All Others: Getty Images; Westwood, Gucci: Newscom; Mulder, Galliano: Corbis; Duke: AP Photo; Menkes: Sipa Press; Gaultier, Beirendonck: CNP Montrose; Mugler, Lagrange: Dumoulin/Condé Nast Archive; Moshammer: Sipa Press; Carangi, Franken, Palin: Corbis; Blow: Newscom; Mcqueen: Splash News; All Others: Getty Images