Backstage at New York Fashion Week, 13 Cool Girls Reveal Their Go-To Beauty Products
Lip gloss as eyeshadow, cocoa butter body oil and a deep moisturizer all made the cut.
---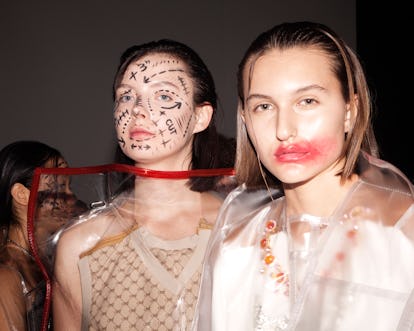 New York-based labels VFILES and Gypsy Sport have a tradition of casting untraditional models. This season was no exception: both brands recruited a select group of friends, musicians, downtown cool kids and even Olympic athletes (the fencer Miles Chamley-Watson caused a stir at VFILES) to appear in their shows.
Here, thirteen of the naturally stylish women who made the cut reveal their favorite beauty products.
Who: Sabrina Fuentes What: Lip Smacker Coca-Cola Cherry, $3, lipsmacker.com Why: "I'm not good at makeup, but my lids look better with gloss."
Who: Jiaye Wu What: SK-II Essence, $99, sephora.com Why: "It's makes the face feel fresh like you were just born yesterday."
Who: Vero Gebremariam What: Bobbi Brown Tinted Moisturizer, $46, macys.com Why: "It evens out my skin, and makes me feel flawless."
Who: Odalys Penu What: Fresh Rose Deep Hydration Face Cream, $40, sephora.com Why: "It keeps my face looking very healthy and I get less breakouts."
Who: Sam Swan What: Mario Badescu Drying Lotion, $17, ulta.com Why: "I'm very insecure about acne, but this drying lotion clears up blemishes right away so I don't feel like I have to hide my face."
Who: Anastasia Belotskaya What: Maybelline Volume Express The Colossal Spider Effect Washable Mascara, $8, maybelline.com Why: "It helps me enhance the shape of my eyes."
Who: Gianna Noelle What: Shea Moisture African Black Soap, $5, ulta.com Why: "It keeps my skin clear without the chemicals."
Who: Sarah McCall What: Neutrogena Ultra Sheer Dry-Touch Sunblock SPF 45, $11, ulta.com Why: "This keeps my freckles and pale skin in ship shape."
Who: Tati Asla What: Diorshow Maximizer 3D Triple Volume Plumping Lash Primer, $30, macys.com Why: "I always thought I had stubby lashes. Using the primer before normal mascara takes my lashes to next level."
Who: Kiana Hernandez What: MAC Lipstick in Ruby Woo, $17, bloomingdales.com Why: "Lipstick made me embrace my smile."
Who: Simone Thompson What: Queen Helene Cocoa Butter Body Oil, $3, walgreens.com Why: "It keeps me fresh."
Who: Arta Gee What: Maybelline Dream Fresh 8‑in‑1 Beauty Balm, $7, target.com Why: "It brightens and clears up any mess that chocolate caused."
Who: Chen Yu What: Illamasqua Precision Ink, $28, illamasqua.com Why: "It makes my eyes pop out more."
Watch W's most popular videos here: