Brad Pitt and Jennifer Aniston Had a Spicy Zoom Reunion
Famed exes Brad Pitt and Jennifer Aniston had their second reunion of the year—a steamy virtual table read of Fast Times at Ridgemont High.
---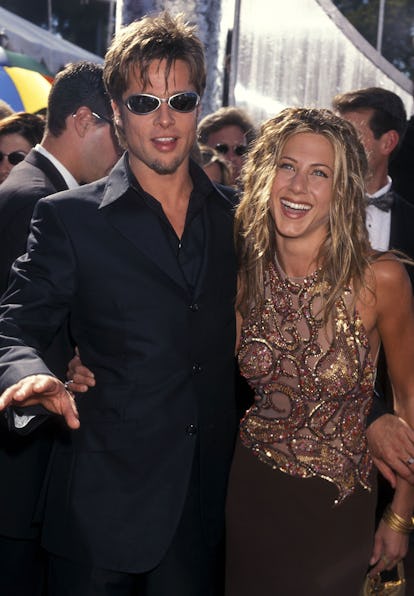 Getty Images.
2020 has been so long that we have seen something that would have been thought of as impossible just a few short years ago. Indeed, this year has given us not just one but two reunions between former husband and wife, Brad Pitt and Jennifer Aniston.
Unlike the first reunion at the SAG awards back in January, this time it was all virtual. Last month, they announced their plans to hop on a Zoom call together for charity as part of the live table read for Fast Times at Ridgemont High. And on Thursday night, the two reunited on screen for the reading, with Aniston playing Linda Barrett (Phoebe Cates in the movie) and Pitt playing Brad Hamilton (Judge Reinhold in the film). Morgan Freeman joined the call as the narrator, describing an iconic and embarrassing pool scene that takes place in Amy Heckerling's 1928 film.
Before they began the table read, Pitt greeted his ex with a "Hi Aniston," and she returned with a "Hi Pitt" to get things off to a good start.
Freeman narrates a moment between the two that starts off with Aniston as Linda saying, "Hi Brad. You know how cute I always thought you were. I think you're so sexy. Would you come to me?" and continues with Freeman describing Brad's dream sequence involving an intimate moment between the two. On social media, many people noted Aniston's dedication to the socially distanced performance.
Julia Roberts, Matthew McConaughey, Ray Liotta, Henry Golding, Shia LaBeouf, Sean Penn, Jimmy Kimmel, John Legend, and Dane Cook joined in on the table read as well. At the very beginning, there was also a special appearance from Chrissy Teigen.
LaBeouf was especially committed to the bit as he played Jeff Spicoli, the space cadet portrayed by Penn in the 1982 film.
The proceeds from the live table read are set to go to CORE, an emergency relief non-profit working to gather resources to fight against Covid-19, and Reform Alliance, a criminal justice reform group.
Related: Brad Pitt and Jennifer Aniston Announce Plans to Jump on a Quick Zoom Call Together