Fatimah Asghar and Sam Bailey's Web Series Brown Girls Could Be the Next Insecure
"For women and women of color, if you have any pull to make work, you kind of have a responsibility to."
Photographs by Brad Ogbonna
---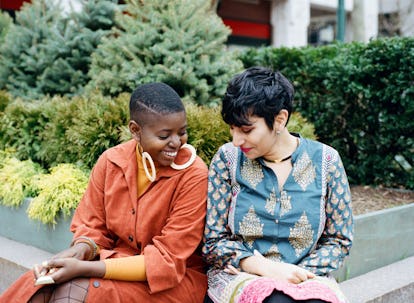 It's been just three weeks since the web series Brown Girls premiered, and writer Fatimah Asghar and director Sam Bailey haven't stopped moving since.
"Whatever we thought success looked like, or whatever we thought people were going to respond to with the release—it just has exceeded," Bailey, 28, said on a recent afternoon in Brooklyn. She and Asghar, 27, had just arrived in town to host a screening of the series and panel discussion with lead actress Sonia Denis at the Brooklyn Museum that weekend. The duo hadn't anticipated that the series would have much reach beyond the Chicago arts community in which it takes place. Now, they're toying with the idea of a second season.
For a series that was filmed on a $20,000 budget during nine sticky August days in Chicago, and written by a first-time screenwriter and directed by a former theater actor, it has received an overwhelming response—which, Asghar said, only points to the "starvation for stories about people of color and marginalized folks." While a few other shows have tread similar territory in the past—Bailey cited Issa Rae's Misadventures of Awkward Black Girl, which was eventually adapted into Insecure on HBO, as well as The Couple, and Saltfish & Ackee—they are exceptions to the rule.
Over the seven-episode season, Brown Girls lays out the relationship between its two titular brown girls—Patricia, played by the comedienne Sonia Denis, and Leila, played by the Boston-based engineer Nabila Hossain—and the paramours, coworkers, and friends in their contemporary Chicago milieu. The young women navigate family and adulthood and the specific challenges and joys that come with being black or brown in America. And while it is a challenge to create a coherent world onscreen on a shoestring budget, the web series format allows Asghar and Bailey to retain total creative control over their work.
The second episode of Brown Girls begins in Patricia's bathroom. Patricia stares herself down in the mirror. "You're an intelligent woman," she says, jabbing her finger at her reflection. "It's Oprah, me, Gayle, in the single girls club forever." ("Single girls club forever" becomes something of a cri de coeur; the refrain hangs, spelled out in block capitals on a banner, on Patricia's bedroom wall.) Then she emerges from the bathroom: It's four in the morning, there's a man in her bed, and she's calling him an Uber. Single girls club, forever.
Brown Girls makes the most of these small moments. With episodes ranging in length from around five to 15 minutes, it's funny, poignant, and efficient at the same time. One episode takes place over the course of a brunch between Patricia and her mom, alluding to their emotional distance without ever breaking it. A panning shot in the series' opening moments captures the complex relationship between Leila's conservative South Asian family and her queerness.
The very thing that has made the series vital—the lack of similar narratives—has also opened it up to critics who argue it doesn't cover a wide enough array of experiences. "Brown Girls is not every single brown girl's experience," Bailey said. "We're not a monolith." Rather, it's (very) loosely based on Asghar's own relationship with the musician Jamila Woods, Brown Girls's music consultant and Asghar's best friend since 2007, when they met at a pre-orientation program their freshman year at Brown University. Woods was also her biggest cheerleader when Asghar, a longtime poet and first-time screenwriter, set about writing the treatment for Brown Girls.
Once a theater administrator, Asghar met Bailey, a former stage actor, around the close-knit Chicago live lit circuit. They shared a sense of disenchantment with theater, where lip service was paid to diversity behind the scenes and on stage, but without meaningful change.
The two women toyed with working together on the second season of Bailey's web series You're So Talented, her first creative project after departing theater, but they never quite found the time. That is, until a table read for Brown Girls last February brought them together again.
"At the end of that day, I was like, 'I want to do it, no one else can do it, answer now,'" Bailey said.
Asghar laughed. "I secretly hoped that she would want to do it."
They recruited friends and collaborators in Chicago to fill many of the roles. Hossain, a childhood friend of Asghar's, took vacation time to film, while Denis postponed her move to New York for the shoot. Under her musical guidance of Woods, who makes a cameo, the soundtrack creates a hyper-specific Chicago sense of place.
On the final night of filming, the cast and crew agreed they would be on board for a second season. In the months that followed, Bailey quit her day job and moved to Los Angeles, where she's working on several other screen projects. "For women and women of color, if you have any pull to make work, you kind of have a responsibility to," Bailey said. "We need tellers. We need people to write those stories. We need people behind the camera."
Sixty-two fashion insiders speak out on International Women's Day: