February Release: W Magazine Announces Seventh Annual Hollywood A-List
A-List names Keira Knightly and James McAvoy as Top Actors, CAA as Headquarter Superpower, DreamWorks as Studio and Hollywood's Power Geeks as Newcomers.
---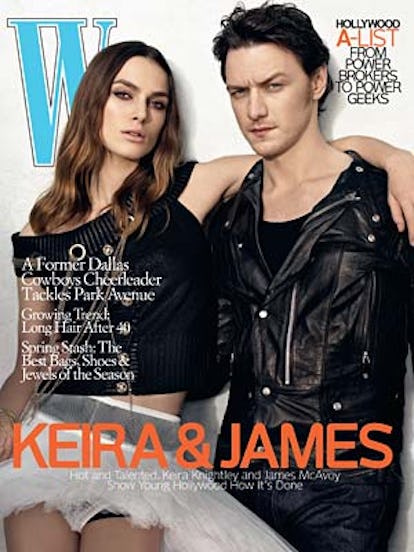 (January 14, 2008, New York, NY) – W magazine announces the seventh annual "Hollywood A-List" for its February issue naming the most influential in today's entertainment industry, including Keira Knightley and James McAvoy, who star together in this year's Atonement, Creative Artists Agency, with its ultramodern new offices, and the top Rabbis in Hollywood.
The complete A-List follows and can also be viewed at www.Wmagazine.com:
The Stars- Keira Knightly: and James McAvoy
The Newcomers – Hollywood's Power Geeks are on a box-office roll: Michael Cera, Jon Heder, Christopher Mintz-Plasse, Bill Hader, David Krumholtz, Jonah Hill
The Headquarters – An exclusive look at the ultramodern new offices of Creative Artists Agency, an industry superpower.
The Studio – The creative force and drama behind DreamWorks' most successful year ever.
The Cinematographer – From The Shawshank Redemption to No Country for Old Men, Roger Deakins makes visual magic.
The Rabbis – Meet the God Squad, Tinseltown's most righteous influencers: Rabbi David Baron, Cantor Nathan Lam, Rabbi Laura Geller, Rabbi Steven Z. Leder, Rabbi David Wolpe
The Babymakers – Growing Generations, a surrogacy agency, turns Hollywood's gay parenting into reality.
The Books – The lowdown on the would-be adaptations that have not yet turned into films: The Corrections, Geek Love, A Confederacy of Dunces, The Amazing Adventures of Kavalier & Clay, The Secret History, A Heartbreaking Work of Staggering Genius.
The Invitation – A Jeff Koons-inspired trinket contains the invite to the party of the year – the British Contemporary Art Museum's inagural gala in Hollywood.
The New Power Broker – Leader of the pack, Chris Silbermann, aims to bring talent agency ICM into another golden era.
Please credit the February issue of W for the above. For additional information or to schedule an interview with a W editor, please contact Engelman & Co. at 212.645.9222. Thank you.