February Release: Rihanna
Rihanna's New Edge, Dolce & Gabbana Turn Madonna Into A Housewife, Chanel Revives The Lipstick, Plus, A Six-Page Spring Accessories Bonanza
---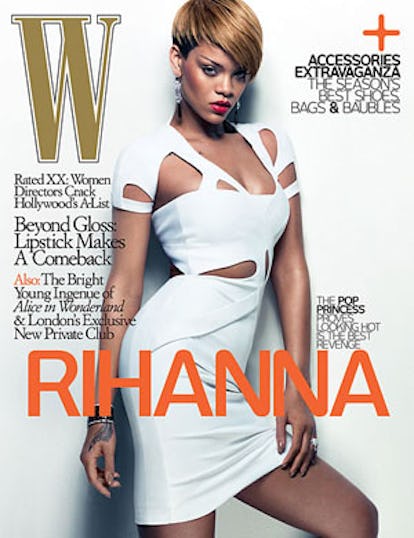 Highlights from the February issue of W magazine are below:
RIHANNA, RECORDING ARTIST- page 98:
As her fourth album, Rated R, receives accolades and she readies to kick off her international tour, 21-year-old pop phenomenon Rihanna is only getting hotter. She speaks to W magazine about getting through the year that began with her boyfriend, singer Chris Brown, beating her on Grammy weekend last February, and turning the experience into a life lesson–and a hit record:
On the warning signs from Chris Brown: "There were control issues, insecurity. When people are insecure they become very controlling and they can get very aggressive and in turn abusive. It doesn't have to be physical. Like they would say bad stuff to you to make you feel lesser than them just so they would have control in the relationship. It takes a big toll on your emotions and on your everyday life. It changes you."
On her preternatural maturity: "I've been paying my own bills since I was 17, living in a foreign country. And I've always been a little older than my real age. People always said that to me, and I always felt that in my head."
On her new album: "This was a different type of record for me. It was really personal; it was for me in the most authentic way. It's like a movie in that when I was making the album, every day I was in a different mood. Sometimes I was pissed off, sometimes I was miserable, and every song brings out a different story."
MADONNA & DOLCE & GABBANA, ADVERTISING PIONEERS- page 74
Launching worldwide in February, Dolce and Gabbana's much anticipated spring ad campaign features nine black and white Steven Klein photographs depicting Madonna- the world's most famous chameleon- as a housewife performing mundane daily chores. Stefano Gabbana exclaims to W: "This is crazy! Madonna washing dishes? This will go down in history!"
MIA WASIKOWSKA, ACTRESS- page 72:
This March brings the release of Tim Burton's much-anticipated Alice in Wonderland debuting 20-year-old Mia Wasikowska in the title role of Alice. Working opposite Johnny Depp and Helena Bonham Carter, the young starlit seems unphased by her costars celebrity. On Depp's recent Sexiest Man Alive title she says: "I'm surprised he beat Robert Pattinson. It's a tough competition. Well done!"
GLOSS OVER: CHANEL REVIVES THE LIPSTICK- page 66
The house of Chanel looks to restore lipstick to its former glory with a new line out in March called Rouge Coco Hydrating Crème Lipcolour. "There's a whole generation of women who have never worn lipstick- they were raised on gloss," says Chanel Makeup global creative director Peter Phillips.
ACCESSORIES BONANZA: SPRING FORWARD- page 52
Brighten up for spring with froufrou shoes, fringed bags, vintage-inspired rings and a kaleidoscope of color. Plus, romantic dresses with pleated and ruffled skirts are set in a dream-like setting in Craig McDean and Alex White's Fly by Night fashion portfolio (page 82).
RATED XX- WOMEN DIRECTORS CRACK HOLLYWOOD'S A-LIST- page 124
2009 saw a critical mass of films by female directors, and more than half a dozen of them were either critical or box office success stories—or both. W Senior Editor, Diane Solway, profiles three of the triumphant auteurs: Jane Campion (Bright Star), Lone Scherfig (The Education) and Shirin Neshat (Women Without Men).
The February issue of W magazine is on newsstands nationwide January 26th. For additional information or to schedule an interview with a W editor, please contact Elissa Lumley at 212-286-2225, elissa_lumley@condenast.com or Caitlyn Carpanzano at 212-286-2885, caitlyn_carpanzano@condenast.com.