Felicity Jones, Dakota Fanning, and Hailee Steinfeld Belong in "Jerry Maguire"
In honor of the movie's 20th anniversary, three of Hollywood's most promising young stars revisit "Jerry Maguire"'s iconic "Show Me the Money" scene.
---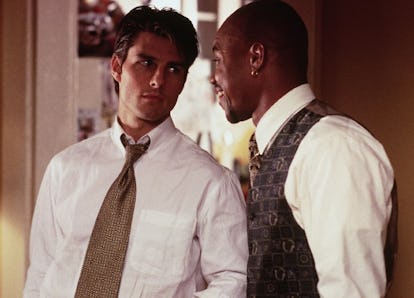 Courtesy TriStar Pictures
Today's audiences may best know Cuba Gooding, Jr. for his uncanny portrayal of O.J. Simpson in American Crime Story: The People Vs. O.J. Simpson, the first installation of Ryan Murphy's true-crime anthology series, and Tom Cruise as the face of Scientology. But for a previous generation, they were the stars of Cameron Crowe's eminently quotable, Oscar-winning 1996 film Jerry Maguire, alongside actress Renée Zellweger.
Jerry Maguire premiered two decades ago nearly to the day, earning Gooding, Jr., his first — and only — Oscar, for Best Supporting Actor at the 1997 ceremony. It was nominated for an additional four awards, including Best Actor for Cruise (an award he still hasn't won, despite being nominated for Academy Awards three times) and Best Picture.
(By way of consolation, Cruise won Best Actor at the Golden Globes that year.)
Cruise stars as the titular Maguire, a sports agent who has a moment of reckoning, gets abruptly fired by an underling, and strikes out on his own as an independent agent with a dwindling number of remaining loyal clients. Gradually, that number is whittled down to one: Cuba Gooding, Jr., as football star Rod Tidwell. Theirs were vivid, energetic, frenetic performances depicting a comically (and sometimes poignantly) fraught relationship, exemplified in the now-iconic "Show Me the Money" scene. It encapsulates the vigor of the performance that earned Gooding, Jr., his Academy Award and the screen chemistry that made a young Tom Cruise such a bankable, versatile star (his next film, three years later, was Kubrick's final picture, Eyes Wide Shut).
Early in the film, Tidwell, dissatisfied with his contract (there are ants infesting his apartment that he can't afford to exterminate), demands his due. It's a family motto, he tells Maguire over the phone: "Show me the money." He urges Maguire to scream it with him, to prove Maguire is in his corner. And holler he does, despite the sidelong glances it earns him from office neighbors. It earns him Tidwell's enduring loyalty, despite the difficulties they confront as Maguire tries to navigate the sports world on his own. "Show me the money" becomes something of a catchphrase for the film, in a film that spawned many, many catchphrases (including "help me, help you" and "you had me at 'hello'") — many of them so much a part of the vernacular, the source may be forgotten.
On the occasion of the film's 20th anniversary, actresses Felicity Jones, who appears in the upcoming Star Wars: Rogue One, Hailee Steinfeld, of The Edge of Seventeen, and Dakota Fanning, of this year's American Pastoral adaptation and Sofia Coppola's upcoming directorial debut with The Bell Jar, all take a stab at Jerry Maguire's most iconic sequence. They holler, wail, and give the monologue everything they've got. Oscar-worthy, all of them.