Female Leads in Films Rose 7 Percent in 2016, But Hollywood Still Not a Great Place For Women
Hollywood saw more female leads than ever, but it still could stand to do a bit more work when it comes to female representation.
---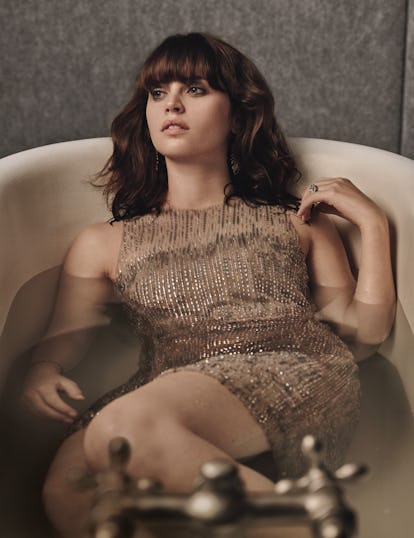 Photographs by Craig McDean. Styled by Edward
The number of female leads in successful films hit an all-time recent high in 2016—a total of 29 percent, after the year's top 100 grossing films were taken into account. It's the highest peak for as long as the Center for the Study of Women in Television and Film at San Diego State University has been keeping records since 2002. That's a seven-point leap from 2015, and up from a dismal 12 percent in 2014.
"We have now seen over and over and over that female characters, when done well, they're good box office," Martha Lauzen, the center's director and author of the study, "It's a Man's (Celluloid) World", told Variety.
That's thanks to films like Star Wars: Rogue One, Arrival and Bad Moms.
Of course, while that 29 percent is a milestone, it also illustrates how far the industry has to go. To put it in context, 54 percent of successful films featured male protagonists, while 17 percent featured ensembles as their major rooting interest.
The study also found that just 37 percent of all major characters were female (slightly up from 34 percent in 2015). Meanwhile, a tally of any and all speaking characters in hit films actually saw a slight setback in equal representation. Just 32 percent were female, down from 33 percent the previous years.
The advancement is also not necessarily divided evenly among actresses of different races and ethnicities: 76 percent of all female characters were non-Hispanic white, which is exactly where the tally stood in 2015. Meanwhile, 14 percent were black, and six percent were Asian. Most shockingly, just three percent were either Hispanic or Latino. Which is odd, considering 16 percent of the U.S. population is Hispanic or Latino (the rates were about the same for male characters).
Interestingly, the study also found that audiences were statistically more likely to be informed of a female character's marital status than a male character's; meanwhile, male characters were much more likely to be identified with an occupation. In short: women = relationships, men = professions, onscreen.
As it turns out, having women behind the camera helps matters. The study finds that, "In films with at least one woman director and/or writer, females comprised 57% of protagonists. In films with exclusively male directors and/or writers, females accounted for 18% of protagonists."
Unfortunately, those behind-the-scenes opportunities aren't also rising with the tide. Just 7 percent of the top 250 grossing films has a female director, which was actually down two points from 2015.
Watch: Amy Adams Imitated Tom Ford in 'Nocturnal Animals' and He Didn't Even Notice: