The House That Slim Built
What happens when the son-in-law of the world's wealthiest man designs a museum dedicated to his late mother-in-law? Drama! And Mexico's most talked-about new building.
---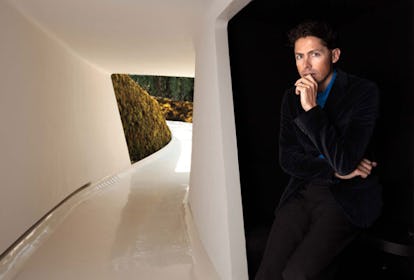 Carlos Slim Helú, the world's richest man, has long cut an understated profile in his native Mexico City. He has lived in the same modest house for 38 years; favored inexpensive ties purchased from Sanborns, the retail chain of Woolworth-like department stores he owns; and built conservative though striking glass boxes to house his ever growing telecommunications empire. But last fall the 1,600 guests invited to the wedding of his eldest son, also named Carlos, saw a new side of Slim, whose fortune is estimated at $74 billion. As Mexican President Felipe Calderón, novelist Gabriel García Márquez, and others made their way to the reception—held in a shopping mall that's part of a 10-acre complex Slim owns in the city's affluent Polanco neighborhood—they first had to file past a strange curving form soaring 150 feet into the sky.
The Soumaya Museum, named for Slim's late wife, was impossible to miss, and not just because it's uncommonly colossal in a city prone to earthquakes. Lit up in blue as if for a film premiere, it swooped upward into a "rockabilly coif," as Carnegie Museum of Art architecture curator Raymund Ryan described the building. Created to hold Slim's eclectic collection—66,000 pieces that include works by van Gogh, Matisse, and El Greco, along with the largest collection of Rodin sculptures outside of France—the museum was still under construction, but tours were arranged for guests who wanted to venture inside. "The elite of Mexico was all there," recalled one attendee, "but the real star of the wedding was not the bride or the guests but the museum. Everybody wanted to see it."
As it turns out, the bravura building was designed by another member of the wedding party: Fernando Romero, who is married to Slim's daughter, also named Soumaya. A protégé of Rem Koolhaas, Romero has given the city an iconic, cutting-edge building that does double duty as the flagship for Slim's empire. "There's nothing like it in Mexico City," said architect Javier Sánchez, one of the creative talents behind the Condesa DF hotel, a hub for the city's pulsing contemporary art scene. "It looks like it came from another planet. Slim isn't known for daring architecture. It's the first building he's commissioned to make a statement."
That Slim made a statement at all is due in no small measure to the ambitions of Romero. Born in Mexico City in 1971, he is part of a new generation of Mexican architects who think globally but focus locally, intent on making their mark on a culture in flux. Of course, Mexico City has long been a place of experimentation. From the studio and house that Diego Rivera and Frida Kahlo shared and the monumental campus of Universidad Nacional Autónoma de México, the country's main university, to the apartment buildings that fill the blocks of the central district, the clean lines and grand gestures of modernist architecture are everywhere. "Imagine 22 million people in this city every day—the energy, the chaos," said architect Michel Rojkind, who is known here for his inventive Chocolate Museum for Nestlé. "It's the perfect work environment if you want to keep your head spinning in a creative way, because nothing works as it should. You're constantly challenged to think of different possibilities of how things could be."
The Soumaya commission is not simply an act of nepotism. Before setting up his own practice in Mexico City in 2000, Romero worked for Jean Nouvel in Paris, and then for three years at Koolhaas's Office for Metropolitan Architecture in Rotterdam. "Before I met Rem, I wasn't convinced I wanted to be an architect," said Romero, who was project leader for Koolhaas's acclaimed Casa da Música concert hall in Porto, Portugal. "But working for him was my school. I've been very lucky in my life to see two unique minds working. One is Mr. Slim, and the other is Rem."
Romero, now 39, was working for Nouvel in Paris when he read Koolhaas's seminal manifesto S, M, L, XL, and knew at once he had to meet him. But when Romero arrived in Rotterdam, Koolhaas was out of town. "So I stayed in a terrible youth hostel—with lots of junkies," Romero said. "I didn't have any money, because Nouvel didn't pay me properly." Koolhaas, who hired him after returning to Rotterdam (Romero was waiting at Koolhaas's office to plead his case), was "so intense and demanding, but he taught me that there was not one way to solve problems." Romero was in the midst of moving back home from Rotterdam when he ran into Soumaya, an acquaintance, on a flight from Paris to Mexico City. Soon after, the two married, with Koolhaas serving as a witness at their wedding.
Koolhaas remembers a "very driven, incredibly creative person with an unbelievable ability to articulate ideas in sketches and models—an exceptionally wonderful collaborator if you're in the beginning of a project and have to explore different directions. His work is experimental and restless, looking in many directions. He's able to do very straightforward buildings and very noticeable buildings—non-icons and icons—and that's important these days."
Though admired for the bold imagery of his projects, Romero is best known for the buildings commissioned by his father-in-law, whom the architect calls "Uncle" personally and refers to professionally as "The Client." Five years ago Slim asked Romero to design a new home for the Soumaya collection. Opened to the public in 1994, it had outgrown its quarters in a converted paper factory in a quaint part of the city called San Angel. "He said, 'We will design a building together,' and I said, 'Great!'" Romero recalled with a laugh. "Now when people ask me, 'Are you the architect?' I say, 'I'm the co-architect.'"
It was an unseasonably cool day in November, and we were having lunch outdoors at the San Angel Inn, a popular hacienda-turned-restaurant where he and his wife had their first date. He had grown up in the neighborhood, explained Romero, whose father was a developer and whose mother was a psychologist. Slender and animated, he was dressed in a shiny Prada jacket, narrow trousers, and black ankle boots. Being Slim's son-in-law, "people think, Okay, it must be easy," Romero said in heavily accented English. "The reality is that he has questioned every single solution and every single decision. When he's in Mexico he visits the site every day."
As Romero spoke, he diagrammed his thoughts, something he does often. When I asked how he, Slim, and Soumaya, known as Sumy, the museum's vice president and its former director, evolved the design, he sketched three circles: Slim was in the top circle, he explained, while he and Sumy were on the plane beneath him. Like the Taj Mahal, he said, the Soumaya was built to honor the memory of a beloved woman—Romero's mother-in-law—who died in 1999 at age 50. "We were all trying to make something that translated her beauty," said Sumy. "He feels close to my mother, even though they never met, and his father-in-law and wife are involved. All these conditions make it a huge challenge because the relationships are very strong." Not least those between client and architect. "It's complicated," she adds carefully, "because they are both so strong in their notion of how things should be."
Romero came up with 16 designs before Slim gave the go-ahead in 2007. By then his Laboratory of Architecture (since renamed FREE Fernando Romero) had made two major bank buildings for Slim: one a floating glass box on the city's main boulevard; the other a gleaming two-story rectangle housing his personal office and sheathed in sapphire blue glass. Romero assumed he wanted more of the same, but Slim kept rejecting his ideas. "The Client is a civil engineer himself, and has been putting up very rational buildings all of his life," said Romero, so he designed what he calls "a rational building for a rational man."
Over the previous five years, however, Slim had grown more interested­ in contemporary architecture, an evolution Romero encouraged. He showed Slim works by the architects he most admired—among them, Koolhaas and Jacques Herzog and Pierre de Meuron—and in 2001 he designed a beach house for Slim in the resort town of Ixtapa. Riffing on that curving, cavelike dwelling, where the Slim clan converges each New Year, Romero made a tiny maquette out of foam, setting the museum on a new course. "He told me it reminded him of a ship, and he loves ships," he said of Slim's reaction.
To deal with the structural challenges of his computer-aided design, Romero enlisted the Los Angeles offices of Arup, an engineering firm known for its work on the Sydney Opera House and Beijing's Olympics Bird's Nest stadium. Romero also brought in Gehry Technologies, which drew on 3-D aerospace design technology to fabricate the external skin for the unusual structure. In addition to the 180,000-square-foot museum—"the largest example of built 'blobitecture' in the Americas," according to the Cincinnati Art Museum's director, Aaron Betsky—Romero was charged with the master plan for the entire 10-acre campus, including two office towers that will serve as corporate headquarters for Slim's business conglomerate, Grupo Carso, and Telcel, the Mexican unit of his Latin American mobile phone company. There are also a shopping mall, an underground theater, two apartment towers, and the biggest parking garage in all of Mexico—enough for 8,000 cars. Such is the enormity of the project that cabdrivers have taken to calling it Ciudad Slim (Slim City).
As it happens, Slim's Soumaya, opening this spring, won't be the only billionaire collector's showcase in the area: Eugenio López Alonso, the charismatic scion of the Jumex fruit juice fortune, is building a museum next door. Designed by British architect David Chipperfield, it will contain the 2,400-piece Jumex collection, Latin America's most important cache of contemporary art. López, a trustee of New York's New Museum and L.A.'s Museum of Contemporary Art, has played a pivotal role in promoting Latin American artists abroad and in drawing an international art crowd to Mexico City. That the Colección Jumex is relocating from a juice factory on the outskirts of the city is no coincidence: Romero not only engineered Slim's sale of the land to López but also advocated for a renowned architect, recognizing that together the two institutions would galvanize the city's standing as a destination for contemporary art and architecture.
To give an idea of the Soumaya's scope, Romero took me on a tour of the six-story structure. Seven hundred workers were busy soldering pipes and attaching the exterior's 14,475 hexagonal aluminum plates, which are arranged in a complex, computer-designed honeycomb pattern. From the outside, the building looked like the bow of an ocean liner. But as Romero led me to the top floor, soon to house Slim's 300-plus Rodin sculptures, I suddenly felt as if I were inside a giant flying saucer. One of his challenges, he explained, practically shouting over the din of drills and hammers, was finding the form to fit the needs of a collection that spans the 14th to 20th centuries and runs the gamut from Mexican religious art and gold coins to Impressionist paintings and Dalí sculptures. He opted to create floor plans of varying shapes and configurations, unified by a broad spiraling ramp that hugs the exterior wall and gives way to expansive gallery spaces on each level.
Romero originally wanted the facade of the building to be marble, a nod to the glimmering white surface of the Taj Majal. But Slim wanted something more modern, so they settled on buffed aluminum. And there were other concessions—the price of doing business with a famously frugal man. "There was constant pressure in the process to figure out, how can you do that cheaper?" recalled Romero. "We designed 40 columns outside and none inside. 'Too expensive,' we were told. 'Do a new scheme.'" Now the building has 28 exterior columns and eight inside, all manufactured by a company Slim owns that builds offshore oil rigs. Though Romero refused to disclose the museum's price tag—estimates run as high as $70 million—he insisted that "for the results it was not a lot of money, and three times less than it would have cost in America."
For all his focus on forging a new design vocabulary for Mexico, Romero is a keen guardian of its modernist legacy. Visitors to his studio are first directed next door, to the Casa Barragán, the home and lab of Luis Barragán, considered the country's greatest architect. A few years ago Romero bought the Boca Chica hotel, a Fifties-era Hollywood playground in Acapulco that he restored with his friends Carlos Couturier and Rafael, Jaime, and Moisés Micha, the ultrahip hoteliers behind Grupo Habita, whose properties have brought cutting-edge chic to Mexico. And his own home, where he lives with Sumy and their four young children, is a modernist gem tucked away behind a discreetly manned wall in the exclusive Lomas de Chapultepec neighborhood.
The Romeros are key players in the city's lively contemporary arts scene, and entertain regularly; the night they invited me to dinner, we were joined by 15 others from their circle, a fashionable mix of the city's artists, architects, and critics. The talk swirled around Vanesa Fernández, an art critic and the editor of a popular fashion magazine who— along with her husband, artist Aldo Chaparro—was about to launch a one-stop tearoom, champagne bar, clothing-design store, and homeopathic beauty clinic on three floors of a town house. Sumy, wearing furry Chanel boots with icicle heels that Romero had recently given her, chatted amiably about the museum but deftly dodged my questions about the Slims. "She's very discreet, and she'll say she had nothing to do with the museum," Romero told me when I asked about her role in its daring design. "But she was crucial in making it happen." While his house is studded with midcentury furniture and works by Andreas Gursky, Olafur Eliasson, Thomas Demand, and Cy Twombly, among Romero's prized possessions is a framed fax Koolhaas sent telling him of the commission for the Casa da Música. It hangs in his bathroom.
In true Koolhaas style, Romero's first project on returning to his hometown was not a building but a study of the city's urban fabric, to which he invited artists to contribute, including Mexican artist Pedro Reyes, who lunches with Romero weekly. Romero went on, with artist Gabriel Orozco, to design a house that looked like an egg, and a bridge-cum-museum over the Rio Grande that would have spanned the U.S.-Mexico border and hosted exhibitions on migration flows between the two countries. Neither project was built, but like many others by Romero and his firm, they won him attention.
In 2004 the Chinese activist and artist Ai Weiwei selected Romero to design a pavilion for the Jinhua Architecture Park in China. Romero's only building outside of Mexico, it's a bow tie–shaped bridge that doubles as a teahouse, upending the idea that bridges are only for crossings. "He has an entrepreneurial spirit and makes a lot of experiments," said Reyes. "With most architects you talk about projects and cities; with Fernando you talk about WikiLeaks and the most innovative kind of business model."
At the same time Romero has his eye on grand projects. He paved the way for Koolhaas to design a tower in Mexico City—Latin America's tallest—to mark the country's bicentennial, but the plan was derailed in the face of neighborhood opposition and threatened lawsuits. And at his invitation, Ramírez Vázquez, the éminence grise of Mexican architects and designer of its landmark National Museum of Anthropology, collaborated with him on a competition for a bicentenary arch. Their design, a kind of Möbius strip across the city's main boulevard, was not selected.
The Soumaya, however, is a sure thing. In anticipation of the attention the museum will bring him, last fall Romero opened an office in New York's Chelsea neighborhood, keen to position himself for commissions beyond Mexico. So far his only confirmed client in Manhattan is his father-in-law, for whom he is "analyzing" (as he put it) a Beaux Arts mansion on Fifth Avenue, opposite the Metropolitan Museum of Art, that Slim snapped up last summer for $44 million—the fourth most expensive town house sale in the city's history.
Romero leaves no doubt that he's looking to expand his roster of clients. "This is the moment to do it," he said. "We need to push the opportunities." His colleagues expect there will be many. "With Fernando on the scene, there's a new architecture being born here," said Vázquez. Added Grupo Habita's Couturier: "His Soumaya is creating a lot of buzz. It's going to get people thinking, If Mexico City can build a museum like that, there must be more going on there than we realize."
Artchitect Fernando Romero
Architect Fernando Romero at the entrance to his studio in Mexico City.

Photographs: Todd Eberle
The Soumaya Museum's exterior comprises 14,475 hexagonal aluminum plates arranged in a computer-designed honeycomb pattern.

Photographs: Todd Eberle
Carlos Slim, Soumaya Slim de Romero, and Romero in front of the Soumaya Museum.

Photographs: Todd Eberle
A reproduction of Michelangelo's Pietà (the original is in the Vatican)

Photographs: Todd Eberle
Broad, spiraling ramps give way to expansive gallery spaces

Photographs: Todd Eberle
The Thinker, from Slim's collection of Rodins, the largest outside of France, awaits installation in the atrium.

Photographs: Todd Eberle