If the Shoe Fits
Venerable cobbler Salvatore Ferragamo gives Nicole Kidman a screenworthy look.
---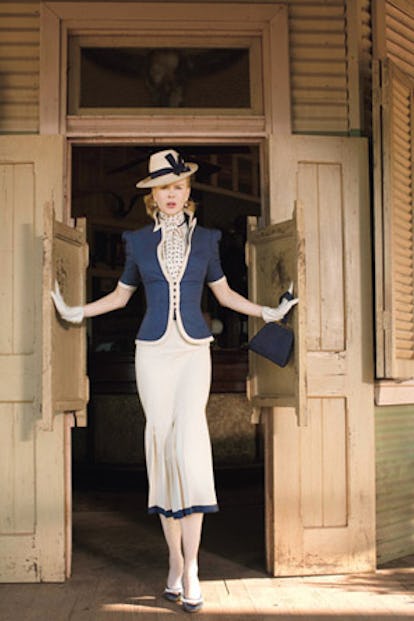 The Salvatore Ferragamo story could be a plot lifted straight out of a Fellini film: nine-year-old boy, one of 14 siblings living in a remote Italian village, takes up shoemaking. Something of a cobbler prodigy, the boy moves to America at 16, setting up shop in Santa Barbara, California, where he's hired by 20th Century Fox (then the American Film Co.) to shoe Lillian Gish in Way Down East (1920) and Douglas Fairbanks in The Thief of Bagdad (1924). He opens the Hollywood Boot Shop on L.A.'s Holly­wood Boulevard, and in 1927 the boy, now all of 29, leaves devoted customers Gloria Swanson and Mary Pickford to start a workshop in Florence, Italy. Presto, the pinups of the day follow him across the Atlantic. Rita Hayworth, Marilyn Monroe and Lauren Bacall regularly slip into his handcrafted shoes, of which the no-longer-so-young man will be producing 350 pairs a day by 1950.
A pair of her Ferragamo spectator pumps.
It was this starry history that persuaded costume designer Catherine Martin to ring up James Ferragamo, Salvatore's grandson and director of women's leather products, in the months before filming began in 2007 on Australia, an Oz-outback epic featuring Nicole Kidman and Hugh Jackman, directed by Martin's husband, Baz Luhrmann, and due out in November.
"It just seemed an absolutely logical association because Nicole was playing a Thirties aristocrat, and she would probably have had bespoke shoes by Ferragamo," Martin explains. A self-professed "major historical observer of fashion," Martin was determined to make the film's wardrobe pieces, from Kidman's Prada luggage to Jackman's riding boots, crafted by Australian "bush outfitter" R.M. Williams, utterly authentic, right down to the two-tone spectator pumps the actress dons with her travel suit. "She is obviously a forward-thinking person. I mean, she travels to the other side of the world in an airplane at a time when women rarely traveled alone," Martin says of Kidman's Lady Sarah Ashley, an uptight Brit who inherits a sprawling Australian ranch only to find herself fending off encroaching cattle barons. (Jackman plays the lone rancher who comes to her aid.) "We had a lot of practical considerations; you need a shoe that's high enough that someone can look fabulous in and a shoe that you can run in, with a lower heel," Martin says. "So one of the fantastic things about collaborating with Ferragamo is that it not only has a very strong design history, but it's incredibly practically versed in the structural making of shoes."
And the house has, of course, a not-too-shabby roster of patrons to which Kidman can now add her name. To create custom shoes, as the Ferragamo team did for Kidman, a technician must first build a wooden mold, or last, of the individual's foot. The Salvatore Ferragamo Museum in Florence's Palazzo Spini Feroni is indeed stuffed with such lasts, the wooden piedi of Ingrid Bergman and Sophia Loren nestled against those of Gregory Peck and Greta Garbo. For Australia, James Ferragamo and his top last technician in 2006 traveled to London, where Kidman was filming The Golden Compass, to take measurements of both her foot and calf (riding boots must be just so). They returned to Florence to build the myriad creations—18 styles, 73 pairs all told, in a variety of heights and each size 9B ("More of a narrow foot," Ferragamo says).
Kidman and Hugh Jackman in a scene from Australia.
Working from Martin's detailed costume sketches, some of which she says were inspired by the treasure-trove archive of the company's 14,000 sets of shoes, the design team mixed skins—a peep-toe wedge in pale blue suede and kidskin; a two-tone lace-up oxford in brown iguana and suede—to create a lineup that would look right at home in the wardrobe of a rich European woman circa 1939. Ferragamo also made sure to honor his grandfather's innovations when designing styles for Kidman: raffia instead of expensive leather, for example, or a wedge heel rather than a spindly stiletto. He was so pleased with the Martin partnership that in November the firm will release a limited-edition sandal: a red velvet number with a lacquered heel, based on one Kidman wears in the movie. "The last collaboration of this scale was Evita," Ferragamo says, referring to the 1996 film starring Madonna. Eva Perón was, not surprisingly, a Ferragamo devotee. "For that film we basically just re-created the shoes we had of hers in the archive," he says.
Costume designer Catherine Martin.
And while dozens of contemporary flicks have featured characters sporting the label's pumps and loafers—from the obvious, as with The Devil Wears Prada, to the unexpected, like Traffic and Anchorman: The Legend of Ron Burgundy—Australia represents a throwback for the house, a return to the times when Salvatore himself, who died in 1960, would cradle Tinseltown heels. "When my grandfather began in Hollywood, the first thing he did was study the foot anatomy," Ferragamo says. He notes that the company's scrawled logo therefore signifies "not only durability and attention to detail but comfort." Consider, for example, the minty gray shagreen and panne velvet evening shoe Kidman wears with a bright red dress in a party scene. "It's a lovely ode to the Thirties, because it uses two materials that were very popular then, but it's also a sandal, not too high, easy to pull off…painless," Martin says. "A good glamour shoe."