Ferragamo's Family Affair
The Italian fashion house celebrated its new bag.
---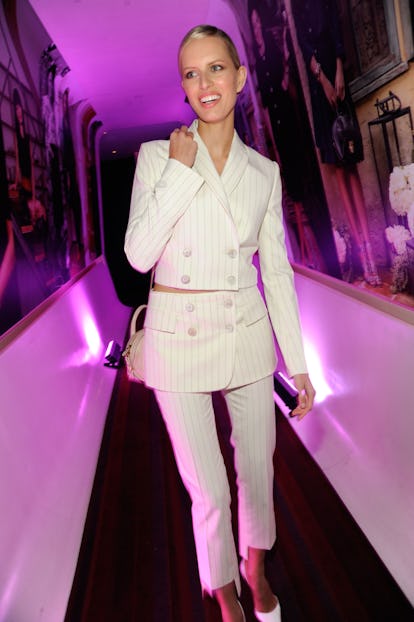 You would think that a mere twenty-four hours after the Metropolitan Museum of Art's Costume Institute Gala (or perhaps fewer hours for those who hit the after-parties), the fashion masses would be home in bed nursing the most staggering of hangovers. But Ferragamo managed to lure them out of hiding for a dinner in celebration of its new handbag collection, Fiamma, named for Salvatore's late daughter. Hosted by the Ferragamo family—Ferruccio, James, Massimo and Chiara were all in attendance—the event introduced the chic, handle-topped half-moon bag with a short film and interview series, featuring multiple generations of international families, projected onto the walls of Casa Lever. The restaurant's bar shelves were cleared of booze bottles and filled instead with Fiamma bags and amidst the Warhols on the walls were booths lined with more Fiamma styles, surrounded by roses. It was a purse lover's fantasy.
During a protracted cocktail hour stars of the campaign like Princess Melusine Ruspoli, Stella and Lola Schnabel, Anika Poitier, and Mariel and Langley Fox Hemingway mingled over salmon-hued cocktails and endless canapés, the boite's purple lighting casting an otherworldly glow. "Do you think they'll notice if I steal a bag?" asked one young woman as she eyed a black version mere inches from her head.
Photos: Ferragamo's Family Affair
Massimo and Chiara Ferragamo and Prince Dimitri of Yugoslavia. Photo by Sherly Rabbani
Karolina Kurkova. Photo by Sherly Rabbani
Lily Aldridge. Photo by Sherly Rabbani
Jessica Hart. Photo by Sherly Rabbani
Maryna Linchuk and Chelsea Leyland. Photo by Sherly Rabbani
Martha Hunt. Photo by Sherly Rabbani
Lola Schnabel and Ann Dexter Jones. Photo by Sherly Rabbani
Harry Brant. Photo by Sherly Rabbani
Jean Pigozzi and Lola Schnabel. Photo by Sherly Rabbani
Anne V. Photo by Sherly Rabbani
Rachel Chandler Guinness and Laura Love. Photo by Sherly Rabbani
Julie Henderson. Photo by Sherly Rabbani
Jacqueline Beurang. Photo by Sherly Rabbani
The atmosphere at Casa Lever. Photo by Sherly Rabbani
Chiara Ferragamo. Photo by Sherly Rabbani
Princess Melusine Ruspoli. Photo by Sherly Rabbani
Allison Sarofim. Photo by Sherly Rabbani
Mollie Ruprecht. Photo by Sherly Rabbani
Sean O'Pry. Photo by Sherly Rabbani
Sophie Auster. Photo by Sherly Rabbani
Vincent Ottomanelli. Photo by Sherly Rabbani