Feud Episode 4 Recap: In the Company of Awful, Awful Men
Bob Aldrich, Frank Sinatra, or Jack Warner: Who's the worst?
---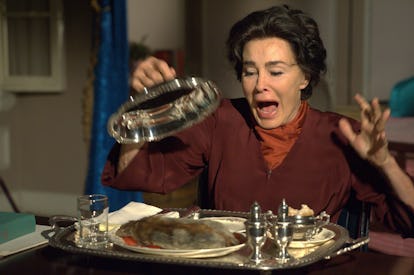 Copyright 2017, FX Networks.
Are we meant to shed tears on this week's Feud for Bob Aldrich, who is having a bad go of it because his star Frank Sinatra is calling him a fat, blubbering hack on the set of [4 for Texas](http://www.imdb.com/title/tt0057071/?ref=nm_flmg_dr17), and because Jack Warner basically called him a talentless loser right to his face. After Whatever Happened to Baby Jane? becomes a surprise success, at least he's able to find work again. Bette Davis is quite literally posting in the want ads for parts. (This did actually happen, though many erroneously believe it was the ad that got her the role in Baby Jane.)
Bob's just pissed that he's been relegated to making B movies and horror flicks when he wants to be taken seriously as a director. He ultimately gets his wish, but it all goes pear-shaped thanks to Sinatra, who is more ridiculous, demanding, and difficult than Bette and Joan on their diva-est day put together. I'd take these two fighting over a Pepsi machine to a star who runs off to New York without notice.
The funny thing is, in reality Jack Warner used the film's implosion to get Bob to direct Hush, Hush Sweet Charlotte, another horror film that was supposed to star Bette and Joan. It turned out to be a bit of a flop because Joan backed out at the last minute and was replaced by Oliva de Havilland. So whether Bob listens to Jack or not, he's screwed. Still, Bob is resilient. He subsequently he made hits out of Flight of the Phoenix and The Dirty Dozen. This shows that no matter how badly they mess up or how many people they piss off, men will always be given another chance to get back on top. Whereas women are cast aside at the first sign of encroaching obsolescence.
It's hard to feel sorry for Bob, who owes his success to all of the women in his life—and not just Bette and Joan, who took a risk on him when he was nothing, but also his wife Harriett and his assistant Pauline (a composite of a number of real-life women with quashed aspirations in the film industry, played by the amazing Allison Wright). Now that he's turned his career around thanks to them, it turns out that it's the men he trusts who do him in.
Bette and Joan face the same thing at the beginning of the episode when the "picture," as they all so charmingly call it, is rumored to be a flop. They both end up firing their agents because they're not getting any offers. Yet, once it turns out to be a hit, things don't really get any better. Bette was game and promoted the film by going to theaters and throwing out dolls and cursing out Joan in public (two lifelong hobbies). Still, all she ended up was a guest spot on The Andy Williams Show singing an awful song, and a guest role on Perry Mason. Ironically, her turn on Perry Mason is centered around a male criminal who doesn't want to hire a female attorney. Typical.
We didn't see much of Bette this episode because we were mostly focused on Joan and her strange relationship to success. When everyone thinks her film she made happen basically through force of will, is going to be a flop, she holds her scarf-covered head high. "I'll always show up on time, hit my mark, and promote the product, whether it's Pepsi Cola or a new motion picture." That's why she's at the first test screening, where she basks in the glory of her newly-adoring public, like Sally Field at the mall in Soapdish or Hillary Clinton at a Broadway musical.
But it all turns sour for her when Bette is the one that everyone recognizes as the true breakout star of the movie. "I thought this was going to be a flop, but this is even worse. It's like I wasn't even in the goddamned picture," she tells Hedda, who must be headed to San Francisco because she is once again wearing flowers in her hair. Joan doesn't care if the fans love her, because she thinks that Bette is the one who is going to win all of the statues. All she ever wanted was respect and she's still not getting it. She self-medicates by hitting the bottle hard, passing out in bed while Bette's phone rings off the hook. She has to wake up just to tell her costar to stop calling her an "old broad" on late night talk shows. Of course, this agita will only intensify; we find out, in the episode's final moments, that Bette has been nominated for Best Actress and Joan hasn't.
Jack Warner is pissed that Joan won't do anything to promote the movie, especially because she has a piece of the back end; not ensuring it makes as much money as possible is against her own self-interest. However, as always, Jack leads not with encouragement but insults. He not only rebuffs Joan's advances, but tells her that Bette is much more talented than she is. "Your ass is nice and your tits are sagging, so…" This apparently counts as a compliment in his book. Ugh.
Where Joan was at her absolute cruelest, however, was turning down Pauline to star in The Black Slipper, a "picture" she wrote that she wants to direct. Pauline is at least smart enough to get Mamacita, who is busy boogie-ing on the staircase while vacuuming, to help convince Joan to take the part. But Joan can't do it. Not only does she think that a woman is incapable of having the "stamina" necessary to helm a picture, she thinks that her status in Hollywood is so fragile that she can't take a chance on a "nobody" to direct a picture, especially if it's a woman.
The scene at the end between Mamacita and Pauline, where the merry maid tells her that in the future Hollywood will have no choice but to make half of their pictures by and for women because they'll account for more of the population. Yeah, right. Even back in 1963 they didn't learn that the success of Baby Jane did not necessarily mean studios would allow women to carry a picture. It's a lesson that Hollywood has had to learn repeatedly, from Sex and the City to The Hunger Games to just, a recently, Beauty and the Beast. It's sad just how naively mistaken Mamacita is. The scene is slighly heavy-handed, but the situation is still nonetheless absurd. And yet, here we are are watching a show about women tearing each other apart.
The Scorecard, Episode 4:
Joan:
Can't get any offers after Baby Jane: -2
Tells her agents to "f— off" when they insist she find her own work: +3
Pauline wrote a script just for Joan: +5
Thinks that the real crime of 1937 is that she was labeled "Box Office Poison," not that Hitler took Austria: -4
Basks in the adoration of her fans: +8
Is making a ton of money off of her hit: +10
Pissed all the raves are for Bette: -6
Decides that the way to handle success is to get drunk at 11am: -4
Cusses out Bette for calling her an "Old Broad": -2
Jack Warner wants her "shaking hands and sucking d—-" to promote the movie: -1
Won't give Pauline a shot: -2
Doesn't get nominated for an Oscar: -10
Tally this week: -5
Score from last week: +35
Feud Total: +30
Bette:
Gets an agent so young he looks like he shouldn't be able to grow facial hair: -3
Takes out an ad in Variety and gets tons of attention: +5
Still ends up guest starring on Perry Mason: -2
Is making a ton of money off of this hit: +10
Is getting all of the rave reviews from critics: +5
Doesn't make a fool of herself on Jack Paar: +3
Makes a fool of herself on Andy Williams, but still sells tickets: +1
Earns points with the studio for promotion: +4
Bob doesn't want to make her next picture: -3
Gets an Oscar nomination: +10
Tally this week: +30
Score from last week: +16
Feud total: +46
Winner This Week: Jack Warner, sadly.
Hollywood's Juiciest On-Set Feuds, from Dustin Hoffman vs. Meryl Streep to Sarah Jessica Parker vs. Kim Cattrall
Dustin Hoffman reportedly took up method acting just in time for Kramer vs. Kramer, Robert Benton's 1979 film that saw Hoffman star opposite Meryl Streep. That meant, when it came time for the pair to fight, he actually punched Streep while filming—and took it upon himself to get her appropriately riled up for her performance by teasing her about her boyfriend's lung cancer diagnosis and later death.

Columbia Pictures/Getty Images
The Icelandic enigma that is Björk made it more than clear than she could act by stealing the show—even from Catherine Deneuve—with her performance as a struggling factory worker saving up for her son's eye operation in Lars Von Trier's 2000, Palme d'Or-winning film, Dancer in the Dark. Still, even though she took home the Best Actress award from the Cannes Film Festival, Björk hasn't acted since: her experience on-set with von Trier was so fraught that she vowed to never make another movie—even though it was actually Björk, according to the director, who missed their first meeting because she had to jet off to a Greek island and took up greeting him by spitting on the ground.

Pool BENAINOUS/DUCLOS
Though Cameron Diaz, Drew Barrymore, and Lucy Liu all seemed to get along just fine on the set of 2000's Charlie's Angels, Bill Murray took it upon himself to liven things up mid-scene by reportedly turning to Liu and telling the actress she couldn't act. Liu, for her part, stayed in character by throwing Murray a punch—and came out on top by landing a role in the sequel, which Murray definitely did not.

Archive Photos/Getty Images
Not many would characterize Bruce Willis as an "emo b—h," but that's exactly how the director Kevin Smith described Willis after working with the actor on his 2010 buddy cop film Cop Out, which also starred Tracy Morgan. The experience, according to Smith, was both "soul-crushing" and "terrifying," thanks to Willis's intimidating demeanor and diva-like preference for the real movie-star treatment.

Abbot Genser, © 2010 Warner Bros. Entertainment, Inc.
Decades before Faye Dunaway added a heavy dose of drama to this year's Academy Awards, the actress starred in Chinatown and reportedly got so heated with Roman Polanski, who allegedly pulled a hair out of her head that was getting in the way of his shot, that she threw a cup of urine at him when he wouldn't let her pause to pee.

© Paramount Pictures
George Clooney and David O. Russell apparently got so heated shooting Russell's 1999 film Three Kings that the pair got into a physical fight. Russell, apparently, was not taking well to a cutback in the film's budget, and in the final days of shooting, threw an extra—and, later, Clooney—to the ground in a supposed demonstration. Four years later, in 2003, Russell was still holding a grudge: for a comment on the actor for a Vanity Fair profile, the director offered up, "George Clooney can suck my dick."

Getty Images
Jake Gyllenhaal's role as a political cartoonist plagued by letters from a serial killer in David Fincher's 2007 film Zodiac required quite a bit of vetting: Fincher initially met up with Gyllenhaal, whom he'd taken a liking to from Donnie Darko, and recorded his mannerisms before offering the actor the part. Once cast, though, filming was still hardly a breeze for Gyllenhaal: he'd repeatedly act out scenes for Fincher, only to hear the director call for the last 10 takes to be deleted immediately and everything to start again—an offense Gyllenhaal unabashedly recounted to the New York Times.

Tony Barson Archive/Getty Images
In 1991, Julia Roberts reportedly landed herself the nickname "Tinkerhell" thanks to her role as Tinkerbell in Steven Spielberg's Hook, a live-action version of Peter Pan. "It was an unfortunate time for us to work together," Spielberg later said of the experience on 60 Minutes. (Roberts had just broken off her engagement with Kiefer Sutherland a few days before.)

Getty Images
"Once and for all, what's my opinion on Jamie Foxx?/He pussy/Pussy ain't funny as Chris Rock," a line in LL Cool J's 2000 song "U Can't F–k With Me," is just as explicit of a call-out as it sounds. The pair took their fight scene in Oliver Stone's 1999 football film Any Given Sunday a little too literally, getting so physical that the crew eventually called the police.

Getty Images
George Clooney is hardly the only actor with whom David O. Russell's lost his cool. Before the director made Amy Adams cry on the set of American Hustle, but three years after his 2004 film I Heart Huckabees already came out, footage emerged of Russell calling Lily Tomlin, one of its stars, a "b—h" and a "c–t" and sending things flying behind the scenes. Tomlin later acknowledged the director was under pressure, while Russell made sure to tell the New York Times that the pair "love each other" in 2013.

Jason LaVeris/Getty Images
Though they were the best of friends on Golden Girls, Betty White and Bea Arthur didn't exactly vibe off-screen. Arthur reportedly called White a "c–t" when she was receiving a lifetime achievement award, and wasn't too pleased that White was the first of the show's four actresses to win an Emmy (an award they'd all eventually end up with).

Desiree Navarro/Getty Images
It took a dozen years, but Sarah Jessica Parker and Kim Cattrall's reported difficulties with each other when filming Sex and the City hit a peak when the pair was filming the series's film sequels, which only magnified their dispute over unequal salaries. Not that they've brought any of it out into the open: Parker, for one, has made public peace offerings in the way of well-wishing Instagrams.

Kevin Mazur/Getty Images
See Hugh Grant audition for Joan Crawford's role in "Mommie Dearest":