Feud Season 2 to Take On Prince Charles and Princess Diana's Legendary Relationship
Somewhere, Peter Morgan is just barely keeping his cool.
---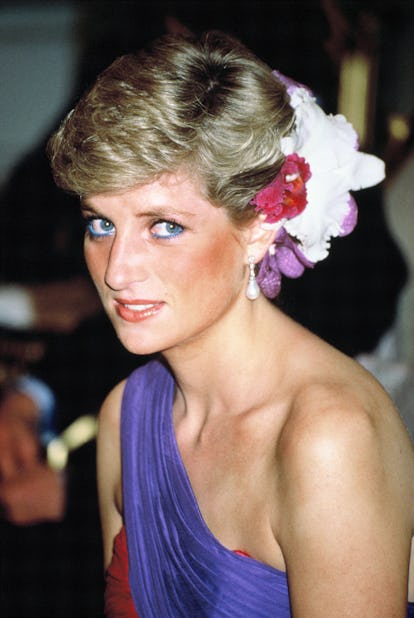 Getty Images
It's no secret that Ryan Murphy is somewhat of a provocateur, but the announcement of the plot for Feud season two may be taking him to riskier territory than he has ever dared before. Feud: Charles and Diana will be the next installment of Murphy's FX anthology, meaning that Murphy is chancing crowding in on one of the United Kingdom's most valuable exports: the British period piece.
There are no details as of yet as to how Feud will depict the prince and princess's rocky marriage and subsequent divorce. There's one thing we do know, though—Peter Morgan is probably mad. Not only does Charles and Diana promise to cover ground similar to Morgan's decades-spanning The Crown, but it plans to do so at the same time. As Entertainment Weekly notes, Feud's second season is poised for a 2018 debut, the same year Diana is thought to make her way to The Crown. It's good to know that Murphy, always playing the long game, is planting Feud content to mine for years to come.
Jokes aside, Charles and Diana does mark an interesting change of focus for Murphy's projects. Between American Horror Story, American Crime Story, and the Hollywood glamour texture of Feud: Bette and Joan, Murphy has historically exhibited an American sensibility in his choice of subjects—and in the stable of actors that count themselves as regulars in the Murphyverse. So, can Sarah Paulson pull a John Lithgow and do a convincing British accent? Will Connie Britton use her otherworldly auburn tresses to play Fergie? Or does Charles and Diana promise a departure for Murphy in every sense? If he is planning on going full-fledged British authenticity, best of luck to him; the 10 British actors who are reliably in every British thing are already in The Crown.
No word either on whether there will be parts for Jessica Lange and Susan Sarandon. The pair, who are set to star in the first season, will remain on as producers for all forthcoming seasons. One of them would have to be interested in playing Queen Elizabeth, right?
Murphy will develop Feud: Charles and Diana with Jon Robin Baitz, the producer with whom he's already at work on the Katrina season of American Crime Story. From Hollywood royalty to the real deal. Next stop: the Habsburg empire?
Princess Diana, Style Icon: See 20 Photos of the Natural Beauty
A young Princess Diana let her hair down during a summer holiday in Itchenor, West Sussex in January, 1971.

Getty Images
The Prince and Princess of Wales return to Buckingham Palace by carriage after their wedding, 29th July 1981. She wears a wedding dress by David and Elizabeth Emmanuel and the Spencer family tiara. Photo courtesy of Getty Images.

Princess Diana Archive
Lady Diana Spencer, soon to be Diana, Princess of Wales (1961 – 1997), looking pensive at a polo match in Windsor after the Ascot races, 16th June 1981. Photo courtesy of Getty Images.

Tim Graham
Attending the premier of the Bond film 'For Your Eyes Only' at the Odeon Cinema in Leicester Square in June, 1981. All eyes were certainly on her with that sparkly red dress and gorgeous blush.

Tim Graham/Getty Images
For a visit to the Isles of Sicily in April 1982, Princess Diana kept her hair and makeup natural.

Getty Images
For a day watching a Polo Match in August, 1983, Princess Diana embraced her hair's curly texture.

Tim Graham/Getty Images
In November 1984, Princess Diana visited a Barnados Charity and wore her hair pulled back in a new ladylike style.

Getty Images
Attending a polo match at the Guard's Polo Club in Windsor in June 1985, Princess Diana was the picture of '80s fashion and beauty.

Getty Images
Princess Diana arriving at the Serpentine Gallery, London, in a gown by Christina Stambolian, June 1994. Photo courtesy of Getty Images.

Princess Diana Archive
Princess Diana (1961 – 1997) at a state dinner in Canberra, November 1985. Photo courtesy of Getty Images.

Princess Diana Archive
The princess positively glowed during a visit to Bahrain in November 1986.

WireImage
Princess Diana Carries Prince Henry (harry) On Her Shoulders At Highgrove on July 18th, 1986. Photo courtesy of Getty Images.

Tim Graham
Diana Princess of Wales at a desert picnic in Saudi Arabia in November 1986, during the Royal tour of Saudi Arabia. Diana wore an outfit by Catherine Walker. Photo courtesy of Getty Images.

David Levenson
Princess Of Wales In Hong Kong Wearing An Outfit Described As The Elvis Look Designed By Fashion Designer Catherine Walker. Tour Dates 7-10 November, 1989. Photo courtesy of Getty Images.

Tim Graham
Princess Diana wore a fashionable gown and loaded up on the jewelry when attending a gala at the Cannes film festival in May 1987. Photo by Getty Images.

Tim Graham/Getty Images
Princess Diana wore flowers in her hair for a dinner with the King of Thailand during her official visit to Bangkok in February 1988.

Getty Images
While attending the Federation Cup Tennis Ceremonies in July 1991, Orincess Diana wore her hair short so as not to compete with her then-fashionable shoulder pads.

WireImage
A voluminous blowout gave Princess Diana some extra lift in December 1995, at the a gala in New York.

NY Daily News via Getty Images
A soft purple ensemble and natural makeup made Princess Diana look fresh and modern when visiting the Royal Air Force in England, in September 1995.

Getty Images
A brighter shade of blonde and soft bangs was a chic—and so '90s—look for the princess in June 1997.

Tim Graham/Getty Images
Infamous Hollywood Feuds: