Fever Ray's Karin Dreijer Opens Up About Her Radical Album Plunge, Sexism in Music, and the Knife
Her latest transformation is a big one.
---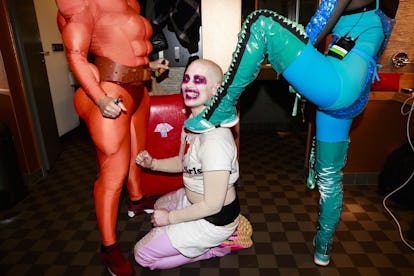 Alexa Vachon
Upon first listen, the most glaring thing about Fever Ray's latest album, Plunge. is how easy it is to latch onto every word that tumbles out of Karin Dreijer's mouth. Unlike her last one as Fever Ray, 2009's eponymous LP that was a harbinger of indie music's post-aughts influx of alt-pop, Dreijer's personal lyrics are up front and center. Conscious or not, it's fitting, considering she's singing about a newfound freedom that came from a sexual awakening: exploring her desire for women after divorcing her husband.
It's all the more appropriate that Dreijer, best known as one-half of the Knife, decided to do so on a solo album. "I felt like it was time to tell a story by myself," she explains over a Skype phone call from her native Stockholm (although it was her move to Berlin that informs the experiences she details on Plunge). "I've been working with my brother [Olaf] for a few years and other people doing the Knife show. I needed to dig deep and look at where I was at the moment."
At this moment, she's preparing for her first shows in the United States in eight years, which kick off May 12 and 13 at the Brooklyn Hangar, as part of the Red Bull Music Festival, for which Dreijer is also participating in a conversation about self-care. "It's been eight years and much has been learned and unlearned," as the first video she released for Plunge states. "Eight years of defeat and growth, eight years of caring and being cared for." In the process, her live show has also undergone a transformation.
Gone are the avant dancers and darkness that often masked Dreijer during her performances with the Knife. What often came across as more of an opera now has the feel of an actual party—one that's a celebration of queerness and gender-bending nonconformity. Of course, it's still soundtracked by Dreijer's signature steely synths and frenetic percussion, but her new show is looser and fun. One reason is that Dreijer is performing alongside her friends in a six-woman band. "It's a huge thing to play with only women," she says. "It makes such a big difference than playing with guys. I hope it can make some change or inspire other people."
What she's hinting at is how male-dominated the music industry is. As other facets of the entertainment industry have begun to undergo a paradigm shift in the wake of movements like #MeToo and Time's Up — most notably the film world — the music industry has been much slower to embrace these changes. When I ask Dreijer if she has any thoughts on why this may be, she says, "I don't think the music industry is more sexist than, say, theater or film. These structures of sexism are everywhere." Like many women, Dreijer has also been affected by it.
"There are so many stories," she says, in response to whether or not her experiences mirror the stories women have shared about sexism and sexual misconduct in music. "I think the most common one that's happened [was] when I started playing music, there were no female A&Rs at record labels. Back then it was important to get a record contract because you couldn't put out your own music any other way. As a woman playing music, I always had to play some kind of music that appealed to guys. This was in the '90s. I would say it hasn't changed much. I totally understand why people are tired of it."
One thing that has changed, however, is that Dreijer is no longer making music with men in mind. She sees Plunge speaking specifically to "women and queers." "There are so many other bands who write for guys, so there's no need for more bands that do that," she says. Likewise, her live show exists outside of heteronormativity. "My first band, when I was 18, was a girl-only band. So this is getting back to that time," she says. "It's a similar feeling, which is really nice. I've made music in so many different groups but it feels different to have only women on stage. It feels fun for us. At the same time, you still have the guys in the audience — it could be the front row — who just stand and stare at what kind of equipment our synths and keyboard player has on stage. They stare at the percussion players and watch how they play their instruments. I remember that so well from when I played guitar in indie rock bands. You always had all these guys in front of you staring at your guitar pedals on the floor. That feeling sticks and it's like, 'Ugh, come on. Go to the back!'"
Yet those kinds of men have become much more obsolete within indie culture as more female voices have risen within it over the past decade. Even with its glaring imbalance, indie music has undeniably become more inclusive, embracing pop and mainstream sounds, which, when Dreijer started recording music, was largely looked down upon. What does she think about the state of indie music? "I'm so bad at genres I don't even know what indie music is today," she says. "Some music I'd call indie is also very conservative in a way. A lot of music that's played by women is more straight, cis-female music. I really enjoy playing with gender roles and what is the woman on stage."
This tour, she's doing so in a bald cap and a shirt that reads, "I love Swedish girls" with a slash through "Swedish," while her band wears muscle suits like feminist superheroes, all created by Martin Falck, who has created visuals for Fever Ray and the Knife for years. Says Dreijer, "We are six characters like superheroes but in our way of being superheroes. They continue to develop. We get more and more comfortable in these characters on stage."
Outside of working only with female musicians, Dreijer is also attempting to effect change by speaking mostly to female journalists like myself on this press run. "In the past, there's only been male journalists," she says. "The music industry is very imbalanced and sexist. I see this as a very clear feminist project, and of course there are male journalists who are interested, but in my experience I've found it easier to talk about it to female journalists, or people who have the experience of being treated differently within the patriarchal system."
As for whether or not she and her brother Olaf would ever revive the Knife, which embarked on a farewell tour in 2014, she tells me, "He just recently moved back to Stockholm and we've been making music together, but I will probably tour for another year as Fever Ray. After that, I have no idea what I will do. We will just see what happens." Whatever that is, there's no use guessing. With Dreijer, the unexpected is the only norm.
A Look at Behind the Scenes of Fever Ray's Tour
Fever Ray, Karin Dreijer, Plung, Tour, Live, Columbiahalle, Berlin, Alexa Vachon, DEF

Alexa Vachon
Fever Ray, Karin Dreijer, Plung, Tour, Live, Columbiahalle, Berlin, Alexa Vachon, DEF

Alexa Vachon
Fever Ray, Karin Dreijer, Plung, Tour, Live, Columbiahalle, Berlin, Alexa Vachon, DEF

Alexa Vachon
Fever Ray, Karin Dreijer, Plung, Tour, Live, Columbiahalle, Berlin, Alexa Vachon, DEF

Alexa Vachon
Fever Ray, Karin Dreijer, Plung, Tour, Live, Columbiahalle, Berlin, Alexa Vachon, DEF

Alexa Vachon
Fever Ray, Karin Dreijer, Plung, Tour, Live, Columbiahalle, Berlin, Alexa Vachon, DEF

Alexa Vachon
Fever Ray, Karin Dreijer, Plung, Tour, Live, Columbiahalle, Berlin, Alexa Vachon, DEF

Alexa Vachon
Fever Ray, Karin Dreijer, Plung, Tour, Live, Columbiahalle, Berlin, Alexa Vachon, DEF

Alexa Vachon
Fever Ray, Karin Dreijer, Plung, Tour, Live, Columbiahalle, Berlin, Alexa Vachon, DEF

Alexa Vachon