Dolce Vita
After buying an entire village in Tuscany, a London couple have become accidental hoteliers.
---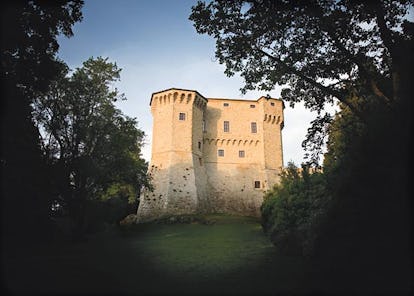 Driving up the winding dirt road that leads to the Tuscan hamlet of Fighine, one can barely discern a hint of the modern world. The surrounding groves of cypress, chestnut, pine and oak trees are lush and overgrown, and the turreted stone castle, set high on a hill, looks much like it did when it was first erected in the 11th century. But then a huge construction crane, looming incongruously over the idyllic scene, comes into view.
"We're going to miss that crane when it comes down," says Joy Ulfane, the owner of Fighine, with a laugh. She's only half joking. The crane, after all, has been a constant in the lives of Joy and her husband, Max, since they purchased the crumbling castle and its surrounding buildings 13 years ago and started to restore them. Now that they have just two small houses left to complete, it's only a matter of months until the construction machinery is wheeled away.
An interior of Villa Melissa, one of the properties for lease.
The Ulfanes, an elegant couple of a certain age, originally hail from South Africa, where Max, now an adviser to financial firm UBS, served as managing director of the country's largest textile mill. In 1973 they moved to London and, after many summer vacations in and around Florence and Siena, decided to look for a Tuscan villa to call their own. Four years of house hunting later, they bought an entire medieval village instead. "It was love at first sight," says Joy of her initial encounter with Fighine. And the fact that several neglected buildings had been reduced to rubble did little to quell her ardor. "There was something romantic about it," she recalls, sitting in her husband's study in the castle, the pale gray walls of which are covered with centuries-old paintings of local flora and fauna.
Today that love affair is stronger than ever. At least once a month, the Ulfanes come to stay in the five-story castle. Their time here, however, isn't all about sipping vino and watching sunsets. Fighine is as much a business as a vacation home. When they bought the property, the Ulfanes had no intention of leasing to guests, but they needed to restore the crumbling villas that surround the castle or risk losing them to the ravages of time. In 2004, with renovations nearly complete, they realized, recounts Joy, "it's no good just looking at them. They need to be lived in! So we decided to rent." Soon they added a high-end restaurant; a 170-seat theater, where Italian opera star Alessandro Corbelli performed in 2006; and a posh clubhouse where day-trippers can kick back for a drink. The four rental villas were outfitted by London decorator Hugh Henry with canopy beds, mosaic-tiled bathrooms and copious antique furniture. The goal, says Henry, who also did the interiors for the restaurant and clubhouse, was to restore but not necessarily modernize. "We tried to make the villas as comfortable as possible while keeping them fairly simple," he says. "These were built as unpretentious village houses, remember."
Still, says luxury-goods scion Nicola Bulgari, who recently attended a dinner at Fighine, the place feels hugely sumptuous. "There's an amazing attention to every single little detail," he says. "It's beautiful."
The New York philanthropist Barbaralee Diamonstein-Spielvogel, a friend of the couple's, pounces at the chance to visit Fighine whenever she can. "The Ulfanes' vision is a labor of love that lasted 10 years," she says.
As the Ulfanes' private residence, the castle is not open to villa guests, but they can nonetheless enjoy its majestic presence as they stroll through the gardens and olive groves. The town of San Casciano dei Bagni is a 10-minute drive away and boasts mineral-rich hot springs, but it would take more than a therapeutic soak to draw most guests away from the magic of Fighine. Says Diamonstein-Spielvogel, "It's like fantasyland, only it's the real thing."