Film Stars Don't Die in Liverpool Trailer: Annette Bening Plays an Original Hollywood Tragic Scandal Queen
She plays one of Hollywood's original tragic scandal queens.
---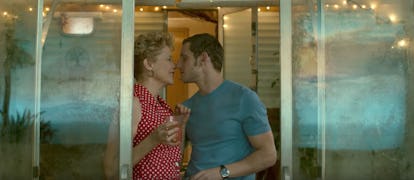 Annette Bening, shockingly, doesn't have an Oscar, but the character she plays in the biopic Film Stars Don't Die in Liverpool does. You just may not have ever heard of her: Gloria Grahame was one of Hollywood's go-to "femme fatales" during the era when film noir was all the rage. At her peak, she won the best supporting actress Oscar for Crossfire in 1947. Less then a decade later, however, her career would be in tatters. An obsession with the size of her upper lip led to questionable cosmetic surgery that altered not only her appearance but also her voice. Rumors spread that she was also "difficult" to work with.
She married four times: her final marriage was to her second husband's son. Yes, she married her stepson. When the news became public in 1962, the ensuing scandal lead to both more damage to her reputation and a nervous breakdown that necessitated electroshock therapy.
In Film Stars Don't Die In Liverpool, however, all of that happens in the past. The film finds Grahame in her 50s and living in near-obscurity in Liverpool, England while dealing with serious health issues. It's during this time that she kicks off a relationship with a young local man nearly half her age named Peter Turner. The movie is adapted from Turner's memoir, Jamie Bell plays him in the film.
The film is being positioned as a possible Oscar contender for Bening, and by all accounts she's absolutely smashing in it. It's a role she says she's always wanted to play, but had to wait 22 years until she was actually the correct age for it. Though, she'll certainly have steep competition this year with competition in the form of Meryl Streep, Frances McDormand, Sally Hawkins, Saoirse Ronan, Margot Robbie, Judi Dench, Jessica Chastain—well, the point is that this might be one of the most packed Best Actress races in years. We didn't even mention the possibility of Nicole Kidman, Emma Stone, Kate Winslet, or Jennifer Lawrence nominations, either. Though, the state of the race seems to constantly be in flux. Bening could prevail if audiences take to the film.
The film is set for release in select theaters on December 29.
Related: Annette Bening Very Much Enjoyed Moonlight, Despite Husband Warren Beatty's Oscars 2017 Flub
Actress Annette Bening Has Been Loving the Loudspeaker Emoji Lately:
Annette Bening's Best and Most Confident Looks Through the Years
Annette Bening attends the 48th Annual Golden Globe Awards Rehearsals at the Beverly Hilton Hotel in Beverly Hills, California in1991.

Getty
Bening goes simple in black, with husband Warren Beatty at the 53rd Annual Golden Globe Awards in 1996.

Getty
A rare sequined moment at the 71st Annual Academy Awards in 1991.

Getty
Bening covers up during A.C.T.'s 'Starry Starry Night 2002.'

Getty
Embracing a tuxedo look during the 13th Annual Premiere Women in Hollywood at Beverly Hills Hotel & Bungalows in 2006.

Getty
Bening arrives at the Los Angeles Premiere of The Women in 2008 in a sleek, red sheath.

Getty
Annette Bening in off-duty denim and white tennis shoes at the Thibiant salon in Beverly Hills, California, in 2009.

Getty
Bening attends the Mother and Child premiere at the Paris Theatre in a take on the three-piece suit,

Getty
Bening arrives at the 16th Annual Critics' Choice Movie Awards in 2011 wearing an embellished yellow gown.

Getty
Bening poses in the press room at the 68th Annual Golden Globe Awards held at the Beverly Hilton Hotel in Beverly Hills, California. 2011.

Getty
A golden moment for Bening as she arrives at the 17th Annual Screen Actors Guild Awards in 2011.

Getty
And a silver one at the 83rd Annual Academy Awards held at the Kodak Theatre in Los Angeles the same year.

Getty
Bening stunned in a one-shouldered white gown at the 2011 BAFTA's in London.

Getty
Bening arrives suited up to The Geffen Playhouse's Annual 'Backstage at the Geffen' Gala at Geffen Playhouse in 2013.

Getty
Annette Bening arrives at 'The Face of Love' premiere during the 2013 Toronto International Film Festival at the Elgin in Toronto, Canada. 2013.

Getty
Annette Bening attends the 2013 AFI Fest Spotlight event in all black.

Getty
Annette Bening attends The Face of Love premiere in 2014 in a shimmering take on the pantsuit.

Getty
Another chic suiting outing for Bening as she arrives at the COLCOA French Film premiere of The Search in 2015.

Getty
With husband Warren Beatty attending the screening of 20th Century Women at the AFI Fest in Hollywood in 2016.

Getty
A rare pop of color for Bening at the Santa Barbara International Film Festival honoring Warren Beatty with the 11th Annual Kirk Douglas Award for Excellence in Film.

Getty
Bening keeps it casual for the 20th Century Women New York screening, wearing a tan leather moto jacket and dark denim jeans.

Getty
Another casual look, this time in all black, at the 2017 Film Independent filmmaker grant and Spirit Award nominees brunch.

Getty
A perfect red carpet moment at the 74th Annual Golden Globe Awards in 2017.

Getty