How Cara Delevingne Came to Provide Backup Vocals on Fiona Apple's New Album
The supermodel is credited on the title track of Fiona Apple's long awaited fifth studio album, along with five barking dogs.
---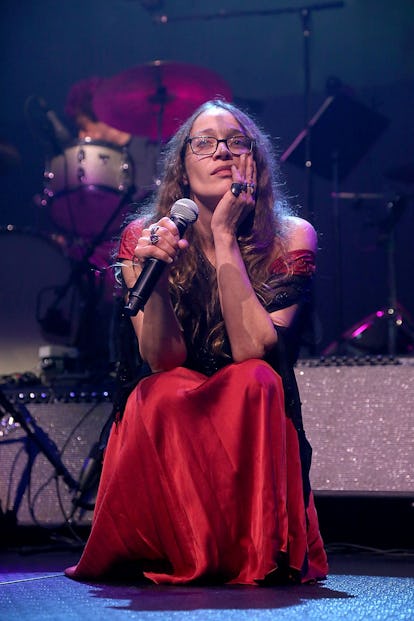 Photo courtesy of Getty Images.
While many are settling in to the one-month mark of quarantine, a gift for us all has been delivered: Fiona Apple's fifth studio album, Fetch the Bolt Cutters.
And even more of a treat is the discovery that, in the credits for the title track, background vocals can be attributed to none other than Cara Delevingne. (According to a New Yorker profile, Delevingne's contributions include a "kooky 'meow.'")
Apple, who's been practicing social distancing since long before it was a government mandate, also credits her five dogs named Mercy, Maddie, Leo, Little, and Alfie for "Fetch the Bolt Cutters," the third track on her follow-up to The Idler Wheel… from 2012. "Fetch the bolt cutters, I've been in here too long," the chorus goes, before sneaking in a Kate Bush reference ("I grew up in the shoes they told me I could fill/Shoes that were not made for running up that hill") and giving way for the dogs to let out their backing barks, collar jangles, and thrashing. It's an unintentional quarantine anthem inspired by a line uttered by Gillian Anderson's character in the crime drama series, The Fall.
But back to Delevingne—how do she and Apple know each other in the first place, and where did they get the idea to add the supermodel's vocals to the musician's album? Well, their interconnected web can be traced back to October 2017, when Apple and St. Vincent performed together at the Trans-Pecos Festival in Marfa, Texas. Annie Clark joined Apple for an impromptu set, singing Apple's "Pale September" and performing a duet of Cyndi Lauper's "Money Changes Everything."
At the time of the performance, St. Vincent had yet to release her fifth studio album, Masseduction. The album dropped about a week and a half after her Marfa performance with Apple, and though Clark had broken up with her former girlfriend, Delevingne, the supermodel's vocals were featured on St. Vincent's album.
Delevingne is featured on "Pills" but she also served as inspiration for some songs on the rest of the album. "I can only write about my life, and that—dating Cara—was a big part of my life," Clark said at the time of Masseduction's release.
So, suffice it to say, Apple and Delevingne probably met at some point a few years ago when Clark was recording Masseduction and getting her now ex-girlfriend's vocals down for "Pills." It shouldn't come as a surprise, either, that Delevingne has been featured on a couple of albums by now, considering she performed "I Feel Everything" with Pharrell for the Valerian soundtrack in 2017, and played the drums for a fake girl group with her now-girlfriend Ashley Benson in the 2018 film Her Smell. As for Mercy, Maddie, Leo, Little, and Alfie, we look forward to the next track that features their backing barks.