SHAMEIKA SAID SHE HAD POTENTIAL
Fiona Apple and Her Long-Lost Classmate Reunite With "Shameika Said"
Shameika Stepney, who rescued Apple from her third-grade bullies, turns out to be a seasoned rapper.
---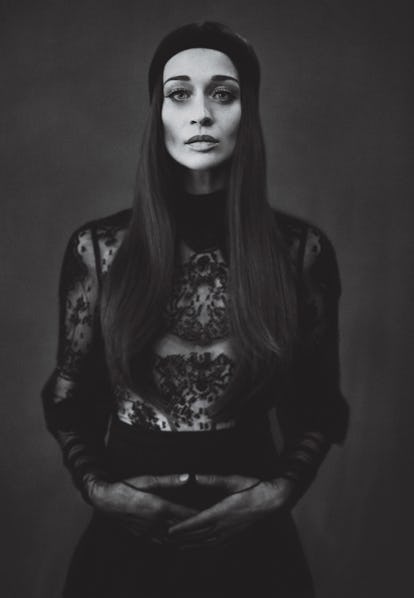 Chadwick Tyler
It was only after Fiona Apple released the song "Shameika" that we got confirmation that its namesake was real. After hearing the lyrics, which recount her former classmate's intervention when Apple was being bullied in the cafeteria, the singer received an email from her third-grade teacher Linda Kunhardt with a photo of Shameika. "Maybe she hates me or something," Apple told Vulture after the song came out in April. "I'd be afraid for her to hear it."
She needn't have been. And she was also wrong that she'd "never see her again," another lyric: Three months after the release of her beyond great album Fetch the Bolt Cutters, Apple reunited with Shameika Stepney. Thanks once again to Kunhardt—aka Ms. Koony—the pair reunited on FaceTime. Evidently, there were no hard feelings. On Friday, the pair released two collaborations: a new version of "Shameika," which begins with Stepney's voice, and "Shameika Said," a song featuring Apple written by Stepney.
Stepney has been rapping for more than three decades, going back to the days she and Apple attended St. Hilda's, a private Episcopal school in West Harlem. She filled Apple in on their nearly two-hour call, they settled on doing a remix. Instead, Stepney ended up writing a new song entirely. "Shameika Said" is a ballad about their memories of (and trauma from) St. Hilda's, which has a harrowing history of racism, and what's transpired in the years since their attendance. (Stepney was expelled the year after their encounter in the cafeteria.)
"It's Sha from the mecca, the holy place / Fi gave you the name, now you know the face," Stepney raps. And Apple finally gets to thank her: " "She stood up for me / I wish I could have done the same for her." ("She sung the shit out of it!," Stepney told Pitchfork.)
There are two other names Apple checks in "Shameika": "Tony told me he'd describe me as pissed off, funny, and warm" and "Sebastian said I'm a good man in a storm." Neither required any tracking down. Tony refers to the producer Tony Berg, one of Apple's collaborators, and Sebastian refers to her bassist Sebastian Steinberg, who made the remark when they almost got arrested for weed possession in Marfa, Texas.
"We got pulled over, and Sebastian was smoking from an apple in the back, and I kicked into control mode," Apple recalled in an interview with Vulture. She told Sebastian to eat the apple and hand over the weed, because "the little white girl" needed to be holding the pot. It worked: The cops were "so busy talking to the brown man and the hippie guy," Apple continued, "that they don't notice that the drug dog is really into my sock."
Related: Fiona Apple's Album Is So Great, We Can Only Respond With Memes