HALSTON! GUCCI! FIORUCCI!
Fiorucci is Back! And So Are Skin-Tight, Body-Hugging Sex Goddess Jeans
In the 1970s and '80s, Fiorucci invented the skinny jean for women. Now, the former chief creative officer of Victoria's Secret is bringing it back with the aim to revive the "daytime Studio 54" for a new generation
---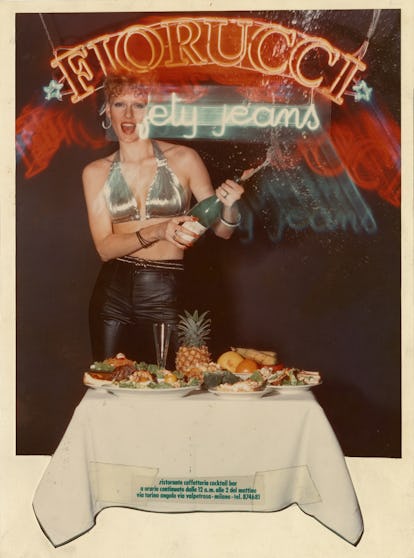 Courtesy of Fiorucci
Anyone who has ever attempted to revive a fabled fashion brand knows that there are always going to be a few skeptics out there, especially among die-hard fans. But when Janie and Stephen Schaffer decided to buy and relaunch Fiorucci—a name that was so synonymous with all things cool, fun, and sexy during a good chunk of the 1970s and '80s that it was name-checked in Sister Sledge's "He's the Greatest Dancer" ("Halston, Gucci, Fiorucci, he looks like a still/That man is dressed to kill")—they had more than the usual reasons to be anxious.
For one thing, the Schaffers are English and in their 50s, while the original Italian label, with its see-through-plastic jeans and glitter-festooned purple ­sunglasses, was all about wacky, youthful irreverence. For another, late founder Elio Fiorucci had been the kind of retail pioneer who didn't leave much room for improvement: He'd essentially invented the concept store, paving the way for today's fashion-art-music emporiums like Colette and Dover Street Market. What's more, the Fiorucci ethos embodied optimism, globalism, and a kind of carefree sexiness—qualities that are not exactly in sync with our current era of Brexit, Trumpism, and inward-looking angst.
Remembering Elio Fiorucci
In the early '60s, Elio Fiorucci began thinking about bringing wares from London's Carnaby Street to Milan. He opened his first store on the city's Galleria Passerella in 1968. Here, the designer poses with a few of his latest shoes in 1972.
Photo by Getty Images
The Fiorucci store becomes known for its epic parties—and famous guests, like Andy Warhol and Holly Woodlawn, who attended its 1978 Disco Party.
Photo by Getty Images
The store held fashion shows, too. Models show off their looks in a faux fight at the Beverly Hills store in 1979.
Photo by Getty Images
Bebe Buell and Stiv Bators (of the Dead Boys) attend a Blondie party at the store in Beverly Hills.
Photo by Getty Images
Decked out by designer wares and its Italo Lupi-crafted logo, the brand unveils its new headquarters in Milan.
Photo by Getty Images
Inside Fiorucci HQ.
Photo by Getty Images
Though Fiorucci left the company in 2001, his legacy lives on through collaborations with everyone from Naomi Campbell to IKEA.
Photo by Getty Images
Janie acknowledges that the challenges have occasionally left her frozen with fear. "You think, Oh, my God, can we ever do justice to Fiorucci? Because you're trying to tap into a psyche of happiness from 1982," she says. "Fashion is such a serious business now. How on earth do you go back and make people feel like they're 20 again?"
But the more you learn about the Schaffers, the more you realize they're duly qualified to bring Fiorucci back to life. Thirty years ago, the couple, who were married at the time, cofounded the British lingerie chain Knickerbox. When they sold it a decade later, it boasted 150 stores in 16 countries and the Daily Mail was referring to Janie as the Knicker Queen. (She and Stephen divorced in 2006 but remain business partners; she oversees the creative side, and his focus is on finance and management.) Janie recalls that in the mid-'80s, while they were concocting the retail strategy for Knickerbox, they would go on scouting missions to the Fiorucci flagship in Milan, "so we could try to capture a little bit of what that secret recipe was."
Talk to any fashion obsessive of a certain age and you'll likely hear a story—or five—about his or her own pilgrimages to a Fiorucci store in New York, Milan, London, or Beverly Hills. The label got its start in 1962 when Elio, the son of a shoe-store owner, started designing galoshes in bright colors and selling them in stores around Milan. Five years later, he opened his first shop, mainly stocked with miniskirts that he'd bought on Carnaby Street, in London, and brought home to Italy in his suitcases.
But from the start, the Fiorucci mystique was as much about the characters as the clothes. At the center of it all was Elio himself—tall and charming, discreet and enigmatic, a conservative dresser (he never wore Fiorucci) with an unerring antenna for avant-garde tastemakers. One of his key finds was Maripol, the French-born jewelry designer, photographer, and Andy Warhol acolyte who has always gone by her first name only. She came on board in 1978, two years after Elio opened the now-legendary New York store, that little piece of outer space on East 59th Street, codesigned by Ettore Sottsass.
Maripol was 22 then (at the Studio 54 launch party—which Fiorucci organized and sponsored—she wore fingerless gloves and a fishnet top with no bra underneath). Maripol recalls with amazement the day Elio announced that he was giving her $2,000 and a round-the-world plane ticket so that she could "go travel and come back with ideas." Her first stop was Tokyo, where she wandered into a plumbing store and found the black-rubber rings she would turn into bracelets for her friend Madonna and, soon after, everyone else.
Maripol became the Manhattan store's art director, recruiting young designers like Betsey Johnson to operate their own concessions, with Fiorucci taking a percentage. "So we were already doing mini-capsule pop-ups, and this was the early '80s," Maripol says. Meanwhile, artists like Keith Haring and Kenny Scharf were showing their work on the walls. (Elio would later fly Haring to Italy to "redecorate"—translation: spray-paint—the entire Milan store.) The performer Joey Arias, then in a punk-drag phase, was a floor manager, and there was free espresso for a clientele that somehow ranged from Jacqueline Kennedy Onassis and Truman Capote to Joey Ramone and packs of suburban teenagers.
"It's true when people say Fiorucci was the daytime Studio 54," Maripol says. "It was also like a gallery for artists who weren't getting shows anywhere else, because the establishment art world was still very conservative."
From his base in Milan, Elio filled out his European crew with people like the creative director Terry Jones, who used his Fiorucci paycheck to fund his fledgling London style magazine, i-D. "Elio built a team almost like a magpie," Jones recalls. "He just had this ability to pick up on things that gave him—and other people—pleasure."
Although Elio barely spoke English, Jones says, he acted like he understood everything everyone said; business decisions were based not on numbers but on instinct and emotion. The Italian designer Isabella Tonchi (the sister of W's current editor in chief) remembers that she was at a trade fair in Bologna when Elio walked up and asked who'd designed her outfit—a linen skirt crafted from a tablecloth, and a leather top punctured with holes. When she replied that she'd made both pieces, he asked her to work for him in Milan. (She'd been planning to be a writer but began designing for Fiorucci, and stayed for seven years.) One day she was in a taxi with Elio when a female dispatcher's voice came on the closed-circuit radio. "And Elio said, 'Oh, I like this voice!' So he asked the driver who the lady speaking was and got her address. Within a few weeks, she was working as the receptionist at the Fiorucci factory."
Elio's approach to retail was equally impulsive and unpredictable—more an expression of his rapacious curiosity than of a specific commercial strategy. (According to Maripol, his limitless enthusiasm sometimes led to whopping misfires, most often at the Milan store: "You could bring him something shitty and he'd order thousands of them!") As Janie Schaffer puts it, "Elio probably was not a natural retailer but more of a nomad and a collector of beautiful things and of talented people. It was like he was giving a home to this amazing mix, and curating it, while somehow making it accessible to the public."
Stephen began exploring purchasing the brand around 2009, while Janie was the chief creative officer of Victoria's Secret, based in New York. Over the decades, Fiorucci's management problems had forced Elio to sell off parts of the company, with full ownership ultimately going to the Japanese jeans group Edwin. Shortly before Elio's death, in 2015, Edwin struck a deal with the Schaffers.
For their debut collection, available now at Barneys New York, the Schaffers decided to focus on jeans, Fiorucci's lifeblood, with a small denim line inspired by the Fiorucci archives. Elio had famously been the first designer to produce skinny jeans for women, thanks to a ­eureka moment on a beach on Ibiza, where he saw a girl in clinging wet jeans and liked the way they fit. (Calvin Klein and Gloria ­Vanderbilt soon made it clear that they agreed.)
The Schaffers found their own inspiration while spending days plowing through about 3,000 pairs of vintage Fiorucci jeans that had been stashed in a forlorn warehouse outside Milan—one pair, at the bottom of a box, had been hand-painted by Haring. They adapted the designs with the Italian patternmaker Venucia de Russi, who had worked with Elio and has collaborated with Beyoncé on outfits for her concert tours, using Italian fabrics and Italian trims. "She doesn't speak a lot of English," Janie says. "But the one thing she kept saying about the fit is, 'It's got to be sexy! It's got to be sexy!' "
Not a bad directive for a new Fiorucci collection, which will also include T-shirts and sweatshirts; an underwear-and-swimwear line will follow later this year. Janie emphasizes that the Fiorucci notion of sexiness has always been more playful than salacious: Elio's campaigns featured a diverse group of women who were seductive "in a very natural way," she says. "They just looked very happy and self-possessed, like they knew who they were, which gives a message of empowerment." Next up is a full-fledged ready-to-wear collection.
And the stores? At a time when even e-commerce is seeing the value of maintaining brick-and-mortar operations, the Schaffers are determined to make their shops places where young people will want to go and hang out, whether they buy anything or not. The plan is to follow Elio's lead by collaborating with artists, musicians, and designers, turning the shops into ever-evolving cultural amusement parks. The first location, opening this August in London's Soho (not far from the on-trend meccas Supreme and Palace), will include spaces where customers can have their purchases personalized or watch a performance. A second store will open in Milan in early 2018, followed by Los Angeles.
Madonna, the '80s, and the Golden Age of Fiorucci
Models wearing Jeans from the Fiorucci Spring 2017 Collection.

Photographs by Andrea Spotorno; Styled by Alexandra Carl. Hair by Kei Terada at Julian Watson Agency; Makeup by Jenny Coombs for Nars at Streeters; Digital Technician: Robert Billington; Photography Assistant: Philippe Bustarret; Fashion Assistant: Georgia Illingworth; Casting by Sydney Bowen at Streeters; Models: Imade Ogbewi at D1 Models, Emily Jones at Select Model Management, Cassey Chanel at Wilhelmina MODELS, Tori at Named Models
Janie and Stephen Schaffer.

Photographs by Andrea Spotorno. Hair by Kei Terada at Julian Watson Agency; Makeup by Jenny Coombs for Nars at Streeters; Digital Technician: Robert Billington; Photography Assistant: Philippe Bustarret; Fashion Assistant: Georgia Illingworth; Casting by Sydney Bowen at Streeters; Models: Imade Ogbewi at D1 Models, Emily Jones at Select Model Management, Cassey Chanel at Wilhelmina MODELS, Tori at Named Models
A Fiorucci matchbook, 1970s.

Courtesy of Fiorucci
A StoreFront in Beverly Hills, 1980s.

Courtesy of Fiorucci
An Equipe bomber jacket, 1980s.

Courtesy of Fiorucci
A 1982 Polaroid of Madonna and her pal Maripol.

Courtesy of Fiorucci
A campaign image from 1976.

Courtesy of FiorucciCourtesy of Fiorucci
A campaign image from 1983.

Courtesy of Fiorucci
A campaign image from 1974.

Courtesy of Fiorucci
Elio Fiorucci, in the New York store, 1980s.

Courtesy of Fiorucci
Unfinished poster artwork

Courtesy of Fiorucci
'Computer Brain' graphic, c. 1980s

Courtesy of Fiorucci
Fiorucci carrier bag, 1978

Courtesy of Fiorucci
Madonna and dancers, Fiorucci 15th anniversary party, Studio 54, 1983

Copyright Maripol
While they're clearly hoping to draw on the fashion world's nostalgia for the original Fiorucci, the Schaffers realize that their target audience may be too young to even have heard of the brand. Rather than market to each demographic separately, they're favoring a "psychographic" pitch that's more about "spirit, optimism, and happiness," Janie says. When it comes to millennials' tastes in culture and technology, she jokes, "I feel like I'm 182 years old by the time I've had six of those conversations. It would be ridiculous for Stephen and me to think that we are tapped into the millennials and the way they think." So, like Elio himself did as he got older, the Schaffers are building a team of plugged-in trendsetters.
Above all, Stephen says, they want to preserve the emotional connection between client and clothing that was so crucial to Fiorucci's success. "It's quite remarkable when you meet people our age who remember the exact color of the Fiorucci jacket they wore on their first date," he says. Eventually, they also hope to open a foundation inspired by Elio's lifelong environmental activism—another one of his passions that has gone from marginal to mainstream.
But will all this be enough to win over the original Fiorucci-ites? Maripol, who has never met the Schaffers and hadn't seen their designs at the time we spoke, is keeping an open mind. On the one hand, she says, "it's like with a movie—is it necessary to remake a great film? There are so many new talents around, so why capitalize on the past?"
But she's glad that the Schaffers are giving it a shot, as is Terry Jones, who notes that for all of Fiorucci's association with fun and frothiness, the '70s had more than their share of sociopolitical unease. Today's gloomy backdrop could make the company more relevant than ever.
"People feel very protective of the brand," Jones says. "But the spirit of Fiorucci is something that really should be out there now."
See Unpublished Polaroids of Madonna's Early, Denim-Heavy Twenties
Watch W's most popular videos here: