First Annual Innovative Initiative
It's funny what you notice at different cultural events. At fashion parties people strut like models, at art parties there is this Warholian zombie walk but at ballet parties people glide through a room....
---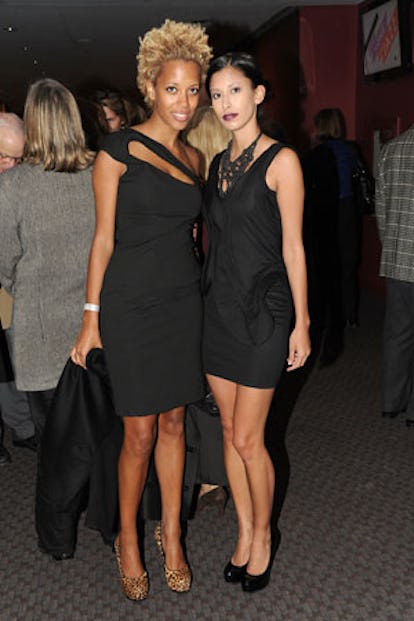 Last nights first annual American Ballet Theatre (ABT) Innovative Initiative was no exception. Guests and dancers were treated to a swanky dinner in the Allen Room at Jazz at Lincoln Center (which is actually at the Time Warner Building) with festive décor by Confetti System followed by a spectacular debut of four dances choreographed by ABT dancers.
Pointe shoes lept, sweat spun and deep breathing was heard as four different incredible performances took place with the choreographers/dancers coming out to an uncomfortable bow at the end of each one. The performances were introduced with a behind the scenes movie by Gravure with music composed by the boys of Stenfert Charles that seemed to produce as much hype as the performances themselves.
We stole a moment with choreographer/dancer Gemma Bond who took us through her process of composing her piece " I wanted to do something very soothing, classical and elegant so Franz List's music was perfect and Grecian dress was apropos! For the dancing I was inspired by Nijinska's choreography which I adore." Wearing a flattering Karen Millen dress and a pair of amazing glittery gold pumps that Gemma proudly boasted only cost $40 she explained, "My shoes may be cheap but I feel like a million bucks!"
At the dinner and after party we got to catch up with a gaggle of the fashion crowd. There was Linda Fargo in Naeem Khan who simply exclaimed, "The bodies! The Movement! The Everything!" Bibhu Mohapatra (who escorted Kiera Chaplin) declared that dancers, "and their big bones" constantly inspire him And Cushnie et Ochs who told us "we love the ballet because our clothes are always about movement and the female form."
The night turned into a very poorly choreographed event as Sky Nellor DJ'd and the crowd spun and swung around the dance floor till the wee hours. The dancers all stripped from their tights and squeezed into some of the tightest, skimpiest dresses we have seen much to the thrill of all five of the straight men in attendance.
Photos courtesy of Billy Farrell / BFAnyc.com
—Cator Sparks