Shopping High
What is it about airplanes that makes us succumb to our most outrageous acquisitive impulses? Mike Albo gets hooked on SkyMall.
---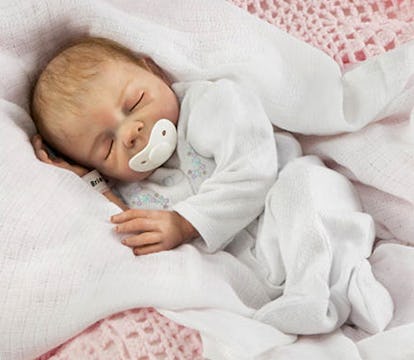 I'm in a cramped seat on a flight to Seattle, and I'm staring at an ad for Aculife Therapist, a device that invigorates acupuncture points. Stimulate the side of your forefinger and you can alleviate insomnia! The heel of the hand: hemorrhoids! I turn the page and find a canine genealogy kit. Then an autographed poster of Sigourney Weaver as her Na'vi avatar. Then a No! No! acne zapper. Once again I have fallen under the spell of SkyMall.
If you have been on a commercial airline and have two working eyeballs, you've likely been mesmerized by this curio cabinet of oddities. Only here will you find video- recording sunglasses and, a few pages later, a Daredevil Puppy Pilot Whirligig; when the wind hits it, "the propeller spins and the daredevil pooch bobs up and down." SkyMall has everything you didn't know that you didn't need.
Now celebrating its 20th anniversary, the catalog has become an American classic, something warm and comfortable (and sometimes disturbing) to read while crammed next to coughing strangers. Nothing says modern travel more than a cocktail, half an Ambien, and the SkyMall catalog. "Being an airline passenger is one of the few occasions you can take a breath," says Christine Aguilera, president of SkyMall, which is headquartered in Phoenix. "You don't have to answer the phone, there are no kids to tend to, you have this precious downtime." Downtime to explore the untapped desires in your consumer soul for bed tucker-inners and bug vacuums.
The catalog is arranged in a hodgepodge under the banners of its retailers, each with its own, deeply strange bent. Improvements, for example, offers products perfect for your next middle-class suburban pool orgy (smiling solar tiki torches and an underwater light-show device), while Design Toscano specializes in childishly crass yard art just right for the overblown estate of a 24-year-old Internet mogul—chairs in the shape of giant bloated crabs and the half-buried Zombie of Montclaire Moors garden statue, which "brings the flesh-hungry undead to your daffodil bed!" Indeed, the catalog's random, oceanic quality may be its greatest strength: It keeps the eye moving and stimulated, like driving down a busy highway lined with strip malls.
The quarterly catalog was launched with Eastern Air Lines in 1990. Now it's on nearly every domestic carrier (exceptions include JetBlue and Virgin America) as well as Amtrak. In its early days, the company offered more mainstream products distributed on the duty-free model: You could call from the airplane, and SkyMall would deliver the product once you'd disembarked. This proved to be less than efficient. "Consumers didn't really want patio furniture delivered to meet them at the airport," Aguilera notes. Much like an ever-expanding bazaar, SkyMall added more and more merchandise to its offerings. Classic top sellers like the Turkish bathrobe and a trouser organizer were augmented by the remote control LED candles and the Capacious Portable Hammock.
Today it works more like an aggregator. While there is staff dedicated to sourcing new and interesting things from trade fairs and other outlets, most products are offered via retailers with such catchy names as Frontgate, Signals, and the Greatest Gift that buy space in the catalog. (As a private company, SkyMall doesn't say how much it pays to rent space in the vital seat-back pockets of its host airlines.)
According to SkyMall's figures, the catalog is seen by approximately 90 percent of all domestic air passengers, and reaches more than 644 million travelers annually. And as SkyMall has blossomed, so have its retailers. The BraBaby, for example, a plastic globe that keeps your bra from getting tangled in the washing machine, first appeared in the catalog in 2006, and is now available at Target and Bed Bath & Beyond.
Such gewgaws have served as source material for many an artist. Michael Mittelman has created Duchampian toilet seats and Jenny Holzer–like LED screens from items ordered through the catalog. Nina Katchadourian wrote a song centered on its pet products called "Sky Mall Kitties," which includes the lyric: "Kitty drinking from a fountain, kitty sitting on a house/Kitty will annihilate remote- controlled mouse." But far more evocative than any artistic riff is the catalog itself. Take a look at the strange smiling face of the aggressively bald woman in her "before" photo for Toppik temporary hair replacement. Or the disturbingly sad, lifelike Cherish doll—a wrinkled baby made of vinyl, with "tiny handpainted fingernails and toenails [to] complete the illusion of life." Either could be in the next Venice Biennale.
In fact, if you really think about it, SkyMall—with its two-foot-tall meerkat family statues and personalized barbecue branding iron—is the definitive reflection of our contemporary psyche. The place where the most warped distortions of consumer culture turn out to be real.