The First Preview of Feud: Bette and Joan is Finally Here
In Feud: Bette and Joan, Susan Sarandon and Jessica Lange camp it up as Hollywood icons in Ryan Murphy's latest series.
---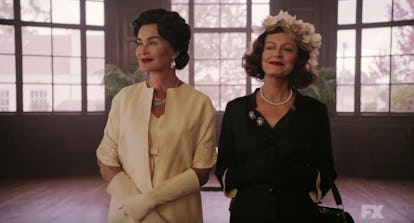 Photo via FX
After a deluge of set shots, still images and teasers, the first official trailer for Feud: Bette and Joan finally drops on Valentine's Day of all days. It is precisely as campy as one would expect.
After conquering the worlds of horror anthologies, true crime stories, and high school glee clubs, producer Ryan Murphy found it only natural to expand his television empire to the topic of ladies who don't like each other. For the first season of the planned anthology series, he's recruited American Horror Story vet Jessica Lange and Susan Sarandon to re-enact the legendary feud between Joan Crawford and Bette Davis.
The trailer stars with Catherine Zeta-Jones, in character as Olivia de Havilland, serves as something of a narrator. A fitting choice considering that the real de Havilland would go on to replace Crawford in what was originally planned to be the second onscreen team-up of Crawford and Davis (de Havilland was also notable for having a scandalous decades-long feud of her own with her younger sister Jane Fontaine).
"There was never a rivalry like theirs," explains the character. "For over half a century they hated each other, and we loved them for it."
Naturally, most of the action in the series centers around What Ever Happened to Baby Jane?, the notorious film that was Davis and Crawford's only joint production, and one that was made decades into the already raging rivalry.
As, Crawford and Davis feud on set, Alfred Molina as director Robert Aldrich and Stanley Tucci as producer Jack L. Warner scheme to make sure the feud continues to simmer. After all, the tabloid storyline wound up being the picture's biggest source of publicity.
Naturally, the whole thing ends with Davis kicking Crawford in the head. While we get a glimpse of Judy Davis as Hedda Hopper, Sarah Paulson's Geraldine Page and Kathy Bates' Joan Blondell are nowhere to be seen. Yet, anyway.
Feud: Bette and Joan premieres on March 5 on FX, but Murphy is already talking about future seasons. This won't, as originally expected, stick to just Hollywood feuds. He's already talked about an installment set in the 16th Century, as in Queen Elizabeth I and Mary, Queen of Scots, but there's no way that could be quite as campy as this season promises to be.
Infamous Hollywood Feuds: