Andrew Carmellini: Two stars & perfectly happy
Though not exactly a household name, Andrew Carmellini is seen as something of superhero by his fellow chefs. A veteran of Lespinasse, Le Cirque and Cafe Boulud -- where, as chef de cuisine he won...
---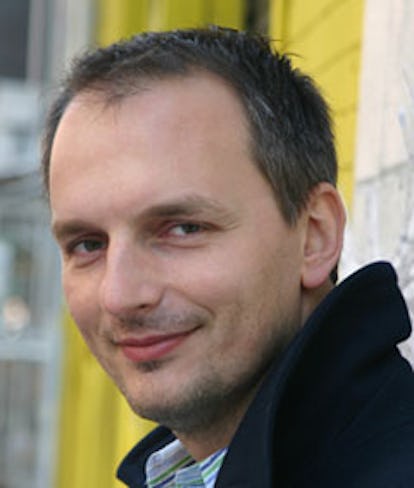 How is Locanda different from what you were doing at A Voce? Locanda is what I originally set out to do at A Voce. At A Voce, the design was so high-end and the reviews started coming in and so the prices increased dramatically because there was more expectation so it ended up being a little bit more fancy than what I'd wanted to do. I looked at the Locanda space when it was Ago and it had the feel of a casual, airy, neighborhood Italian place, which is what I'd always wanted to do.
How is that reflected in the food? The prices are all $25 and under, and we have some sandwiches, which we worked really hard to make awesome. And it's not all traditional Italian. Also, we really only reserve half the restaurant because we want to encourage walk in business. One thing that Ago didn't do is engage the neighborhood. So I think the best thing we did, if I'm going to pat myself on the back, is draw in a lot of neighborhood people who are eating here all the time now. They can call down and say "Do you have anything?" And if we know them we can say "Ok, why don't you come in half an hour?"
You received two stars from the Times versus three for A Voce. Is it hard to go down a star? No, the reviews have been exactly what we wanted. We didn't want to get too crazy with the stars because it's just not that kind of place. In some of my past culinary lives, like at Cafe Boulud, we were going for that because it was very technique driven, very pretty on the plate, very high-end ingredient focused, a little bit more reverence in the dining room. Locanda is definitely about great ingredients, all cooked to order, but instead of using milk-fed super high-end chickens, we're using regular all-natural chickens. And the chicken is nineteen bucks. So we're not a three-star restaurant. I've done that. I've done three stars. I've done four stars. Two stars is right for this restaurant in this climate.
Where do you like to eat in the city? I finally went to Corton. Once all of my reviews were done and I could take a day off, that was kind of my celebration night out. It was great. The squab with red char and chanterelles has this great umami kind of sauce and it was delicious.
And have you been working on your music at all? For the last three months, not so much but during the year I had off quite a bit. It's mostly hip hop beats. I've done three albums — I print them myself and just give them to friends. It's just fun. And I have another album coming out in a couple weeks.**
Photo: Emilie Baltz
See our previous interviews with chefs Graham Elliot Bowles, George Mendes, Sam Talbot, and more.