Five minutes with China Chow
Tonight Bravo will debut Work of Art, a Project Runway-style competition for visual artists. The legitimacy of analyzing art in a such a quantitative manner—or on a reality show, for that matter—might seem dubious, but...
---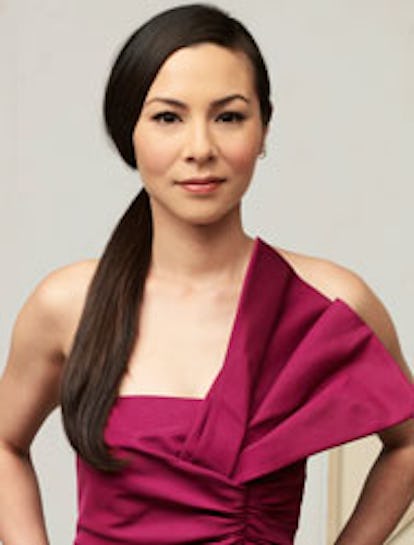 How did you get involved with Work of Art? I went to meet with Andy Cohen at Bravo because I had an idea for a show that involved art, architecture, interior design and that whole creative world. He said, "You like art?" And I was like, "Yeah, I love art. I grew up around it." And he said they were putting together this art show and looking for a host. To be completely honest I was a little bit like, "Reality art competition?" But when they told me that Simon, Jerry, Jeanne and Bill were involved, I knew it would be good.
Did you enjoy hosting? I loved it. But I have a hard time watching myself. Or even looking at a photo. I don't even like hearing my own voice on an answering machine.
Really? Once upon a time you seemed to love getting photographed. I used to be more glamorous. But I was just putting on clothes and going out. I'm not as social as I used to be. I don't think about those things, that world, anymore. Just thinking about that world is exhausting.
What have you been doing over the last several years? Living in L.A., doing a little bit of acting. I did the pilot and a few episodes of a show called Burn Notice, which is on USA.
Was hosting a reality show easy compared to acting? It's apples and oranges. Although I did cry on the first day. I didn't get enough sleep the night before and the dress that I was meant to wear got somehow screwed up in alteration and I had to wear a dress that was corseted with boning, very tight and hard to breathe in. The A.C. was also broken in the gallery. I was supposed to have wrapped at 8:30 in the morning, and somehow I was still there at four in the afternoon. My brain sort of left my body and all of a sudden I just got really dizzy and I thought, 'I'm going down soon.' And I just started crying.
But you are used to being around artists, yes? It's a world I grew up around. We always had artists around us—all those artists in the '80s like Keith Haring. Lots of artists were friends with my parents [restaurateur Michael Chow and late designer Tina Chow]. They'd be in the restaurant or we would go hang out with them on weekends. Jean Michel Basquiat would come to Hong Kong with us on vacation or would come and crash on our sofa in L.A. My brother and I just felt like he was our friend.
Are you a collector? I buy some art but I don't like to talk about it. I'm so private and I don't know why! I get really guarded. I got a Rauschenberg recently. I have these Clive Barkers—these two Mona Lisas, one is called the White Mona Lisa and you can barely see her. From a distance it looks like a white piece of paper framed and if you look closely it's like the ghost of Mona Lisa behind it.
How do you feel about the catchphrase—"Your work of art didn't work for us"—that you say to eliminated contestants on the show? For me that was the least enjoyable part of the whole process. It's a little mean.
Photos: Work of Art: courtesy NBC Universal. Chow in 2001: WWD