Because Chocolate + Jewelry = Heaven
Upper East Siders were bereft when Francois Payard's namesake eatery suddenly shut its doors this summer after the pastry chef's rent was hiked by a reported 50%. Fortunately, the maestro has returned to the UES...
---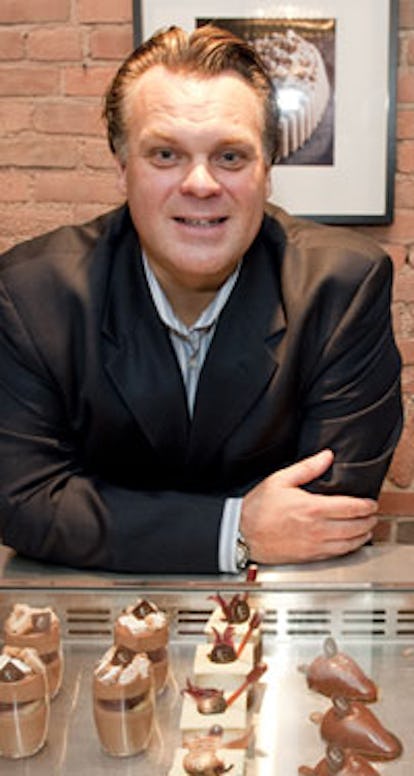 Who's the clientele? I think it's a nice place for ladies to hang out in the afternoon. Maybe they're going to buy a ring downstairs and have a cup of hot chocolate upstairs. We have five kinds of hot chocolate.
It's a cake that is built into a glass. They are time consuming to make because each layer is cut to fit the glass. You have to put the spoon all the way down to taste everything.
Any favorites? One of the verrines has a very cool presentation: I think it's a little bit shocking. It's a white chocolate sponge, then a compote of cranberry and balsamic vinegar—don't worry, it's not shocking yet—and after that there's a dark chocolate creme brulee and a white chocolate sponge. There's a plastic syringe filled with the compote, so you can take a little more balsamic into your cake.
Did Mauboussin request you do anything in particular? Alain Nemarq [chairman of Mauboussin] just wanted me to make one special thing for him because he loves something very, very dark, very French, like 75% chocolate—and he wants a pinch of salt in the dark chocolate. That's in the works.
I'm still looking for locations, right now I have nothing concrete. Concrete for me is when I sign the paper. I'm still looking at many places but right now for the next two months I'm focusing on the chocolate bar.
Are you looking in any neighborhood in particular? I'm very open—Payard was the Upper East Side but I love downtown too, sometimes. Right now there are so many places empty, so many bad landlords. Maybe I will find my dream.
Where do you like to eat yourself? I may shock you—I love to eat vegetarian. I just met the people from Candle Cafe. I even did something very interesting with them: they asked me to go to Harlem and to teach some kids how to eat healthy. I did a pizza for the kids with red sauce and beans and tofu.
The Mauboussin shop and Francois Chocolate Bar are located at 714 Madison Avenue (at 62nd Street).