Five Minutes with: Rodarte's Kate and Laura Mulleavy
From left: Kate and Laura Mulleavy; Photo by Autumn de Wilde Joan Didion once wrote, "We tell ourselves stories in order to live." Perhaps this was the sentiment lurking in Darren Aronofsky's unconscious when...
---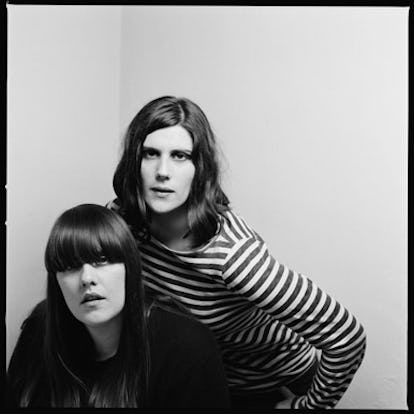 Joan Didion once wrote, "We tell ourselves stories in order to live." Perhaps this was the sentiment lurking in Darren Aronofsky's unconscious when he directed Black Swan. The psychological thriller (thriller with a capital T) explores the limits of compromised reality; how far do we go before we go under? Natalie Portman delivers a beautifully layered performance as a ballerina who, in preparing for the coveted role of Swan Queen, becomes so desperate to achieve perfection that she mentally dissolves, sliding into an imaginary world. It's 107 brilliant minutes of paranoia and desire; don't be surprised if it takes a few days to shake off.
As for the film's seductive and visceral version of Swan Lake, only the most fantastical costumes would do. Cue Kate and Laura Mulleavy, the Rodarte designers whose ability to blend the beautiful and delicate with the strange and darkling was exactly what the filmmaker's desired. Countless bolts of tulle and bags of feathers later, forty some breathtaking costumes were created by the sisters Rodarte. Worthy of Best Costume Design? Absolutely. W caught up with the multi-talented duo at the film's premiere.
Rodarte has shown 12 unique collections thus far. What was it like to take on someone else's vision for a change? Kate Mulleavy: Working on Black Swan was an amazing and exciting process. We loved working with Darren Aronofsky and the creative team for the film. Darren trusted us artistically and after telling us about the aesthetics of the film and understanding its subtext, we created a world within a world where all notions of identity, beauty and brutality could be explored simultaneously. He gave us a lot of freedom and it was an effortless collaboration. And Natalie [Portman], who introduced us to Darren, was a constant source of inspiration. She gives an unforgettable and iconic performance; one that will be a part of film history.
Take us through the thought process of conceptualizing the Swan Lake costumes. Laura Mulleavy: We researched the ballet in depth. We looked at its historical relevance and the socio-political developments of ballet and the female body over the years. Also, we really thought about how the subject of voyeurism would be explored in the film through the cinematography and story telling and thus wanted to focus on playing with viewership in the designs. We drew from an internal understanding and personal fascination with the idea of duality. We were working with character doubles (Nina and the white swan, story doubles (the parallel between on stage and off), and physical costume multiples. It's interesting because when you watch a corps de ballet on stage, ballerinas look so similar to one another. Individuality is blurred. In creating the soloist dance costumes for Rothbart, Siegfried, the maiden, the white swan, and the black swan, we had an opportunity to showcase how costumes become symbolic for a dancer; it's one of their opportunities to distinguish themselves from the rest.
What's the secret of the tutu? KM: If you see archival costumes or a company's tutus, you would notice that the tutus are not always brand new. So the history of wearers is seen in all of the hooks and eyes that remain on the backside after they have been re-fit. The story of the tutu is told in many ways through it's closures. A tutu is held together with a series of complex hooks and eyes. These closures are as beautiful as the many layers of tulle that make it up!
LM: One of the interesting parts of making the black and white swan tutus was asking Darren if he imagined that the viewers would see them onscreen from the gaze of a distant audience or from a realistic, up-close perspective. He wanted to show them from the audience's point of view, so instead of seeing what you really see on a tutu (elements such as illusion tulle and straps), we had to build them as functional objects whose support existed through the fit and boning of the interior.
Which costume was the pièce de résistance? LM: The black swan. We were able to envision and create a costume that was keeping in the tradition of Swan Lake and yet completely modern. It was very important that the black swan costume be unique to the world of black swan. The black feather tutu and metal and Swarovski crystal crown, combined with the net, defines that pivotal and surreal moment within the film. Looking at how the choreography, score, and cinematography all tie together and propel the viewer forward, anticipating the moment where the black swan is revealed, all that definitely required an iconic costume.
Cathy Horyn describes your recent collection as the sort people will look at "again and again in a kind of amazement at so much transmitted feeling through honest things." How do intuition and intimacy affect your designs? KM: We design from a very personal place. We approach design as story tellers, so each thought we have leads to another, and each visual reference draws meaning and relevance from something that we have seen or experienced. We hope that each piece we create can be transformed by a woman herself and made entirely her own by the way that she wears it.
And if this woman could only own one piece of Rodarte clothing? KM: It would definitely be a dress; we are immediately drawn to designing dresses and feel most free when doing so.