FKA Twigs is Curating a Halloween Experience About The Scariest Thing Ever: Yourself
FKA Twigs wants you to spend your Halloween in London, undertaking a series of self-analytical artistic experiences.
---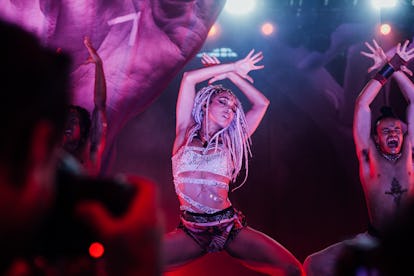 Emily Malan
Halloween is the one time a year during which it's acceptable to dress up and pretend to be someone else in public. Yes, the holiday is rooted in notions of fright and trickery, but once you reach a certain age and remain single and childless it's really more about alcohol, deciding if you're at a point in your life where it's acceptable to wear a sexy costume or not, and pretending a costume makes you immune from having to take full responsibility for your actions.
Well, chimerical English pop star FKA Twigs is trying to change all of that. She's creating a giant Halloween-themed experience in London next month centered on possibly one of the scariest things an adult can do: self-analysis.
Last month, Twigs put out a mystery call for collaborators on Facebook.
"I'm looking for performers of all genres to audition for a project I'm making in London this October," she wrote. "No talent or style is too extreme."
The posting left fans wondering what she could be up to. As it turns out, she'll be curating the second edition The Veuve Clicquot Widow Series.
Twigs has dubbed the project "Rooms," as participants will travel through various rooms. She promises it will be "an immersive and tactile evening in which the audience will be encouraged on a journey of self-analysis, joining FKA twigs on a spiritual exploration, experiencing fear and enlightenment through multiple mediums."
Self-analysis? Spiritual exploration? Enlightenment? Damn, Twigs, we were just trying to get drunk in a sexy Pokemon or fashion forward Elvis outfit. That's asking a lot out of a party.
"There aren't always opportunities to make your wildest creative ideas a reality, 'Rooms' is one of my most ambitious projects to date so I'm very excited to be bringing it to life for the Veuve Clicquot Widow Series," said the artist in an accompanying statement.
The exhibition will open with a VIP event in London on Wednesday 26th. The general public can purchase tickets to attend the event on the following two nights. Luckily that means your Satuday night and actual Halloween night would be free for less spiritual journey-centered celebrations of All Hallow's Eve.
Twigs will be following in the footsteps of fashion photographer Nick Knight who curated last year's edition of the Veuve Clicquot Widow Series. The series is inspired in part by the true story of Barbe-Nicole Clicquot. She turned her husband's floundering champagne business into a success once he died and she was left a widow. Knight's inaugural edition featured collaborations with Amanda Harlech, Gareth Pugh and taxidermist Rose Robson. Fashion films and specially commissioned illustrations were the centerpiece of that edition. WWD notes that event ended on a party note with guests dancing to Beyoncé.
We can only speculate as to whether guests will want to end up dancing to Beyoncé after traveling through Twigs' chambers of self reflection.