FKA Twigs Opens Up About Shia LaBeouf's Alleged "Reckless Abuse"
The musician has sued her ex-boyfriend for "relentless abuse," including sexual battery, assault, and infliction of emotional distress.
---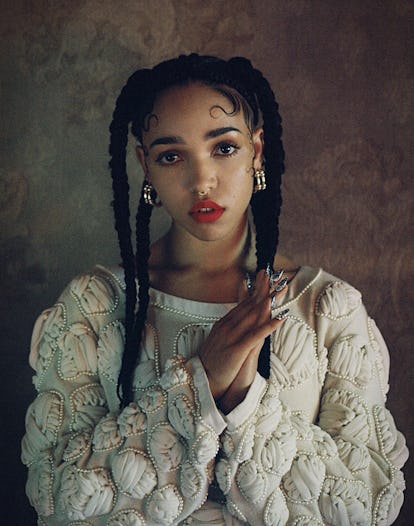 "I am a very private person as u all know," the musician FKA Twigs wrote to her million-plus Instagram followers in 2018, then opened up about her health struggles nonetheless. Her aim—to let others know they aren't alone—was the same when she made an even bigger reveal on Friday. In an interview with the New York Times, Twigs alleged that her ex-boyfriend, the actor Shia LaBeouf, subjected her to nearly a year's worth of physical, emotional, and mental abuse. She has also sued LaBeouf, who has asserted that "many of these allegations are not true."
"I'd like to be able to raise awareness on the tactics that abusers use to control you and take away your agency," Twigs told the Times. "What I went through with Shia was the worst thing I've ever been through in the whole of my life. I don't think people would ever think that it would happen to me. But I think that's the thing. It can happen to anybody."
What happened to Twigs specifically is now at the center of her lawsuit against LaBeouf, whom she first met in 2018. They both starred in his semi-autobiographical film Honey Boy, and began dating after filming wrapped. What allegedly followed resembles a textbook abusive relationship, beginning with a so-called "honeymoon phase." LaBeouf's initial "over-the-top displays of affection" helped earn Twigs's trust, but that only lasted for so long. Eventually, the lawsuit claims, their relationship became characterized by LaBeouf's "relentless abuse," including sexual battery, assault, and infliction of emotional distress.
Twigs, like another of LaBeouf's ex-girlfriends, the stylist Karolyn Pho, told the Times that she learned not to speak to or look at male waiters in LaBeouf's presence. Twigs also claims that she learned to avert her eyes from men who spoke to her more generally. Meanwhile, LaBeouf allegedly imposed rules about how many times a day Twigs was obligated to kiss and touch him, and knowingly gave her a sexually transmitted disease. According to the lawsuit, he kept a loaded firearm by the bed, where Twigs wasn't allowed to wear clothes. (The singer became fearful of going to the bathroom at night, lest he mistake her for an intruder and open fire.)
The lawsuit is far from LaBeouf's first legal entanglement. Most recently, this past September, he was arrested on charges of misdemeanor battery and petty theft. He was also arrested for disorderly conduct in 2014, and twice more in 2017. (One of the latter incidents culminated with a racist rant at the police station.) Several charges have been dismissed, but in at least one prominent, publicly documented instance, LaBeouf wasn't charged at all. In 2015, a video surfaced of the actor fighting with his then girlfriend, Mia Goth, then telling the men recording that "if I'd have stayed there, I would have killed her." The following day, she was reportedly seen with a black eye.
That incident, like the one at the center of Twigs's lawsuit, took place in public. In 2019, LaBeouf allegedly threw Twigs at the car he'd been recklessly driving and threatening to crash if she didn't declare her love. Twigs didn't go to the police, fearing that she wouldn't be taken seriously. That was especially true for all the closed-door incidents, like how LaBeouf allegedly woke her up in the middle of the night to choke her a few days before. "I just thought to myself, no one is ever going to believe me," she told the Times. "I'm unconventional. And I'm a person of color who is a female."
LaBeouf convinced Twigs to move to Los Angeles from England, where he was the only person she really knew. Technically, she continued, "the whole time I was with him, I could have bought myself a business-flight plane ticket back to my four-story townhouse in Hackney." But "he brought me so low, below myself, that the idea of leaving him and having to work myself back up just seemed impossible."
Eventually, Twigs did leave him, though her housekeeper alleges that LaBeouf tried to stop her by locking her in a room. "It was actually very expensive, and a massive undertaking of time and resources, to get out," Twigs told the Times. Should she win the lawsuit, a portion of the damages will go to domestic violence charities.
LaBeouf told the Times that even if believes many of the allegations are false, he feels he owes the women "the opportunity to air their statements publicly and accept accountability for those things I have done." As with many of his previous legal entanglements, LaBeouf pointed to his alcoholism, then clarified he has "no excuses." (He is currently "a sober member of a 12-step program" and in therapy for PTSD.)
"I have a history of hurting the people closest to me," LaBeouf continued. "I'm ashamed of that history and am sorry to those I hurt. There is nothing else I can really say."
Related: FKA Twigs Reveals She Had Six 'Pretty Huge' Tumors Removed From Her Uterus