Sweet & Low
Once a victim of sky-high heels, Jane Larkworthy slips on a pair of brogues and walks proud.
---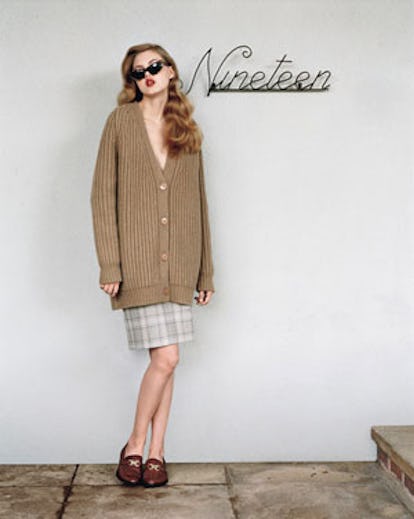 When the lights went up at Dolce & Gabbana's fall 2011 show in February, the first model sent down the runway, Arizona Muse, seemed to walk with a kind of ethereal ease. Why? She was wearing "sensible shoes." Of course, those are two words with which neither you nor me nor the house wants to be associated—but those black leather brogues on Muse (and most of the other models) looked like a welcome respite from the usual high-wire acts. A week later in Paris, Chanel's runway was full of flat biker and workman's boots, and at The Row show in New York, the unveiling of velvety slippers had me thinking it was time to go full Mizrahi and dig out the Belgian loafers again.
After seasons of sky-scraping stilettos, I'd begun to wonder what kind of podiatric apocalypse it might take to stop the six- and seven-inch insanity. But while certain male shoe designers are easy to target as part of the problem (I'm pointing my toes at you, Messrs. Louboutin and Blahnik), the male shoe itself is part of the solution.
Dieppa Restrepo, the line from Andrea Vargas-Dieppa and Elisa Restrepo, has been turning out female-friendly brogues and oxfords in a multitude of leathers and colors for three years. Alexa Chung is a fan, as is Téa Leoni.
From left, shoes by: Hermès, Christian Louboutin, Robert Clergerie, Stella McCartney, Repetto, and Cole Haan.
Despite obvious assumptions, though, flat shoes aren't intrinsically better for feet. "When women wear flats, we tend to see more Achilles tendon and plantar fascia issues," says Rock Positano, director of the nonsurgical foot service at New York's Hospital for Special Surgery. Translation: Pain in the back and sole of the foot.
Fair enough, but aren't Barbie feet worse? For years I wore four- or five-inch stilettos almost every day—and developed bony bunions protruding from my big toes, along with a cruelly painful neuroma (a thickening of nerve tissue in the toe that can be caused by wearing heels with tight toe boxes). I'd developed such an addiction to heels that my feet eventually hurt the most when they were in archless shoes like Dr. Scholl's or Tevas; the only way to make the pain go away was by slipping them back into snug pumps.
When I started walking to work, though, I began the arduous process of easing my feet into a pain-free existence. My closet now houses a healthy mix of bucks, riding boots, and occasion-­only stilettos. My favorites, however—and nearly the most comfortable—are the Yves Saint Laurent Tribute sandals, which have a slight arch to comfort my plantar fascia and strategically placed straps to hug both my Achilles tendon and whatever the tops of my feet are called. Oh, yes—they're also four-inch-high platforms.
Women's feet, though, are like snowflakes—no two pair are alike, and one woman's cozy oxford can be another woman's plantar fascia killer from hell. Still, is there some kind of ideal shoe style out there? "Generally it's something with a one- to two-inch heel," Positano says. "A little bit of heel height allows for a little less stress on the front of the foot, the heel, and the knee. And the broader the heel on the shoe, the better the weight distribution on the foot."
As Positano rattles off a few suggested labels that bring to mind, variously, flight attendants and the Continental Congress, I think, Well, that's not going to happen. Then I spot a certain shiny black Hermès loafer online, roughly two inches high with a wide heel (below left)—a podiatrist's dream. Of course, just about the time I've broken them in, Victoria Beckham-style heels will no doubt be back in vogue. Until then, I'm taking the low road.
Styled: Felicia Garcia-Rivera
Styled: Felicia Garcia-Rivera
Styled: Felicia Garcia-Rivera
Styled: Felicia Garcia-Rivera
Mulberry, $550, at Mulberry New York, 212-453-4722

Styled: Felicia Garcia-Rivera
Styled: Felicia Garcia-Rivera
Styled: Felicia Garcia-Rivera
Styled: Felicia Garcia-Rivera
Styled: Felicia Garcia-Rivera
Shoes: Hannah Whitaker; Model: Alasdair Mclellan