Exclusive Music Video Premiere: Fletcher's "Wasted Youth" Is an Ode to Being Young and in the Moment
How the singer Fletcher came to make her new video for her song "Wasted Youth."
---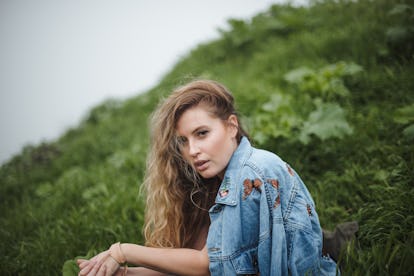 Derrick Freske
Fletcher didn't set out to make this music video. Last summer, the 22-year-old singer-songwriter, née Cari Fletcher, was at the beach just outside Los Angeles with her friend, the filmmaker Ryan Hutchins, who decided to film their adventure. The shots turned out well—so well, in fact, that they decided to adapt the footage into a music video. The resulting clip for "Wasted Youth," which premieres exclusively on W, features Fletcher and a friend-turned-paramour venturing across the Los Angeles landscape, from the beach to a parking garage to a Laundromat. "Really mundane, everyday places," Fletcher explained, that we tend not to "associate with really positive or happy or beautiful moments."
The "Wasted Youth" video turns that banality poignant. Though much of the song is an optimistic rallying cry ("It's my life; if I'm gonna waste it, gonna waste it on you"), there's also a somber understanding that this, too, will end.
The video is bookended by Fletcher's own family home movies. At the beginning, the filmographer, her dad, calls out, "Cari, you having fun? Having fun?" A few frames of Fletcher as a toddler flash by, before the scene dissolves into the L.A. cityscape, Fletcher and another young woman stumbling down the beach or tiptoeing along a rooftop armed with Solo cups.
"I really wanted to emphasize the idea of being present in a moment and following your feelings regardless of how complicated it may feel or what people are saying to you," Fletcher explained. "There has been such a shift with my generation where people are not so quick to put a label on sexuality and are really starting to feel more safe with expressing this sort of openness." (The singer has been outspoken in support of LGBTQ causes.)
"Wasted Youth" is the fifth and penultimate track on Fletcher's debut EP, Finding Fletcher, released last September, just more than a year after her first single "War Paint" went viral. It's also the last song Fletcher wrote for the EP. It acts as a kind of bridge between the Finding Fletcher EP, which she said was largely written about a breakup, and her upcoming full-length effort, which will go on to explore these themes of self-acceptance and exploration.
"It's our life, and we can choose to waste our youth however and with whoever we want," she said. For Fletcher, this message has particular resonance in the current political climate: "Women are beautiful, and women are badasses, and it's the most incredible and crucial time to be a woman with a voice and to raise it loud."