Flo Morrissey Is an Old Soul
Get to know the rising star.
---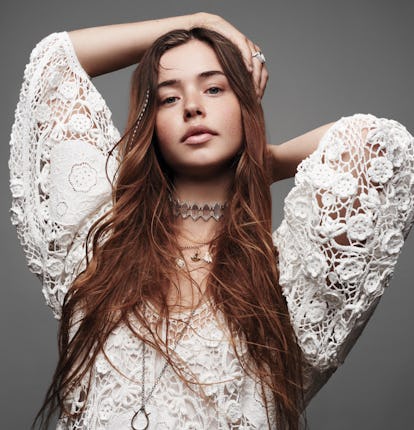 Photographer: Ward Ivan Rafik Stylist: Azza Yousif
"Show me that I'll become/Something that is parallel to when I was young…Show me the places where we died," implores Flo ­Morrissey, in an aching falsetto, on the opening track of her debut album, 2015's Tomorrow Will Be Beautiful. It's not exactly the sort of sentiment you'd expect from a girl of 15, the age the English singer was when she wrote it. But Morrissey has often—too often, if you ask her—been referred to as "an old soul," thanks, in part, to her flowing, vintage-heavy bohemian style. In fact, she grew up listening to the plaintive mewling of adults who, when it came to expressing their feelings, sounded a lot like teenagers. "I remember being in the car with this freak folk on," she says of her family's predilection for ­Devendra Banhart and Nick Drake. After teaching herself to play guitar, she began recording the dreamy, elliptical songs that have earned her comparisons to Karen Dalton and ­Joanna Newsom. Now, at 21, she feels as if she is finally truly growing into, well, her early stuff. "It's funny how a song can teach you things. You don't really know what you're writing or singing about, but you still do it—and it's only later that you feel like the song rings true."
Watch W's most popular videos here:
Hair by Valentin for Shu Uemura Art of Hair at Judy Casey Inc.; Makeup by Carole Colombani at Jed Root; digital technician: Yohan Burel; photography assistant: Bryan Monaco; fashion assistant: Melina Brossard.