Float Into 2017 With All the Best Balloon Art From the Past Year
Martin Creed's balloon hall and more celebratory, art-world inspiration for your feed in the new year.
---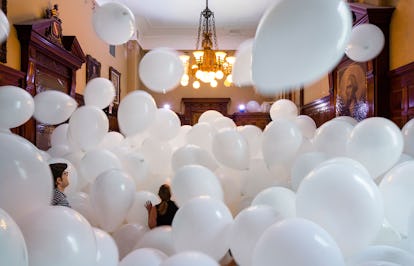 Though 2016 ended with the tragic loss of a miniature balloon dog by Jeff Koons when it shattered at Art Basel Miami, the art world was abound with playful, inflatable art. The artist Alex Da Corte, for one, both greeted visitors to Randall's Island at Frieze in May with a giant inflatable baby, and installed a family of buoyant faces at his massive, decade-spanning show at Mass MoCA. Meanwhile, in uptown Manhattan, Martin Creed turned the Park Avenue Armory into a pool of white balloons, which stretched over to Brooklyn when the artist Matthew Callinan tied up nearly 700 of his own for Bushwick Open Studios—so many that his fingers turned blue. Ring in the new year with a look back at all the festive art, here.