Meet Lady MacBeth's Florence Pugh, a Truly Modern Feminist Hero in a Corset
The 21-year-old British actress is re-envisioning the costume drama heroine in her new film, Lady Macbeth.
---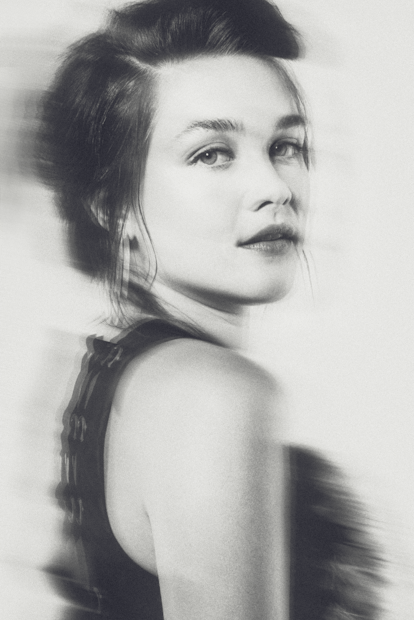 Florence Pugh wears Huishan Zhang top, $835, Bergdorf Goodman, New York, 800.558.1855; Roxanne Assoulin earrings, $75 for set of two, roxanneassoulin.com. Photo by Alex Hodor-Lee.
It's a movie industry truism that no star is born from an open casting call. No one, that is, except the British actress Florence Pugh. But with actors for elder siblings and a dance teacher for a mother, Pugh was maybe even overly prepared for rejection when she heard about a call soliciting taped auditions for a new big-screen drama, The Falling.
"My brother was in the industry, and I knew that's not how you're going to get a part, handing in a three-minute tape," she said recently in New York. (Pugh's oldest brother is Game of Thrones actor Toby Sebastian.) So she wasn't planning to bother with an audition. But when she came home from high school in Oxford, England, on the day submissions closed, her mother asked the 17-year-old Pugh if she had sent in her tape. "She goes, 'We know you aren't going to get it, but this is something you want to do with your life, so it's kind of a free go,'" Pugh, now 21, recalled. They filmed a three-minute reel with 20 minutes to spare before submissions closed. They assumed no one would watch the tape, until the following day, when Pugh received an email asking her to meet with the director, Carol Morley. She spent the summer auditioning, and by that October, she'd won the part in the film which was released in 2014.
A year and a half later, Pugh received an email from The Falling's casting director Shaheen Baig, asking her to read for a new film, Lady Macbeth. The audition, Baig told her, was the following day.
"I was like, 'God, Shakespeare? I have a day to prepare Shakespeare?' Come on," Pugh said, laughing. But it wasn't Shakespeare, exactly. Lady Macbeth, out Friday, is an adaptation of the Nikolai Leskov novel Lady Macbeth of the Mtensk District, which was first published in Fyodor Dostoevsky's journal Epoch in 1865. The story had previously been adapted into an opera by Dmitri Shostakovich and a film by the Polish filmmaker Andrzej Wajda, but director William Oldroyd and screenwriter Alice Birch's rendering returns the tale to Shakespeare's British stomping grounds. (This time, to a castle just outside Durham, England, rather than the Scottish highlands.)
Lady Macbeth borrows its name from Macbeth, but little else resembles the Shakespearean tragedy. Pugh plays Katherine, the bored young wife of the abusive—and sterile—Alexander, a man more than 20 years her senior. Much of the drama passes wordlessly and is instead depicted through still tableaux, meticulously arranged like a realist painting. It plays out on the massive estate Katherine and Alexander occupy with his father, Boris, and a few household staff members, including Anna, Katherine's maid, and Sebastian, the groomsman. In a departure from costume-drama conventions, both Anna (Naomi Ackie), and Sebastian (Cosmo Jarvis), as well as Alexander's mistress Agnes (Golda Rosheuvel), who shows up late in the film, are played by actors of color.
When Alexander departs on business, Katherine embarks on an affair with Sebastian. But there are no secrets in this house; she struggles to hide this transgression from her increasingly oppressive and casually cruel father-in-law. So she decides to kill him. It sets off a cascade of violence that consumes the manor until Katherine is the only one left standing, or sane.
In spite of her corsets and dressing gowns, Katherine is as fresh and contemporary as any character out there, according to Pugh: "She breathes, walks, thinks like a modern woman," she said. "She kicks back; she fights back." The corsets only focused her resolve. Several scenes depict the painful process of lacing up, and existing inside of, a corset—which was apparently just as painful for the actress herself. "Everything was affected: the way I ate, the way I walked, the way I went to the toilet," she said. "Of course, they're very pretty, but the idea behind them is to imprison you. Something as simple as eating, you're using up breathing space." Katherine isn't just trapped inside the manor, from which Boris and Alexander have forbidden her to leave—she's also trapped inside her own clothing.
And while Pugh's next film couldn't be farther from a costume drama—she plays the wrestling champion Paige in the new biopic Fighting with My Family, which she just completed filming—it is still about women claiming their powe. But where Lady Macbeth is a slow burn waiting to be set aflame, Fighting with My Family is a kinetic film for which she prepared with professional wrestlers. Like the rest of us, Pugh recently devoured the Netflix wrestling series GLOW—only, unlike the rest of us, she actually recognized the moves from her own training.
"All the reactions are the same. Someone tells you to do a back bump, you go, 'Surely not. Surely I won't survive that,'" she said. "Then, you try it eight times and you just look like a beagle on your back, and then, the one time it's good, it feels good."
Alexander Skarsgard recalls his first kiss: