Floriane de Saint Pierre: Paris Matchmaker
Inside the world of the woman fashion houses call when they need a new designer.
---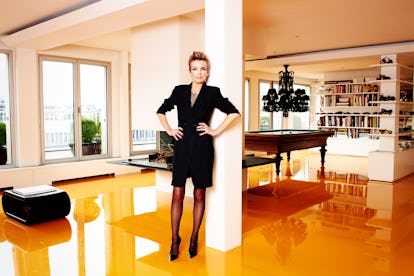 The Woman for the Job Her name might sound like a character from a 19th-­century French novel, but to fashion insiders, Floriane de Saint Pierre is the stuff of legend, not fiction. The industry's matchmaker par excellence (a headhunter, in other words, though she's too chic for such a title), de Saint Pierre has choreographed many of the major hires in recent fashion history from her office on the Boulevard Malesherbes in Paris. Christopher Bailey's appointments at both Gucci and Burberry; Alber Elbaz at Guy Laroche; Christophe Lemaire at Lacoste and now Hermès—these are all the products of de Saint Pierre's in-depth knowledge of the complicated fashion landscape and her gift for discretion. Her meetings with prospective employees often occur in places fashion people might not be caught dead. "It doesn't pay to be seen," she says.
While her heart has long belonged to fashion, de Saint Pierre was born with a head for business. In the late '80s, she worked on Dior's financial team, just as the brand's new owner, Bernard Arnault, was kicking off the extraordinary spree of acquisitions that would turn the company into LVMH. In 1987, when Arnault financed Lacroix, he needed, de Saint Pierre says, "an haute couture director, a production director, someone to run the business in the States—a full staff, basically." So she set up her own company, Floriane de Saint Pierre & Associés, to find them. In the years since, she has opened branches in Milan and, most recently, Shanghai. "We need to keep up. Last year, around 59 percent of the luxury turnover came from emerging markets," she says.
House Proud De Saint Pierre's penthouse, which she shares with her husband, Patrice Lanversin; and their two sons, Maxence, 10; and Gabriel, 7; is located behind the Le Bon Marché department store. "I wake up at 6:30 every morning and have my 25 minutes alone, often sitting on the terrace in my Alessandro Mendini chair," she says. "And I cannot begin the day without breakfast—coffee and bread with butter and jam."
She grew up in Paris, in the smart 16th arrondissement, and spent holidays at the Château de Beaumanoir, her family's estate in Brittany. "My great-grandparents turned the completely derelict 15th-century manor they inherited into a totally modern 19th-century home—it had electricity, telephones, a heated greenhouse," says de Saint Pierre. Her great-great-uncle, the Marquis de Dion, was a pioneer in the auto industry, cofounding De Dion-Bouton in 1883, the largest car manufacturer in the world at the time. De Saint Pierre's entrepreneurial streak, then, is hardly surprising. And neither is the modernity of her apartment, with its brilliant orange resin floor, custom-made Corian dining table, and chairs by the German design star Konstantin Grcic. "I think it's really important to live in your own time," she says. The Philippe Starck black glass chandelier, however, hangs over a 19th-century billiards table that comes from Beaumanoir. The family sold the château several years ago to wealthy Russians. "God knows how they get there—it's in the middle of nowhere," she says, laughing. Her only other souvenir is a portrait of her great-aunt the Countess Alexandre de Saint Pierre, painted by Frédérique Vallet-Bisson, one of the very few female artists of her day.
Off the Walls De Saint Pierre bought her first piece of art, a 1985 self-portrait by Martin Kippenberger, at 23. "I was trained by my mother," she says. "She had a wonderful eye and collected incredible work by Louise Bourgeois, among others." A mirrored piece by Michelangelo Pistoletto has been installed above the sofa, alongside a large-scale photograph of de Saint Pierre in an Indian headdress. It was shot by Just Jaeckin, a longtime friend and the director of the film Emmanuelle. Inspired by the portrait of her great-aunt, de Saint Pierre has also been acquiring art by women, including Kiki Smith, Niki de Saint Phalle, Valérie Belin, Gisèle Freund, and Annette Messager. But in life, as in work, she is highly selective. "We keep nearly everything in storage," she says. "It's better to live with one piece at a time. That way, you appreciate it more. And anyway, who wants to live in an art gallery? It's a home."
A favorite art piece: Louise Bourgeois's Maman, 1999.
Floriane de Saint Pierre in her Paris apartment.
Christophe Lemaire are three of de Saint Pierre's notable finds.
A view of the billiard area, with a black Baccarat Philippe Starck–designed chandelier.
De Saint Pierre's favorite book.
Yin Xiuzhen's Portable City: Hang Zhou, 2011.
De Saint Pierre's homemade jams.
Just Jaeckin's White Woman, 2008, a photograph of de Saint Pierre.
A portrait of de Saint Pierre's great-aunt the Countess Alexandre de Saint Pierre, by Frédérique Vallet-Bisson, circa 1890.
Books on Château de Beaumanoir and De Dion-Bouton, the company her great-great-uncle founded.
Jars filled with herbs from the terrace.
De Saint Pierre's books on female artists.
Gisèle Freund's Vitrine de Coiffeur, Paris, 1938.
An Alessandro Mendini Proust armchair on the terrace.
De Saint Pierre's favorite Helmut Lang look, from 2003.
Michelangelo Pistoletto's Grande Papagallo Giallo, 1962.
De Saint Pierre on her terrace.