The Florida Project Trailer Stars a 6-Year-Old Who is About to Be a Star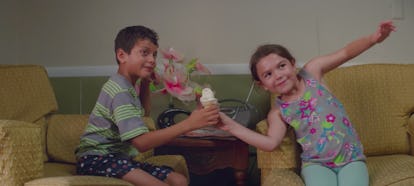 Meet Brooklynn Kimberly Prince, the star of The Florida Project. You're about to see her everywhere this awards season. In fact, it might not be a stretch to expect her on some nominations lists as well. Director Sean Baker's followup to Tangerine, premiered at Cannes earlier this year to rave reviews, with buzz centering around both a sure-to-be-nominated performance from Willem Dafoe and the discovery of Prince, who was just 6 when she shot the film. IndieWire calls her an "obvious discovery, a petite ball of energy whose." Variety claims she's a "real find, totally expressive but never too cute."
Echoing themes from last year's best picture winner Moonlight, The Florida Project takes a look at growing up in poverty in the candy colored state of Florida. Prince, an Orlando native, stars as Monee, a 6-year-old being raised by her young single mother in a motel on the outskirts of the Orlando area's theme park-filled tourist area. Set during Monee's summer break, the film contrasts the young girl and a ragtag group of friends in the purity of the youth contrasted with the reality of being raised in poverty, often with the only adult left nearby being the motel's manager played by Dafoe.
Interestingly, Dafoe is the first established actor to work with Baker. All his other films and most other roles in this film are cast with non-actors, including the role her mother here played by Bria Vinaite. Baker also has a knack for discovering raw talent, like Mya Taylor in Tangerine.
After premiering at Cannes' Director Fortnight programming, The Florida Project was the subject of bidding war between A24, Amazon Studios, Neon, and Annapurna (which, together, represent some of the hottest indie distributors at the moment), with A24, which was also behind Moonlight, ultimately winning out.
Set for a October 6th premiere in limited release, the film is very much slated for an awards push.
That means that you'll likely see Prince, now 7, on many a red carpet and talk shows in the coming month.
Related: Tangerine Director Sean Baker Talks Shooting on an iPhone
Mya Taylor Confesses Her Love of Tiny, Adorable Things: