Here's What Food Tutorials Directed by Wes Anderson, Quentin Tarantino and More Would Look Like
A very delicate s'mores tutorial.
---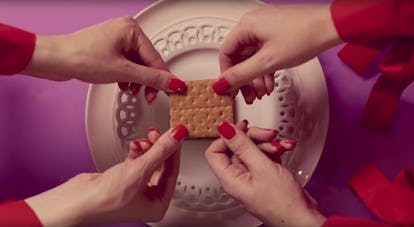 Consider Facebook video food tutorials. We've all watched way more than we care to admit without actually cooking any of the recipes. In some ways they may be one of the most important and increasingly omnipresent developments in visual vocabulary in the past few years, and they surely don't seem to be going anywhere. Their bird's eye view instructions on how to put together dishes like buffalo cauliflower bites and microwave mug cakes are certainly addictive, but sometimes they could stand to use a little bit more panache. An artistic twist here and there, or maybe a carefully chosen panning shot. The kind of things only a true film auteur could add…or at least someone imitating a true film auteur.
Thankfully, food stylist and video maker David Ma has decided to imagine what directors like [Wes Anderson](http://www.wmagazine.com/topic/wes-anderson], Quentin Tarantino, Alfonso Cuarón and Michael Bay would bring to the medium in his *#foodfilms series.
As it turns out, Anderson's take on s'mores would be delicately staged and whimsically twee, Tarantino would turn spaghetti and meatballs into a bloody, revenge-fueled mess, Cuarón's makes us consider the majesty of the pancake flip in ways we had never quite before, and, well, a Bay food tutorial would be full of explosions, naturally, though, the waffles would not be made with CGI. Take a look, below:
Wes Anderson's S'mores:
Alfonso Cuarón's Pancakes:
Quentin Tarantino's Spaghetti and Meatballs:
And Michael Bay's Waffles:
We can only hope for more in the series. Who wouldn't want to see Sofia Coppola's take on macaroons, Pedro Almodóvar's patatas bravas, the Coen brothers' chicken friend steak, David Lynch's cherry pie, and, of course, John Waters's chocolate ice cream sundae? The latter did already give us his recipe for eggs.
Related: On Set with Wes Anderson for The Grand Budapest Hotel
See What's Trending in W Video: