For 'Elle' Director Paul Verhoeven, a Good Movie Means "Anti-Boring"
The controversial director behind Basic Instinct and Total Recall talks about his latest Oscar contender and the movies that he returns to again and again in his movie diet.
---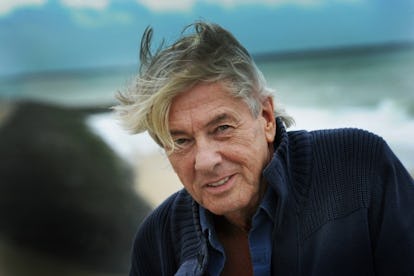 Two years ago, director Paul Verhoeven was sent a book in the mail, a French novel by Philip Dijon called Oh…. "The idea [for Elle] came to me by Federal Express," said director Paul Verhoeven of how his latest award-winning movie, Elle, came to be. "I was looking for something original that I wasn't even sure I could do, rather than something cliché that was already made," he said from a hotel terrace in Marrakech, where he is one of three honorees at the 16th annual Marrakech Film Festival, along with Paul Haggis and the Russian filmmaker Pavel Lungen. "I felt I should be adventurous. I've always refused to do prequels, sequels, or remakes. I think it's better to make a mistake than to repeat yourself."
The film stars Isabelle Huppert as Michèle Leblanc, a powerful businesswoman who is repeatedly raped in her home. Instead of calling the police, Leblanc sets out to solve the twisted mystery herself. For the thriller, which is tipped to earn an Oscar nomination, the Dutchman took a one week crash course in French. "Film should be an adventure. You should be afraid that you don't know how to do it," he said. Here, the controversial 78-year-old director shares his favorite movies, his dream cast, and why sexual desire is everything in cinema and in life.
Is this your first time in Marrakech? No, I was here in the early 90's scouting locations all over the country for a movie with Arnold Schwarzenegger called Crusades. We passed through all these cities — Casablanca, Marrakech and beyond. I spent a lot of time here. As we started to make the film, the company that was supposed to finance it went bankrupt, so it was never made.
What was your impression of Marrakech? It was so fantastic here, the weeks and weeks we spent here. We had helicopters to go from place to place, trying to pick up on the atmosphere. Crusades was an Arab adventure, they conquered and killed Jews and Muslims on the road. It was a very interesting story. But it had Arnold, so there was a lightness.
And no one else ever tried to make the film… Nope, it would have been a very good movie. It's a pity it wasn't made. There are of course many movies you start and it doesn't work. This one we went in very deep. We even casted it already; Jennifer Connelly was supposed to be the other princess.
Has Marrakech changed? Comparing Marrakech now and 20 years ago, I didn't recognize it very well, there's so much added. But I can only tell you what I've seen between the airport and this hotel. Isabelle thought we should do it. She knows the festival, she's been here many times, head of the jury.
Have you seen any films so far? Nope.
What was the last film you saw? Fellini's 8 ½. I was watching it last week. Dolce Vita and 8 ½ were very important movies for me growing up.
Was there a movie that made you want to be a director? Vertigo and Lawrence of Arabia. And a movie by Jean Renoir called The Rules of the Game, in 1950. Because of all the social interactions, it's comedy, it's tragedy. I had that in mind when I was directing Elle. I felt The Rules of the Game was the closest to Elle for me.
How about the last movie that impressed you? The Big Short. I thought it was a really interesting movie. Difficult because of all the economic banking stuff but so well done. I was very impressed by that story, I thought the director [Adam McKay] should have won the Oscar. I thought it was very original.
Are there certain themes you feel you always return to? I've done so many genres, it's difficult to judge that. I'm always very interested in female protagonists and I've used a lot of them. Of course I've also made movies with male protagonists, but I express myself best with female protagonists.
What do you think unites your female protagonists? Strength and audacity. Being clever and not dependent upon men. They have to find their own way.
What makes a "good" movie for you? As long as I'm not bored. You get bored when it's too artistic or the plot is too transparent. I feel a movie should suck me in. If it's a good film, then I look at it not as a director but as the audience. In my movies I always try not to be boring. It's how you set up the editing, trying to go in a direction people cannot foresee. Anti-boring.
What is the least boring film you've ever seen? Even films I consider the best have boring scenes. If you look at Lawrence of Arabia, a film so great that it will never be made again, it's a three hour movie. The first hour is fantastic, the other two are okay but not as good as the first. In time you'll always find moments in a movie where it doesn't work so well. But that's the beauty of art, that it's not perfect all the time. If it's too perfect it's wrong.
Are there any directors you always go back to? Alfred Hitchock, Federico Fellini and David Lynch. I look at them again and again. But the first time they should take me. I don't look at a movie for how it's done but as a member of the audience.
What is your dream cast? Isabelle, Isabelle, and Isabelle.
Why did you choose her for this role? You've had such a range of heroines, from Sharon Stone to Denise Richards. The reality to a certain degree is that Isabelle chose me more than I chose her. Originally we thought it would be an American movie. But before they sent me the book, it turns out Isabelle had contacted the writer of the book and the producer and said she was interested in doing it and discussed me as the director. Especially with the rape scene, it was hard for American actresses to participate. The moment we realized it was going to be a French movie, it was clear it would be Isabelle. We were lucky to correct our American mistake with Isabelle. I don't think there is anyone who would have done it on that level.
It turns out that the rape scene is more about desire than rape. What role does sexual desire play in your films? Yes, and it's very important. Our whole lives are about sex. Sex is the main factor in life, otherwise we wouldn't be sitting here. Sex is the most important thing on earth. It's always in my movies.
In a rather twisted way… Yes, because otherwise it's porno. If there is no meaning, no second layers, then sex in movies is boring. But if there are interesting layers… then it's great.
What is the most twisted movie you've seen? Most recently, Park Chan-wook's The Handmaiden. Everything is ambiguous, and everything is double. You find out everything you saw might have been different in reality. Very clever movie. It's very South Korean. It is lesbian sex, very well done. Very sexy.