For Uber-Stylist and Designer June Ambrose, Halloween Isn't Just One Day a Year
The fashion legend talks method-acting her Halloween costume, taking a break from trick-or-treating, and her triumphant return as the Queen of Halloween.
---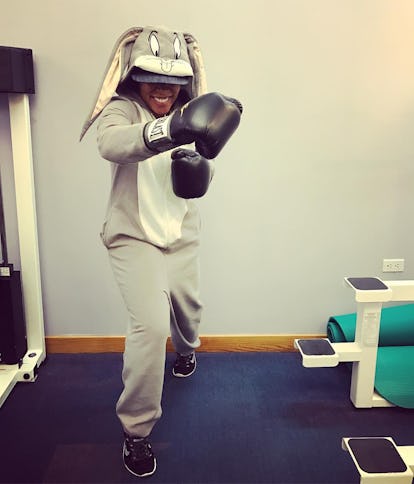 @juneambrose
A few weeks ago, June Ambrose traveled to a suburb just outside Atlanta to visit her sister for her birthday. Ambrose, best known as the stylist behind some of the most iconic music videos of the '90s, including those for Missy Elliott and Jay Z, is possessed of a personal style as eclectic and bold as her work might indicate. Her sister, by contrast, is a bit more conservative. Yet Ambrose coaxed her into a superhero costume for her birthday — Ambrose herself hopped into a minions onesie from Despicable Me — and the pair went about their errands dressed as superhero and minion.
"It actually made her not take herself so serious," Ambrose said on a recent morning in New York. She wore an exaggerated bowler hat, which she designed in collaboration with Albertus Swanepoel, paired with a floaty peasant dress and a pair of Comme Des Garçons Play high-tops. "My love for fashion was about me understanding that costume could really help you create these alter-egos and personas. … My theory for a costume was to find yourself, somehow, in a costume."
Ambrose, 45, has made a career out of costuming and crafting characters and narratives out of costumes. She worked with Hype Williams on such classics as Will Smith's "Gettin' Jiggy With It" and R. Kelly's "Half On a Baby"; she ushered in a new era of style for clients like Jay Z and Foxy Brown; and in addition to styling, she's also an accomplished designer and creative director in her own right. Plus, sometimes she dresses up just because: Two weeks ago, she put on a Bugs Bunny onesie and hit the gym.
But when every day is about finding your character, Halloween can be a daunting prospect. As a child, Ambrose took the holiday as seriously as anyone else; she was Michael Jackson in "Thriller" as a pre-teen, and by high-school, she was method-acting in preparation for her costume of a 90-year-old woman ("I did it before Heidi," she said with a laugh, referring to notorious Halloween-lover Heidi Klum). Her mother worked at a nursing home at the time, so Ambrose lived — and slept — at the home for a weekend to best absorb the character she intended to play. She used Elmer's Glue for crow's feet and powdered her hair grey — "It wasn't just a costume; it was an experience," she said.
Still, these memorable costumes aside, Ambrose has had an ambivalent relationship to Halloween — she took a decade-long hiatus from the holiday, which she called "the Oscars for the creepies," following the birth of her children, Summer and Chance. (Ambrose still costumed her kids — one year, Summer went as Missy Elliott, a costume Ambrose is uniquely positioned to assemble.)
"I always had to do it for other people," she said. She outfitted Jay Z as Jimi Hendrix for Beyoncé's 35th birthday party, and her clients, including Jay and Mariah Carey, have returned to her for advice over the years. It was only in 2014 that she made her triumphant return, debuting her Queen of Halloween costume at Klum's annual party. The next year, she stepped out as a geisha, prompting vocal backlash about her perceived cultural appropriation.
"I like to arrive," she said. In short, if she couldn't go all the way, she wouldn't dress up at all. For those two most recent costumes, she mixed and matched couture pieces — by Alexander McQueen and Lanvin for the Queen, Tom Ford gladiators for the geisha — with pieces pulled from a costume house in Long Island City. She tends to party-hop, she said, moving between Jay Z and Beyoncé's annual bash, Klum's party, the Boom Boom Room, and Puffy's 'Emperor's Bash.' This year, Ambrose is hosting a Halloween party of her own with Bonpoint in the garden of Soho's Ladurée, which she transformed into a wonderland straight from the pages of Lewis Carroll for Summer's birthday two years ago.
Yet, though she planned to play hostess, when we spoke, she still hadn't picked a costume. She was mulling over options, scrolling through inspiration images she'd saved on her phone — Tim Burton's Corpse Bride, Edward Scissorhands, the Great Gazoo from the Flinstones, Iris Apfel — and crowd-sourcing ideas. She pulled up Snapchat: "I'm going to be a Snapchat filter for Halloween," she said into the camera, billy goat filter over her face. "Stay tuned, I might need some help." Then, she booked an appointment at the costume house. Halloween was fast approaching, after all, and when you've gone all-out like June Ambrose, you have to keep up the momentum.