Form, Function, Fabulousness
Jean Prouvé and Jean Royère of Formlessfinder's grand entrance at Design Miami
---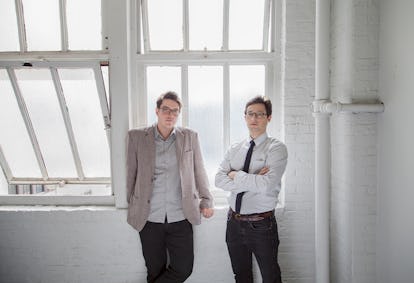 What Andy Warhol and Jeff Koons are to Art Basel Miami Beach, Jean Prouvé and Jean Royère are to Design Miami. But the design fair, in its seventh year, always makes a point of mixing in up-and-comers with household names. The entrance to this year's tent, for instance, has been reimagined by the New York duo Garrett Ricciardi and Julian Rose, who go by Formlessfinder. As that name suggests, form takes a backseat to material exploration in their work. For Miami, they created Tent Pile, an aluminum canopy that appears to balance on a 500-ton "foundation" of sand. As a bonus, the sand pile absorbs cool air at night to help regulate the temperature during the day. Inside the tent is the slightly less functional though decidedly fabulous Mangue Groove, a glittering mangrove jungle created by this year's Swarovski Crystal Palace designer, the São Paulo, Brazil, architect Guilherme Torres. Each day during the fair, right around cocktail hour, the jungle will become increasingly animated with light patterns and recorded sound, climaxing in an Amazonian sunset.
Photos: Form, Function, Fabulousness
Julian Rose and Garrett Ricciardi of Formlessfinder. Photo by Chandra Glick.
Formlessfinder's Tent Pile, for Design Miami, 2013.
Brazilian architect Guilherme Torres.
Guilherme Torres's Mangue Groove, 2013.