Forty Years After "Taxi Driver," Jodie Foster Recalls the Making of a Classic
On the 40th anniversary of Martin Scorsese's masterpiece, the actress recalls working with Robert De Niro and attending her first Academy Awards.
---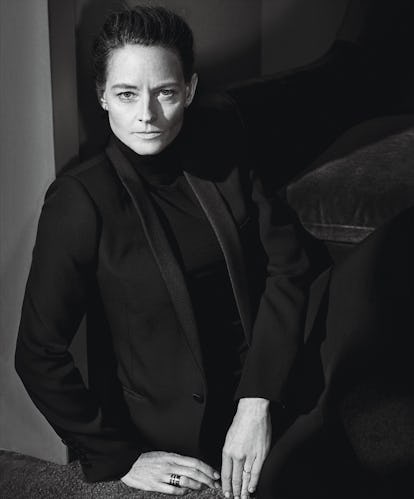 Photographs by Mario Sorrenti, Styled by Edward Enninful
Jodie Foster was 13 years old when she made Taxi Driver, a film that's now considered a classic but that was then Martin Scorsese's fourth feature. At the time, Foster had already made a slew of children's films and was more of a veteran than both her director or her costar Robert De Niro. But it was De Niro who taught her the alchemy of acting, that it could be more than just make-believe. Foster would go on to be nominated for her first Academy Award for that role, later winning two others for The Accused and Silence of the Lambs, and she's gone on to be an acclaimed filmmaker in her own right – a childhood ambition – most recently of the film Money Monster with George Clooney and Julia Roberts. But on the 40th anniversary of Scorsese's first masterpiece, she recalls the making of the film and attending her first ever Oscars as a teenager.
Jodie Foster: "Sting Is the Perfect Man"
What was the audition for Taxi Driver like? I didn't really audition for Taxi Driver. I had done a film with Martin Scorsese before called Alice Doesn't Live Here Anymore and so he actually called my mom up and said, 'Bring Jodie in; we are doing a new movie.' And we read the script and she thought he was crazy. I came to meet with him in my school uniform, which was a little gray pleated skirt and white Peter Pan collar and a blue blazer. And she looked at him and said well, 'If you really think that she can play this, I guess, you know, it's up to you.'
And what was the costume fitting like? Because, you know, that costume – I've been at literally two different photo shoots where we've done your hat, your dress. We did it on Dakota Fanning… Yeah, the costume for "Taxi Driver" has become quite iconic, I guess. I have to say, anybody who knows me knows that I'm not a clothes person. Shopping is like sticking my eyes with pins. I really have no interest in shopping for clothes. But I was especially unhappy wearing hot pants, a halter top, and you know, crazy platform shoes. I mean, I just was really unhappy. I went and did my costume fitting and started to cry because I hated the costume so much. And I had to wear the super skin-tight, kind of like cotton pants with no underwear. I had never in my life not worn underwear. So I was, I was just appalled. I couldn't wait to be done with the costumes.
But what you did in that movie is so incredible and you had to do scenes with De Niro. Were you nervous? Were you scared? Well, I made a lot of movies before then. So I had probably made way more movies than Robert de Niro and Martin Scorsese at that point. I'd probably made, I don't know, 10 or 11 movies. So I wasn't nervous. I think I was too young to be nervous. But, um, Robert de Niro decided to sort of take me under his wing and he would continually take me out to coffee shops and run the lines with me, sort of in character, and then do improvs, which I didn't 100 percent understand, but by the time we really started shooting, I really understood what he had done. He had really made me understand what it was to create a character, something I didn't know at 12 years old. And it changed, it definitely changed my life. I remember going home to the hotel room in New York City – I was staying at the Essex House on Central Park South – and just being on fire; really feeling like, wow, I had discovered something. That this movie business world, and acting, really could be more challenging than I thought it was.
And when you, when you were on sets like that, did you have any idea that you would end up directing? Did you watch Scorsese in any way, or any of your other directors, and think about directing? Was that even in your mind at that point? I knew I wanted to direct from a very young age. I was about six years old, I was doing a television show called, Courtship of Eddie's Father and [actor] Bill Bixby came in one day and he directed an episode and my eyes lit up and I thought, 'Oh, wow, this guy is telling me what to do, he is organizing shots, and that's what I want to do.' So, I was aware of that. I don't think I was taking any notes or anything, but, my entire life as an actor has been a film school for me. And not just the director, but to all the technicians and what goes into making a movie and the edit and how to tell a story. I'm more interested in that than any other aspect of making films; even than the acting. And maybe what makes my acting different is that I budget more like a director.
With Little Man Tate," which was the first movie you directed, did you like directing yourself? It's difficult to direct yourself. I don't think it's difficult to direct yourself, but it's tiring and boring. It's a really bad idea to direct yourself actually, I think. I didn't know that at the time. What you end up getting on-screen is exactly what you anticipated, exactly what you expected, and exactly what you prepared, but the great thing that actors bring to you is things that you would never have thought of. You really don't get that when you're acting and directing the same time. You know, you are behind the camera in curlers. You don't have the opportunity to have the down time that you need as an actor in order to bring something fresh. So, I discourage it. The best news about acting and directing is that it's much easier to get a movie off the ground when you have a proven element in the film that you can guarantee, who doesn't get paid too much. You can make sure that your film has a better opportunity for financing.
So, you strike me as being exceedingly brave. I've always felt that about you. Do you get intimidated? Do you get intimidated before the first day of shooting or what scares you? Does anything scare you? I don't think I'm very particularly brave. I guess I'm brave for some things. I'm confident about about my opinions in terms of making films. I'm confident about my instincts, creatively, but there's tons of things that I'm really just a child about. Even though I have a job that's quite social and I have to meet people and I'm good at talking to people, I almost have a fear of picking up the phone and calling up somebody and say, 'Would you like to have dinner with me or lunch with me?' I guess I'm scared of needing someone or asking for help or little things that other people kind of got in adolescence 101.
When you were in college and gave up acting for a while, was that scary for you or did you, did you miss acting? I never thought that I would come back and act. I never thought that I would be an actor when I grew up. I thought that my career would be over by the time I was 18; that's what I was told. And it came as a big surprise to me that that didn't happen. I knew that I wanted to continue to support my family and I knew that I was going to do the acting thing for as long as I could, especially since I wanted to continue the movie business as a director and perhaps as a writer. I just thought it would be done…I'm trying to think what my first movie was after I left school. I don't think it was The Accused but The Accused was not long after that. Right before I did it, I was thinking I was going to go back to grad school and while I was shooting it I felt like my performance was not very good. I saw a rough cut of the movie and I thought, 'Oh, wow, I was really bad in that film and I should definitely be done with the acting.' So I took my GREs and thought I was headed to grad school and then the movie came out. It did very well and I think I learned a lot from that experience. I learned that it wasn't –
That you could win an Oscar when you think you're bad. No, it was interesting why I thought I was bad and I think that at 25 or 26, your judgment about yourself and your underlying motivations is very poor. I didn't really understand the character that I played in some ways. It was hard for me as a person to embrace who Sarah Tobias was as a character.
What were the Oscars like? It's very different than now. The Oscars were a blast. My first nomination was when I went for best supporting for Taxi Driver. You know you're not going to win so it was easier. I was sort of like a tourist like at the first Oscar ceremony that I went to. But The Accused was kind of amazing because I was the only one from the film who was nominated. So I was by myself and going, 'Well, where do I, what do I do now?' By the time I got my second Oscar for Silence of the Lambs it was a pretty special experience because everyone from the film had won. We won all top five categories. They just keep saying another name and then another sweaty, happy person would come and hug you and then they would say another name and another sweaty, happy person would come hug you and we spent the night – we all just spent the night together and we went to the same party and that was a party that was just our studio and just everybody from Orion, because our studio had just gone bankrupt. So we were all together in one party and it was just an amazing night.
Do you remember your speeches? Was it a blur for you or were you present for it? These are always a blur but now you see them on YouTube so I know what I said. The first Oscar win was a bit more of a blur than the second, although, by the end of the night, that was a blur as well. It's a very special moment in your life and you don't really realize that it is never going to happen again, you know. That's always true when you are young. You have something that happens that is so spectacular and you don't realize that this is it but I did keep pinching myself so hopefully I appreciated it.