Franca Sozzani, Iconic Editor of Italian Vogue, Dies in Milan
Franca Sozzani will be remembered for pushing the boundaries of what a fashion magazine could be. "Fashion isn't really about clothes. It's about life," she once said.
---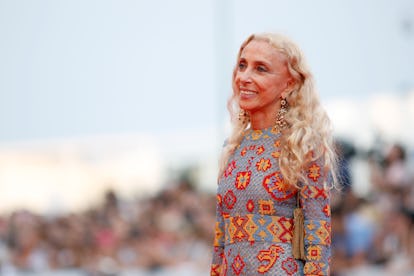 Getty Images
"Fashion isn't really about clothes. It's about life," Franca Sozzani once said. "We can't always be writing about flowers and lace and aquamarine."
Indeed, during her almost three decades at the helm of Italian Vogue she transformed the magazine from one simply about clothes into one that championed its photographers, regularly broke boundaries, and never shied away from important issues. In 2008, she made history by filling an issue exclusively with models of African descent. Three years later, in 2011, she did it again by featuring three plus-sized models in lingerie on the cover. She championed emerging designers from her homeland of Italy all the way to Africa, gave her photographers unrivaled creative control, and brought attention to issues concerning everything from domestic violence to the environment in the pages of her magazine.
On Thursday, Sozzani passed away in Milan at the age of 66.
"This is the saddest news I have ever had to report to you," read a letter from Jonathan Newhouse, chairman and chief executive of Condé Nast International, announcing her passing. "Franca Sozzani, the editor of Italian Vogue for 28 years, died today in Milan after a yearlong illness with her son, Francesco, by her side."
"Franca was one of the greatest editors who ever made a magazine," Newhouse continued. "She was by far the most talented, influential and important person within the Condé Nast International organization."
Anna Wintour, Sozzani's American counterpart, also offered a touching tribute.
"In private, Franca was warm, clever, funny, and someone who could give the Sphinx a run for its money when it comes to keeping a confidence," she wrote. "She was also the hardest-working person I have known, and with an envy-inducing ease with multitasking. She made everything she worked on appear effortless, regardless of whether it was an event for several hundred; a whirlwind trip to Africa to support the continent's emerging designers; or the creation of yet another newsworthy, provocative, and utterly spellbinding issue of Italian Vogue."
The two editors not only took control of their respective magazines within months of each other but maintained a close personal friendship. The last image Sozzani posted on her Instagram was of herself, Wintour and designer Karl Lagerfeld at Chanel's recent Métiers d'Art at the Ritz in Paris.
Sozzani's original interests were academic. As a student she studied philosophy and Germanic language and literature, but her first job was at Vogue Bambini, a off-shoot of Italian Vogue dedicated to children. She worked her way up the ranks of the fashion publishing industry, and soon found herself as editor-in-chief of Lei in 1980, and eventually in the same role at Vogue in 1988.
Sozzani was also noted for her philanthropy. She served as a both a Goodwill Ambassador for the United Nations and the Global Ambassador Against Hunger for the United Nations World Food Programme, helped to found the charity organization Child Priority, and helped to mentor emerging designers in Africa.
Earlier this year, her son Francesco Carrozzini released Franca: Chaos and Creation, a documentary about his mother and their relationship. "Work-wise, she was always who she was," Carrozzini told W at the time. "But we definitely got closer as mother and son over while making the film."
Remembering Franca Sozzani: Her Best Italian Vogue Covers
Vogue Italia, August 1988. The first cover under Sozzani's editorship.
Cindy Crawford graces the cover of Vogue Italia for the February 1989 issue.
Vogue Italia, November 1990.
Kate Moss on the cover of Vogue Italia's March '96 issue.
Vogue Italia, November 1998.
Vogue Italia, September 1998.
Franca Sozzani always retained a fascination with the future, a preoccupation often reflected in Vogue Italia's pages.
Vogue Italia rang in the new year with this January 2000 cover.
Vogue Italia, December 2009.
The infamous "Makeover Madness" cover, shot by Steven Meisel. Vogue Italia, July 2005.
Vogue Italia's All Black issue, July 2008.
As Franca Sozzani's protege, Steven Meisel rose to prominence to become a dominating force in the world of fashion photography. His cover for Italian Vogue in December 2002 exemplifies his black and white aesthetic that made him one of Sozzani's favorites.
Never afraid to broach controversial subjects, Franca Sozzani's August 2010 issue of Italian Vogue took on the BP oil spill. "Fashion isn't really about clothes—it's about life," Sozzani has said.
The ever-beautiful Kate Upton graced Italian Vogue's November 2012 cover.