Frances Bean Cobain, daughter of Kurt Cobain and Courtney Love, Is Now a Marc Jacobs Model
The 24-year-old stars in the designer's Spring 2017 campaign.
---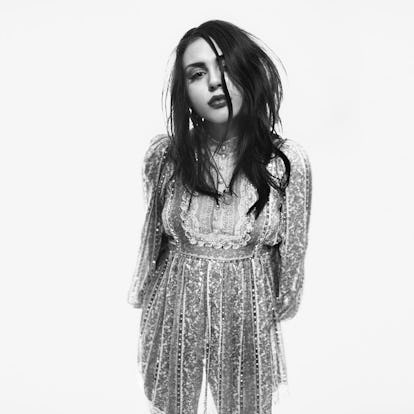 Instagram
With celebrity scions taking over the fashion world, it was only a matter of time until Frances Bean Cobain, the progeny of Kurt Cobain and Courtney Love, got in on the action.
On Wednesday, Marc Jacobs announced that the 24-year-old is in the designer's Spring 2017 ad campaign on Instagram with a heartfelt note about his longterm relationship with Cobain. "I first met Frances Bean when she was 2 years old at a dinner with her mom (Courtney) and Anna Sui in 1994 at Bar Six in NYC,"Jacobs wrote. "I have always wanted to work with Frances. Her beauty, uniqueness, and strength is something I have long admired and respected. Few things remain as constant as my continued inspiration from those whose honesty, integrity, courage, and curiosity lead them to explore and venture beyond preconceived boundaries."
In the David Sims-lensed black and white image, Cobain stares directly into the camera, with one eye concealed by expertly messy hair, wearing a sequined baby-doll dress–a style her mom made her popular in the '90s.
The newly minted model–who describes herself on Twitter as "(Space Witch) with a sleepy conscience. artist. Horror Movies Enthusiast. Bookworm. comic book aficionado. supernatural favors & voodoo vibes"–has been relatively under the radar despite growing up in the spotlight, until recently. Last September, she appeared on the fashion week circuit alongside Love, sitting front row at Chanel, Givenchy and Gareth Pugh, among others. The following month she appeared with Crystal Castles singer Alice Glass in an edgy editorial for U.K. fashion publication Schön! Magazine.
Jacobs has never been one to stick to strictly models for his campaigns, with Miley Cyrus, Victoria Beckham, Bette Midler and Cher all ranking among previous stars. And with Kendall Jenner and Bella Hadid as runway regulars, and Cindy Crawford's daughter Kaia Gerber as the face of Marc Jacobs beauty, it would appear that not even Jacobs is immune to the allure of a powerful and well-connected millennial.
2016 Proved the Only Thing You Need to Be a Model Is a Famous Parent (Or Two)
by David Urbanke. Produced by Biel Parklee.
Selah Marley in the Calvin Klein Fall 2016 campaign.

Tyrone Lebon
VENICE, ITALY – SEPTEMBER 04: Sistine Rose Stallone attends the premiere of 'Hacksaw Ridge' during the 73rd Venice Film Festival at Sala Grande on September 4, 2016 in Venice, Italy. (Photo by Venturelli/WireImage)

WireImage
See Kendall Jenner and Gigi Hadid take on performance art: