Scion of the Week: Frances Bean Cobain
The 23-year-old daughter of Kurt Cobain and Courtney Love is selling her art online.
---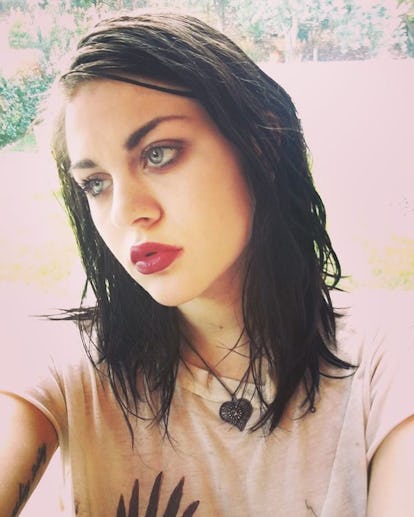 Frances Bean Cobain
Despite her famous parents, Frances Bean Cobain — daughter of Kurt Cobain and Courtney Love — has largely managed to keep details of her own life under wraps, until now. This month, the 23-year-old expanded her online presence (she has 129,000 Instagram followers), to include a Depop shop with original prints of her artwork ranging from $150 to $400.
Cobain's style is eerily similar to her father's paintings and drawings, with her use of runny black ink, love of ghoulish characters, and dark, goth themes. (Her username is "@space_witch666," if that helps to paint a picture.) One piece, for example, features an abstracted face with the text, "Treat me like your mother, or I'll eat the sun." Another features a brooding bald gentleman with the tattoo "Life sucks."
Whether you're interested in buying her work or not, it's a glimpse into the mind of the young punk rock scion — one who is only just beginning to show us her true colors. If you are so inclined to own a piece of the Cobain family tree, most of her work is still up for grabs.
See inside the mind of Frances Bean Cobain, here.
Watch W's most popular videos here: