Francesco Scognamiglio Makes His Couture Debut
The Italian fashion designer drew inspiration from the romantic ruins of his hometown of Pompeii.
---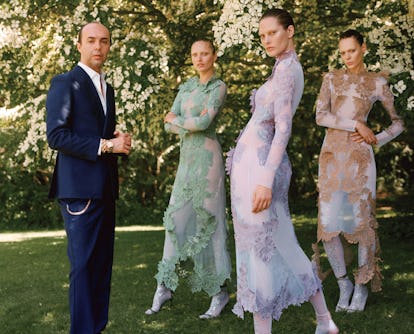 Photograph by Dario Catellani, Styled by Patrick Mackie; Hair by Shingo Shibata at The Wall Group; Makeup by Susie Sobol at Julian Watson Agency; Models: Catherine McNeil at the Society Management; Karmen Pedaru and Kinga Rajzak at IMG Models; photography assistants: Fabrizio Amoroso, Paolo Stagnaro; hair assistant: Akira Nagano; makeup assistant: Hiroto Yamauchi; Special thanks to the Nassau County Museum of Art, Shooting Star Coaches.
The Italian designer Francesco Scognamiglio is both a sensualist and a sensationalist. So as he poses for this story, he can't help but arrange the backdrop of Japanese dogwood just so; supply sound bites ("alien floral!") that send the mostly Italian crew into fits of giggles; and obsessively fiddle with his collar to achieve a studied air of casual gravitas. In a way, Scognamiglio is following the road paved by the greats of Italian design—not only Valentino and ­Giorgio Armani, but also Riccardo Tisci and Donatella ­Versace, for whom he worked in the late 1990s before striking out on his own. Leave the tricky conceits and weird deconstruction to the avant-gardists; they haven't got what he's got—namely, the ruins of his hometown of Pompeii, his enduring inspiration.
Now, out of the volcanic ashes, comes Scognamiglio's first couture collection, which he showed in Paris in early July, mere weeks after the Chambre Syndicale de la Haute Couture invited him to join its elite group as a guest member. With barely a moment's notice—and without a moment's hesitation—he knew what the starting point would be. "Baroque style," he says, stressing each syllable in staccato. "Specifically, the leaves and flowers of the paintings of the ruins of Pompeii, which you see here as 3-D embroideries, handmade by suppliers to the Vatican."
Scognamiglio's archly feminine vision, which is equal parts belle arti and sprezzatura, appeals to young jetsetters and red-carpet regulars alike. High-profile celebrities who are drawn to his frilly confections include Madonna ("Give It 2 Me" single cover, Grammy Awards), Rihanna ("Rockstar 101" music video), and Lady Gaga ("Alejandro" music video, BRIT Awards). The actress Debi Mazar, a longtime cohort of the Material Girl, recalls her first Scognamiglio encounter: "I saw a fabulous picture of Madonna, so I asked her stylist, Arianne Phillips, what she was wearing. I contacted Francesco through Instagram, and we decided to have lunch in New York. We walked in the rain, and he gave me a shirt. Anyone who brings me something beautiful, I melt." They have been inseparable ever since.
"Couture is what I was always supposed to do," Scognamiglio says pensively at the shoot's end. "To be an artisan, to work with my hands. As a designer, once you are accepted in Paris, you receive your final consecration."
Watch W's most popular videos here: