Francesco Vezzoli Looks Back
The Venice Biennale got an early start with a pit stop in Rome for the grand opening of "Galleria Vezzoli," a show by the Italian artist Francesco Vezzoli.
---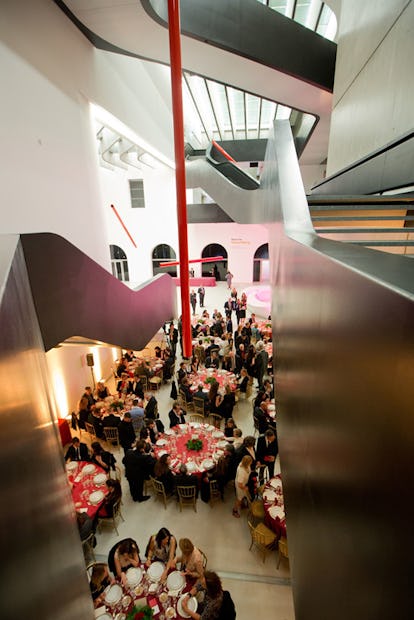 For many art world regulars, the Venice Biennale got an early start this time around, with a pit stop in Rome. The occasion: the grand opening of "Galleria Vezzoli," a show by the Italian artist Francesco Vezzoli. Held at MAXXI, the eternal city's Zaha Hadid-designed temple to contemporary art, "Galleria Vezzoli" kicks off "The Trinity," a series of three Vezzoli exhibitions that will continue in the fall at New York's MoMA/PS1 and next spring at MOCA Los Angeles.
This first installment functions as a retrospective of sorts, featuring over 90 works from the past 15 years, including many of the theatrical, celebrity-laden pieces that have made Vezzoli a favorite of both the media and fashion worlds. In "Ballets Russes Italian Style" (2010) Lady Gaga performs on a Damien Hirst-bedazzled piano. In "Greed" (2009) Natalie Portman and Michelle Williams are crazed rivals in a fake perfume ad directed by Roman Polanski. For "Democrazy" (2008) Sharon Stone and Bernard-Henri Levy appear as presidential hopefuls.
Other works feature Eva Mendes, Veruschka, Sophia Loren, Cate Blanchett, and Courtney Love–to name just a few. But seeing them lined up in the sinuous galleries of MAXXI, stripped of most of the usual operatic oomph that one has come to expect from Vezzoli–and in context with some of his quieter art, like his needlework and recent marble sculptures–allows for a more concerted read of Vezzoli's oeuvre. Rather than the cult of celebrity, the 40-year-old's overarching obsessions with religion, symbolism, gender, and the history of art and film emerge as the core of his work.
As if to underline this point, the 400-strong crowd at the subsequent gala dinner (which doubled as a fundraiser for the Fondazione MAXXI) was neither star-studded nor flashy. No movie stars, no camp Italian icons, and no lavish performance, just an impressive mix of heavyweights from the worlds of art, fashion, and Italian politics. But if the presence of Miuccia Prada, Zaha Hadid, Carla Fendi, Soledad Twombly, Delfina Delettrez, Gloria von Thurn und Taxis, Setsuko Klossowska de Rola, Anna Dello Russo, Beatrice Trussardi, and Dasha Zhukova is any indication, one thing is unlikely to change: the importance of strong women in Vezzoli's work.