Francesco Vezzoli's New Exhibit Revisits Italy's Troubled 1970s, an Era That Recalls Today's Political Turmoil
A new exhibit at the Fondazione Prada in Milan on the violence and political instability of the 1970s in Italy offers striking parallels to today's turbulent zeitgeist in the post-Brexit and Trump era.
---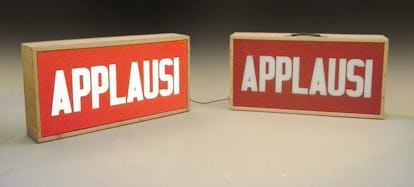 Courtesy of Gianni Pettena
This month, just a few days before the opening of the 57th International Art Biennale in Venice, the Fondazione Prada, in Milan, will present "TV 70: Francesco Vezzoli Watches RAI," a major look at television, art, and society in Italy during my formative years growing up in Florence.
This sprawling exhibition, which takes up three entire buildings, examines the 1970s through the eyes of a television viewer—in this case, the Italian artist Francesco Vezzoli, one of my best friends, who plays the role of curator. The design firm M/M (Paris) is responsible for the look of this unusual show, which mixes excerpts from archival films created for RAI, Italy's national public-broadcasting company, by directors such as Bernardo Bertolucci, Federico Fellini, and Luchino Visconti, with paintings, sculptures, and installations by then-active Italian artists like Alberto Burri, Mario Schifano, and Michelangelo Pistoletto.
The '70s was a particularly troubled decade in Italy. The Red Brigades and other extremist groups were bombing factories and train stations and kidnapping politicians; on the streets and on our TV screens, women and minorities were fighting for gender equality and to legalize abortion and divorce—rights already well secured in other countries. The colorful fashions and disco-dominated soundtrack so prevalent in American culture had made no inroads in Italy; on the contrary, Vezzoli and I grew up on a strict diet of black-and-white TV, our viewing limited to two state-owned channels.
But, luckily for us, the major talents of Italian art, cinema, and entertainment were producing some of the best television in the world. Miniseries were directed by Michelangelo Antonioni and Roberto Rossellini, and RAI-produced movies by Ermanno Olmi and the Taviani brothers won the Palme d'Or at the Cannes Film Festival.
The opening section of the show examines the relationship between the Italian art and television worlds of that era. The set designs for many TV productions were realized by the artist Giulio Paolini, and the decor for the music performances of Mina, Raffaella Carrà, and Sandra Milo—our local celebrities—were inspired by the likes of Giorgio de Chirico. Talk shows featured contemporary artists including de Chirico, Fabio Mauri, and Alighiero Boetti delivering their message directly to millions of Italians like me who were watching TV each evening in our living rooms.
Of course, also on view is the violence that tore through Italy during this period. Clips of the terrorist attacks and social protests that were everyday news are projected at intervals in a game of light and shadow that perfectly mirrors the flickering darkness of those years. Vezzoli deals as well with the evolving role of women in Italian life: As a case study, he examines the career of Carla Accardi, an artist who is now being rediscovered. Vezzoli places Accardi in the context of the political battles that women were waging in the street, celebrating her for her intimate, anti-institutional language, which challenged the idea of art as a male-dominated profession.
Elsewhere, in a gallery focusing on identity and the female body, two forgotten artists got my full attention. Elisabetta Catalano extols the "real" glamour of the Italian star system in a series of portraits of television actresses and showgirls. In another room, Lisetta Carmi documents the transgressive "artificial" glamour of transsexuals experimenting with female roles within the rapidly evolving Italian society. For the first time on Italian public television, ideas about sexual ambiguity, and even explicit eroticism, were infiltrating the conservative domestic landscape.
"TV 70," so rooted in a history I knew so well as a teenager, surprised me in the way it revealed the multifaceted cultural context of my upbringing. The variety of subcultures that today are a given part of the contemporary conversation were already central to the work of such Italian intellectuals as Pier Paolo Pasolini during that period. The show also made me notice how, despite the proliferation of media, the quality of television and pop culture declined in Italy during and after the era of prime minister Silvio Berlusconi. It also forced me to think about what could be in store here in the U.S., with Donald Trump's presidency and its looming cuts to endowments for the arts, culture, and other important social programs.
As a result, for this issue we decided to champion a group of creatives known for their commitment to collaboration and their ability to intuit the cultural changes afoot. Take the artist Mark Bradford, who is representing the U.S. at the Venice Biennale. Embedded in his lyrical abstract paintings are personal explorations of the history and sociopolitical issues shaping our world. His involvement extends beyond the studio to working in local neighborhoods with Art + Practice, the nonprofit he cofounded in South Los Angeles, where we photographed him with collaborators and staff members.
Another innovator is Chicago native Virgil Abloh, a trained architect, a DJ, and a furniture designer who has taken the fashion world by storm, first as Kanye West's creative director, and now with his own Off-White c/o Virgil Abloh label and many collaborations. Abloh had just shown his women's fall 2017 collection to great reviews during Paris Fashion Week, when we shot him with a few members of his growing circle.
Then there is Samantha Bee, the sharp-eyed comedian, writer, producer, and, not least, first woman to host a late-night political-satire TV show. Together with her husband and creative partner, Jason Jones, Bee is shaking up the world of comedy. We also took a look at Loewe, the Spanish luxury brand now under the creative direction of Jonathan Anderson. Reaffirming the value of craftsmanship, Loewe has established a prestigious prize for designers who are innovating in their fields. We wanted to highlight work by some of the finalists and talk to Anderson about luxury and brand values today.
As always in W, women rule, beginning with our cover star. The Israeli-born actress Gal Gadot channels her power as the next Wonder Woman, a role she's set to slay in a new movie based on the DC Comics superheroine, out in June. Women are also at the center of the new season of Twin Peaks, the cult TV series by David Lynch that premiered in 1990 and is due to return this month. In Lynch's universe, women hold the secrets of the past but also the keys to the future. Maybe that's an idea we could all explore a little bit further.
Gal Gadot, Wonder Woman, Smolders in W's May 2017 Cover
Gal Gadot wears Gucci cardigan jacket; Hermès swimsuit; Patricia Underwood hat.

Photographs by Craig McDean, Styled by Edward Enninful; Hair by Didier Malige at Art Partner; makeup by Peter Philips for Dior; manicure by Chelsea King for Orly at Celestine Agency. Set design by Miguel Bento at Streeters; Retouching: Dtouch; Produced by Kyle Heinen For Rosco Production; Digital Technician: Nicholas Ong; Photography Assistants: Nick Brinley, Maru Teppei, Kris Shacochis, Brian Bee; Fashion Assistants: Ryann Foulke, Dena Giannini; Hair Assistant: Jenelle Oldham; Makeup Assistant: Miguel Ramos; Production Assistants: Mike Stacey, David Singh, Bean Bielski, Andres Raygoza.
Gal Gadot wears a Burberry trenchcoat; her own earring (throughout).

Photographs by Craig McDean, Styled by Edward Enninful
Prada dress, stole, and belt; Bulgari ring.

Photographs by Craig McDean, Styled by Edward Enninful
Diane von Furstenberg dress; necklace from Stephen Russell, New York.

Photographs by Craig McDean, Styled by Edward Enninful
Photographs by Craig McDean, Styled by Edward Enninful
Michael Kors Collection jacket, blouse, skirt, and belt; De Beers necklace and rings; Roger Vivier clutch; Altuzarra sandals.

Photographs by Craig McDean, Styled by Edward Enninful
Photograph by Craig McDean. Styled by Edward Enninful. Hair by Didier Malige at Art Partner; makeup by Peter Philips for Dior; manicure by Chelsea King for Orly at Celestine Agency. Set design by Miguel Bento at Streeters.
Watch W's most popular videos here: